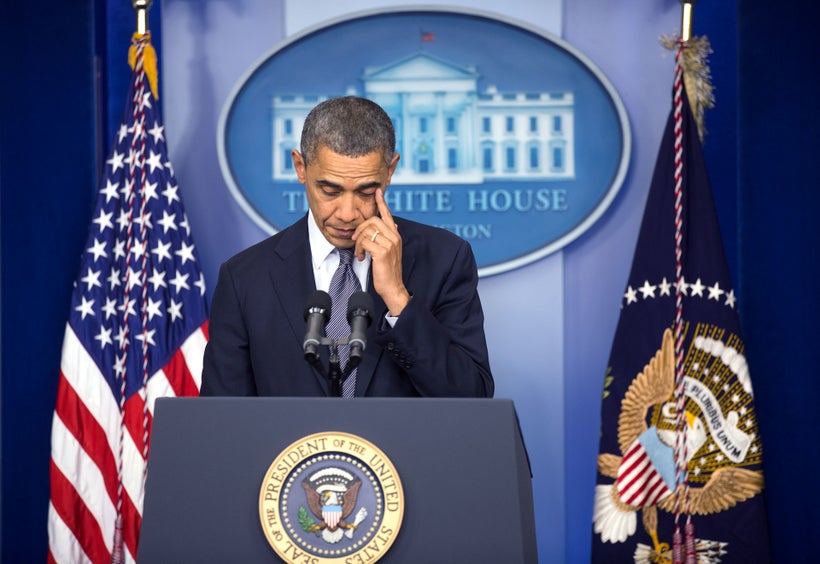 Our 45th president missed an important anniversary. December 14 was the fifth anniversary of the slaughter of 20 first graders and six adult staff members at Sandy Hook Elementary School in Newtown, Connecticut. Five years ago, President Obama declared it the worst day of his presidency and wept as he spoke to the American people.
On December 14, 2017, Donald Trump had lunch with Vice President Mike Pence, Secretary of State Rex Tillerson, and Secretary of Defense James Mattis. In the afternoon, he participated in an event regarding deregulation. Later in the afternoon, he met with the Chairwoman of the Republican National Committee. That evening, he hosted NRA CEO Wayne LaPierre at his White House Christmas party. Apparently, he was too busy to say anything about this sad anniversary.
When asked about the five-year anniversary of Sandy Hook, press secretary Sarah Huckabee Sanders said she was unaware of any regulation that could have prevented the shooting. Wow. What a lack of empathy from a woman with three children ages five and under. Could she not even imagine how she would feel if one of her kids was killed at school?
Guns kill over 30,000 Americans every year, but even after tragic mass shootings it is never the right time to talk about what could be done to lessen this horrible statistic. After the October 1 slaughter of 59 people who were attending a country music festival in Las Vegas, at which a record 500 folks were shot, maybe Congress was going to ban bump stocks. Never happened.
Just a month later, on November 5, 27 people were killed in the First Baptist Church of Sutherland Springs, Texas. Ten of the victims were children ranging in age from one to sixteen. Nine days later, six people were killed at Rancho Tehama Elementary School in Corning, CA. In a now-deleted tweet Donald Trump wrote this about the California school shooting: "May God be with the people of Sutherland Springs, Texas. The FBI and Law Enforcement has arrived." I guess these incidents were so close together that he cut and pasted his prior tweet. But unlike President Obama, Trump never shed a tear. Nor did he call for any gun reform legislation. That would have been politicizing these incidents.
Check out this website with statistics of all of the mass shootings that took place this year. Here are a few happy facts about gun violence in our country in 2017. 707 kids (ages 0-11) were killed or injured. Our teens (ages 12-17) were mowed down at an even greater rate, 3,134. Almost 2,000 of us were unintentionally (accidentally) killed by guns, and there were 22,000 suicides by gun. Not a pretty picture.
Our country has a pretty strange aversion to any gun safety regulations. On a recent trip to Indiana, I saw this posted in a strip mall: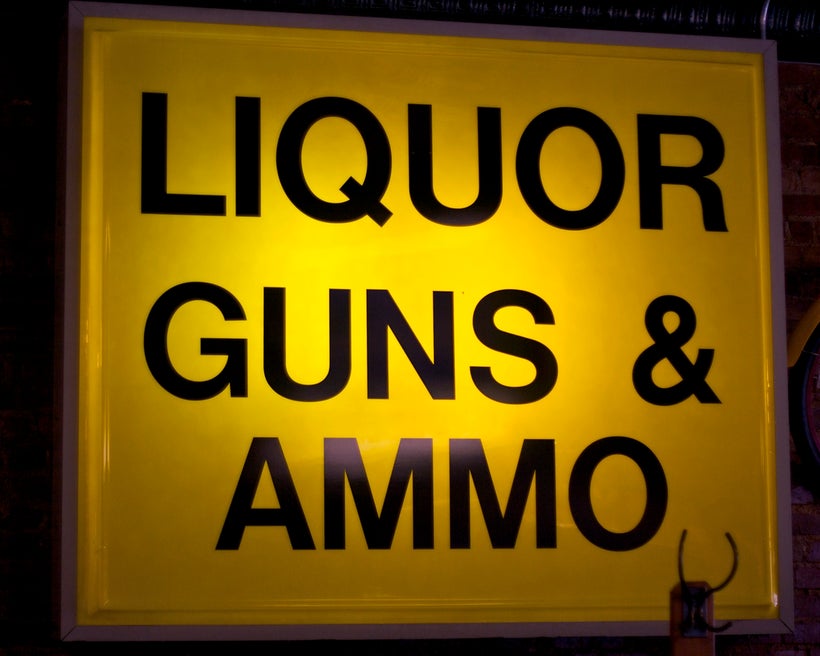 Now there's a lethal combination. Right below it was a sign for the Abundant Life Church. While the church is dedicated to eternal life, salvation, faith, and caring for people's welfare by focusing on issues like poverty, disease, hunger, and injustice, right next door a mentally ill person can purchase an assault weapon and ammunition with the intention of killing one or more human beings. One of these signs makes no sense next to the other.
I understand that getting rid of bump stocks or improving our background check system to make it universal or banning military-style assault rifles or limiting the amount of ammunition a person can buy might not have prevented all of these killings. But it is a start to have a sane policy about guns in our country. Instead, the House passed The Concealed Carry Reciprocity Act of 2017 with bipartisan support in a 231-198 vote. Now gun owners can legally cross state lines with concealed weapons. Great.
As we ring in the new year, let's not forget all of the families whose loved ones will not be with them to celebrate. In the five years since Sandy Hook, that's 150,000 folks who died due to gun violence. No happy holidays for their families.
Calling all HuffPost superfans!
Sign up for membership to become a founding member and help shape HuffPost's next chapter
This post was published on the now-closed HuffPost Contributor platform. Contributors control their own work and posted freely to our site. If you need to flag this entry as abusive,
send us an email
.