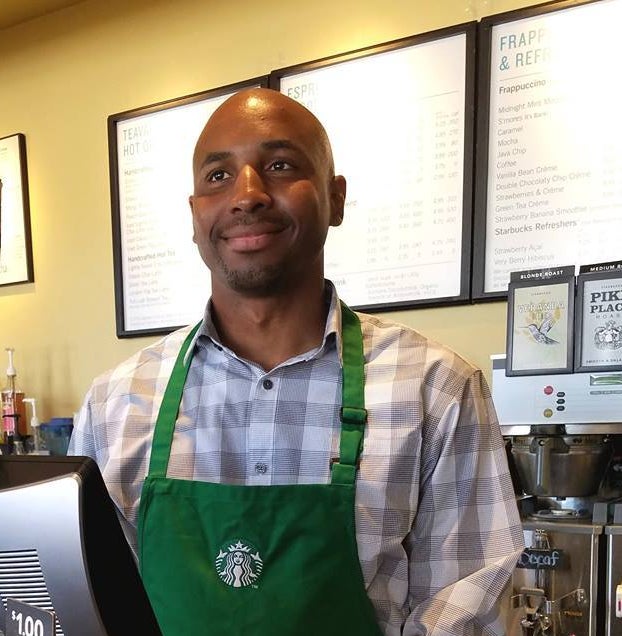 On Sunday, a 41-year-old man named Marshan walked into a Starbucks to start his new job as a barista, which wouldn't seem extraordinary to most of us. But for him, this wasn't just the first day of a new job – it was one of the first jobs he'd ever started as a free adult. Marshan – like thousands of other Americans, most of whom are poor and people of color and grew up in violent environments – was convicted of murder as a teenager, and because of his role in the tragic loss of another life, he was sentenced to life in prison without the possibility of parole. Before he was old enough to vote, he was told he would likely die in a bare, concrete cell.
Marshan was 15 when he was charged with first-degree murder under a "theory of accountability." Despite his young age, he was charged as an adult, and while he was awaiting trial, he was removed from a juvenile detention center and placed in a maximum-security division of Chicago's Cook County jail on his 17th birthday. When he was found guilty, a reluctant judge was forced to impose two "mandatory" life without parole sentences.
The United States is the only country in the world that sentences children to die in prison, and at the organization I head, the Campaign for the Fair Sentencing of Youth, it is our mission to abolish that practice and make sentences for kids more age-appropriate overall. The nation's highest court has weighed in on this issue several times, including in the landmark Miller vs. Alabama decision, which banned mandatory life without parole sentences for children and was decided five years ago this week.
The Miller opinion stated that we must take into "account how children are different, and how those differences counsel against irrevocably sentencing them to a lifetime in prison." It drew upon research that has shown time and time again that children are not like adults, and have a unique capacity to grow and change. Marshan's life to date is a shining example of that.
When he lost his first appeal and could no longer afford an attorney, Marshan's only hope was a typewriter he had in prison that his family had bought him. He frequented the library, learned the law, and fought for his freedom. While working in many positions at various prisons and earning the respect of prison guards and administrators alike, he also took advantage of every educational and vocational program made available to him.
He earned certificates in Paralegal/Legal assistance, Small Business Management, Computer Technology, and Restorative Justice. In 2012, he earned an associate's degree from Lake Land College and graduated Summa Cum Laude. He never allowed himself to be defined by his worst act.
With this incredible record of accomplishment and an unwavering commitment to self-improvement, and because of the US Supreme Court's stance on cruel and unusual punishment and "our evolving standards of decency on how we hold children accountable," Marshan successfully won a reduction in his sentences. Six months ago, after serving over 24 years, he walked out of prison to experience life as an adult in free society for the first time.
Meanwhile, in Washington, Attorney General Jeff Sessions seems to be taking the opposite tack, most recently by releasing a controversial memo calling for a return to draconian sentencing practices. In it, he asked federal prosecutors to pursue the harshest possible sentences and "to charge and pursue the most readily provable offense." For those of us that work on criminal justice reform, and on reform for sentencing children in particular, this bucks an established trend, and represents a dramatic step backward. It recklessly disregards the successes we've seen stem from a renewed focus on second chances and rehabilitation. It also fails to account for the crucial steps we've taken away from the extreme sentencing practices that led to our mass incarceration crisis in the first place.
But despite this, we see hope for continued reform as it relates to sentencing youth and to our criminal justice system overall. We find that hope in people like Marshan, who are living, breathing examples of what second chances can look like. Marshan exudes optimism, knowing his future will be bright, that he will continue to demonstrate every child's capacity for positive growth, and that he will find purpose in his new endeavors. We also find hope in companies like Starbucks, that demonstrate commitment to having the most disadvantaged succeed by giving them employment. And finally, we find hope in the halls of power – in state legislatures across the country, where there's been widespread bipartisan support for legislation banning life without parole for children since Miller. Still some states want to thwart Miller and indiscriminately sentence children— particularly children of color – to die in prison. So the way forward is clear. We must ban the practice once and for all.
This post was published on the now-closed HuffPost Contributor platform. Contributors control their own work and posted freely to our site. If you need to flag this entry as abusive,
send us an email
.