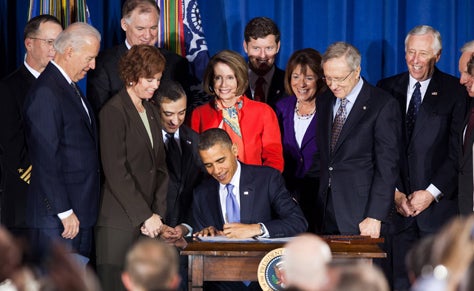 Five years ago on September 21, 2011, lesbian, gay, and bi service members began serving openly without fear of discharge under Don't Ask, Don't Tell (DADT). The decades-long investigations and booting out of gay service members solely because of their sexual orientation was over.
Nothing. There were no mass departures by straight service members. The mission did not suffer. Unit cohesion, good order, and morale were not adversely affected by gays who wanted to be honest and open in their service to country. Enlistments remained strong and constant.
None of the disasters predicted with alarm by opponents like Senators John McCain (R-Ariz.) and Lindsey Graham (R-SC) has come about. Although they have not felt the need to say so, the senators were simply wrong about the professionalism and maturity of our troops.
Eliminating DADT changed the LGBT community, a change not fully appreciated at the time. It also changed our country. The ban on gays in the military went to the very core of the fight for full LGBT equality, whether it be ending civilian job discrimination or gaining the right to marry.
The Servicemembers Legal Defense Network (SLDN) believed that before there could be marriage equality, the end of civilian job discrimination because of sexual orientation, or open transgender military service, we would first have to tackle and end DADT. Having the most conservative arm of the U.S. government and its largest employer, the Pentagon, agree on full acceptance of gays was the necessary catalyst for progress on other fronts.
In the 1930s, '40s and '50s civil rights leaders pleaded with three U.S. Presidents to end racial segregation in the military because they recognized that African Americans would have to fight and die side by side with white GIs before they could demand equal treatment back home. And so would gay GIs.
If some in the equality movement were slow in making that connection and understanding its importance to equality, young gay service members and seasoned veterans not only got it, they lived and fought for it. They seized the moment shortly after President Obama was sworn into office, taking to social media and television to tell their stories even if it meant discharge. They filed more DADT constitutional challenges in the courts. They pushed their stories on 60 Minutes, on Stephen Colbert and Rachel Maddow. They enlisted Lady Gaga and a host of celebrities to the cause. Gay soldiers and sailors and vets marched in the streets to demand their civil rights. A combat decorated gay airman managed an invitation to a White House reception and implored a startled President Obama to act on repeal. Off-duty gay Marines and Coast Guardsmen became their own lobbyists on Capitol Hill, signing up supporters and cosponsors for the bill. LGBT service members and vets made their voices heard in the Pentagon.
In this fight gay service members and veterans were far ahead of most of their leaders and advocates. These millennials and baby boomers didn't wait for establishment gays in Washington to tell them to fight, or if it was okay to press the White House and Congress hard. They, along with their straight and gay allies and a host of repeal bloggers, just did it, no permission needed.
Of course, they had help from many pros, starting with a patient, steady-the-course President Obama. Then Speaker of the House Nancy Pelosi and Steny Hoyer of Maryland literally took DADT out of committee and pushed it through the House over the objections of their Democratic Armed Service Committee Chairman Ike Skelton (MO) and several House Republicans. The Chairman of the Joint Chiefs, Admiral Mike Mullen, along with then DOD General Counsel Jeh Johnson, displaying fairness and extraordinary professionalism, steered repeal through a maddening bureaucratic process in the Pentagon and on up to Capitol Hill. Former Secretary of Defense Bob Gates, having stalled and delayed as long as he could, finally came around in the lame duck session of Congress.
The lame duck session was hopping. It took three cloture votes to cut off the filibuster led by Senator McCain, and a creative legislative maneuver to move a stand-alone repeal bill through both Houses before time ran out. Senators Harry Reid (NV), Joe Lieberman (CT), Susan Collins (ME), and Carl Levin (MI) and Congressman Patrick Murphy of Pennsylvania, along with scores of bloggers and smart advocates outwitted their opponents. Still, some like Senator McCain insisted right up to the last minute of debate on the Senate floor that repeal would "harm battle effectiveness" and "cost Marines lives." LGBT service members and veterans in the Senate galleries looked down puzzled as McCain continued to ramble on the Senate floor.
Some service members figured not only was their military changing, repeal could also pave the way to end DOMA, the mean-spirited Defense of Marriage Act; and just maybe repeal might help usher in marriage equality.
Certainly if Congress and the president had failed to end DADT, it's doubtful we would have marriage equality today or be near open transgender military service. No one made this sweeping change more possible than LGBT service members and veterans who decided five years ago to fight for their civil rights 
Now, same-sex marriages are being performed in the West Point Cadet Chapel. That wall has fallen but the walls of the chapel are still standing. And the American military is still doing its job, gay and straight together. We've come a long way in five years.
Aubrey Sarvis is an Army veteran and the former executive director of the Servicemembers Legal Defense Network.
Calling all HuffPost superfans!
Sign up for membership to become a founding member and help shape HuffPost's next chapter