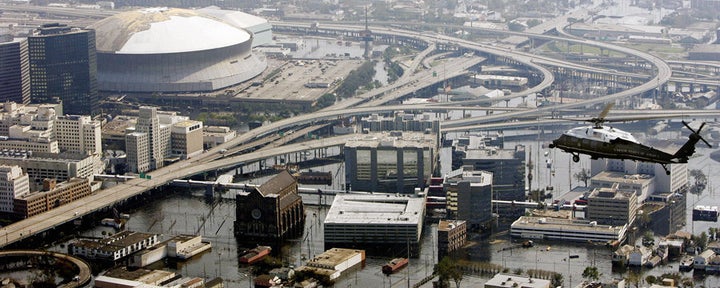 For the past three years, Jean Chandler, 42, has been trying to figure out what to do with the six giant cedar wood doors piled up in the office of his new New Orleans house. He ended up selling them on Craigslist last week for $35 apiece-- finally ridding himself of the last remnants of the house he lost in Katrina.
"The doors, for me, kind of symbolized the last of the aggravations I can't deal with anymore... the impediment of stuff," Chandler told HuffPost. "Before Katrina, you have a life, there's an organic flow to life, and after, your life is disjointed. It's in boxes. Now I can finally put a bookshelf up in my office where those doors were all piled up so I don't have to dig through a box every time I'm looking for a book."
Right after Katrina devastated New Orleans, displacing hundreds of thousands of residents, Chandler found his old Mid-City house--which was propped up on 3-foot stilts--completely flooded under 4 feet of water. He said he considered salvaging other pieces from the old house that made it charming and unique, like the claw-foot bathtub and antique toilets, but he couldn't bring himself to do it.
"Imagine a line four feet high in your house," Chandler said. "Everything below it is basically the most disgusting sewer you've ever seen, and everything above it is pristine-- just the way you left it. All our possessions above that line, a surprising amount things, we had to put into tubs so it wouldn't turn into one big ball of mold. It was such a huge strain."
As Katrina approaches its five-year anniversary, New Orleans has made enormous strides toward recovery. The city's GDP is almost $9 billion higher today than it was in 2005, its population is about 80 percent of what it was before the storm, and city officials say the quality of public education has gone up significantly. But only one in three New Orleans residents polled by the Kaiser Family Foundation this year said their lives have returned to normal since Katrina, and 70 percent of them said they feel that the nation has forgotten the challenges they still face.
Barry Lemoine, a public school teacher in the New Orleans suburbs, said the scars the storm left on the city are apparent in the every day conversations of New Orleans natives.
"Everything you hear is in terms 'before Katrina' and 'after Katrina,'" he said. "You hear somebody give directions, and they say, 'You know where the Shell station used to be? You remember where the chicken place used to be?' I think [Katrina] was psychologically damaging as much as physically."
Former New Orleans pastry chef Patrick O'Connell, 43, has been essentially homeless for the past five years.
"When Katrina hit, I stayed in New Orleans," O'Connell said. "I remember waking up in 4 feet of water-- I thought I had wet the bed. Then I realized everything I owned was floating around me."
O'Connell said he had planned to use his life savings to rebuild the Lakeview house he had shared with his father, but his plans changed when the house was burglarized one year after Katrina.
"They tied me up and made off with appliances and anything they could walk out with," he said. "It was like the Wild West out there in Lakeview-- primitive living."
Having been laid off from his job after the storm, O'Connell no longer had any money to rent, buy, or renovate a home. He has been couch-surfing ever since.
"I'm starting over right now," he said. "I finally got an apartment, and I have an interview tomorrow at a little gourmet shop on Magazine Street. I don't own many things anymore, but at least I have a place to live."
New Orleans' already struggling economy was dealt a second and third blow by the recession and Gulf oil spill, but jobs in the city should be increasingly plentiful now that the city's main industry--tourism-- seems to be making a comeback. ABC News reports that visits to New Orleans jumped to 7.5 million in 2009--up from 3.7 million visitors in 2006-- and raked in $4.2 billion dollars for the city. While the 70,000 tourism jobs in New Orleans is still well below the 85,000 jobs that existed before Katrina, this year the city reported its largest Mardi Gras celebration in 25 years.
In addition to an influx of tourists, New Orleans has also experienced a shift in its permanent population as contractors, architects, volunteers and entrepreneurs have flocked to the city to capitalize on rebuilding efforts.
According to a recent Kaiser Family Foundation report, about 1 in 10 people currently living in New Orleans was not living there before the storm. The report describes this outsider population as "substantially younger, more educated, [and] more likely to be white" than the New Orleans natives.
Chandler said he can definitely feel the difference in population.
"It feels like New Orleans is on the map now as a place to live, whereas before, people from Michigan, Seattle, wherever wouldn't have even considered it," Chandler said. "For the most part, it's a good thing-- the influx of young people from other states are not as tolerant of catastrophe. But we've got traffic cameras now. You can get shot really easily about 4 blocks from my house, but if you're speeding down that same street, you'll get a ticket in the mail."
The main fear among locals, according to Chandler, is that out-of-state entrepreneurs will take the gentrification too far, negating some of the flavor and quirky cultural aspects of New Orleans that made the city special before the storm.
"We always used to say, New Orleans isn't really Southern America--it's Northern Costa Rica," he told HuffPost. "But that's kind of changing. The 9th Ward 'Yats' are gone... now it's hipsters in striped socks. They come in and say, 'Oh, it's so Boho down here. Let's go enjoy the freedom!' Then they try to make it just like where they came from."
On the whole, however, New Orleans residents seem to be optimistic about the city's recovery. Seventy percent of residents polled by the Kaiser Foundation said the recovery and rebuilding efforts in New Orleans are moving in the right direction, up from only 56 percent in 2008.
"South Louisiana is nothing if not resilient," said Barry Lemoine. "And hey, at least more attention is being paid now to coastal preservation. What can you do but move on and make the best of a bad situation?"
Calling all HuffPost superfans!
Sign up for membership to become a founding member and help shape HuffPost's next chapter