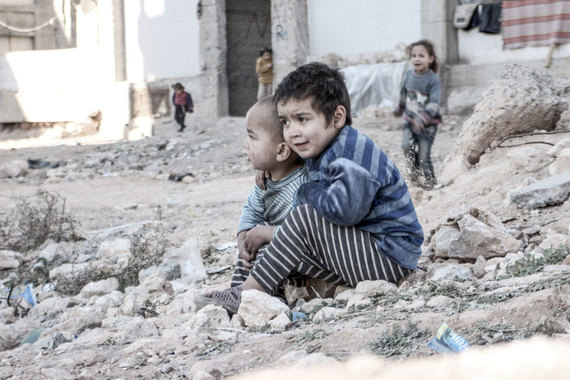 Four-year-old Esraa and her brother Waleed, 3, sit on the ground near a shelter for internally displaced persons in Aleppo, Syria. Credit: UNICEF/UN013175/Al-Issa
By Yacoub El Hillo and Kevin Kennedy*
The worst humanitarian crisis of our time has lasted too long as millions of Syrians have experienced widespread violence, destruction and displacement. Since March 2011, hundreds of thousands have been killed, over a million wounded and half the population has been displaced or sought refuge in neighbouring countries. Schools, hospitals and other infrastructure have been reduced to rubble, and over two million children and adolescents are out of school. Four out of five Syrians now live in poverty.
In a country that was once known as the "cradle of civilization," sieges are increasingly used as a tactic of war. In 2016, on average nearly half a million people have been trapped in their towns, deprived of essential aid and surrounded by armed groups. Millions more live in areas where aid seldom reaches. Summary executions, arbitrary detention and horrific human rights violations are a regular feature of this crisis.
On 12 February, a landmark agreement was reached in Munich where a cessation of hostilities was agreed upon as well as accelerated delivery of aid to those most in need. Despite ruptures, the agreement has mostly been respected offering a glimmer of hope to millions of Syrians. It has presented a short respite for people who have repeatedly told us that all they want is to be safe and for their families to be protected from violence in a war that has endured far too long. In towns across parts of Syria, there are signs of that hope as families are once again walking in the streets and children playing in parks.
At this moment, we must also take stock of what we have accomplished and where we have fallen short. Over the course of the last five years, the United Nations, the Red Cross/Red Crescent movement and the non-governmental organizations have delivered health services, medicine, food, clean water, sanitation and shelter to millions of people. It has come at a high cost as 85 humanitarian workers have lost their lives and hundreds of medical workers have been killed. Syrians themselves have played the lead role in alleviating the suffering of people in need -- as first-line responders on the ground or hosting fellow Syrians fleeing conflict despite their own difficult circumstances.
Given the momentum started in Munich, we now have a unique opportunity that must not be lost. Humanitarian organizations are ramping up their operations but require access to all people in need on a sustained, unconditional and unimpeded basis. Sieges must be lifted and people allowed freedom of movement. The cessation of hostilities must be maintained and fully observed. Most importantly, the political process must continue and achieve a permanent end to hostilities.
Five years of human suffering on an immense scale must be brought to an end. The Syrian people must have their dignity and security restored and have the opportunity to reconcile and rebuild.
Yacoub El Hillo is the UN Humanitarian Coordinator in Syria, and Kevin Kennedy is the Regional Humanitarian Coordinator for the Syria Crisis.
Calling all HuffPost superfans!
Sign up for membership to become a founding member and help shape HuffPost's next chapter