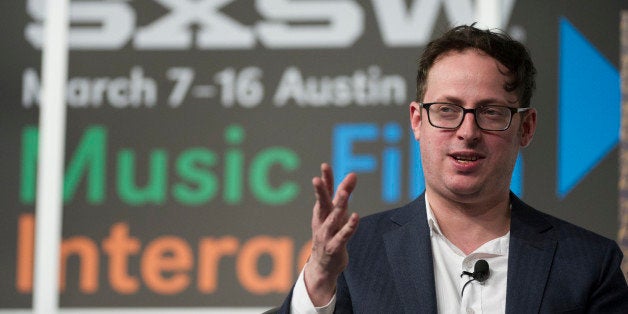 Pielke says it's "ridiculous" to characterize the emails as threats against Michael Mann, director of the Earth System Science Center at Pennsylvania State University, and Dr. Kevin Trenberth, a distinguished senior climate scientist at the National Center for Atmospheric Research. FiveThirtyEight, however, apologized to both men.
"Roger is a freelance contributor and his private communications do not represent FiveThirtyEight," Silver said in a statement to HuffPost. "We had candid conversations with Michael Mann and Kevin Trenberth. We made clear that Roger's conversations with them did not reflect FiveThirtyEight's editorial values."
Revelations of the private correspondence are particularly poorly timed for FiveThirtyEight, which has been dogged online throughout most of its 11-day existence by the climate change dispute. The controversy was given increased exposure Thursday night on "The Daily Show."
Pielke, a political scientist at the University of Colorado, has been called a climate change skeptic, a label he doesn't apply to himself. And Pielke's no stranger to controversy within the scientific community. Typically, though, such disagreements over data and methodology are confined to academia and science press.
But Pielke's piece was published on day three of the FiveThirtyEight relaunch, and media watchers had been anxiously waiting to see if Silver's revamped site, which had been in development for eight months, would live up to the hype.
Silver has emerged as one of the media's foremost critics of "bullshit" punditry, and recently suggested that a deficiency in math skills marks "a weakness of conventional journalism." It's because of such pronouncements that a debate over the data-driven analysis in a FiveThirtyEight article will inevitably shift attention to Silver.
In "The Daily Show" interview, Jon Stewart asked Silver about the issue. Silver acknowledged hearing "a lot of concern from our readers" about Pielke's article and said that about 80 percent of commenters "weighed in negatively." As a result, Silver told Stewart that the site is commissioning a rebuttal.
But rebuttals to Pielke's conclusions on FiveThirtyEight could be found online since shortly after the article's publication.

On March 19, Mann and Trenberth challenged Pielke's claims in interviews with ThinkProgress.
Mann told ThinkProgress that Pielke's article was "deeply misleading, confirming some of my worst fears that Nate Silver's new venture may become yet another outlet for misinformation when it comes to the issue of human-caused climate change."
"This is the same old wrong Roger," Trenberth told ThinkProgress. "He is demonstrably wrong and misleads."
In an email to HuffPost, Mann said Pielke sent him "a threatening email in response to my fair criticism of his piece." Mann added that a representative from FiveThirtyEight contacted him and offered "an apology for what they characterized as unacceptable behavior by Pielke."
Mann declined to make Pielke's email public, but told HuffPost that he viewed it as a "thinly veiled" threat of legal action.
In an email to HuffPost, Trenberth said Pielke contacted him and his bosses following the ThinkProgress report. Trenberth said he also received an apology from FiveThirtyEight.
Trenberth said he considered Pielke's email "a threat to me."
"He was very accusatory and threatened me if I did not respond," Trenberth told HuffPost.
Trenberth forwarded the text of the email to HuffPost. Pielke wrote that Trenberth had "made some pretty coarse and perhaps even libelous comments" in the ThinkProgress article. Pielke requested that Trenberth correct his public claims and noted that "an apology would be nice also."
"Once again, I am formally asking you for a public correction and apology," Pielke wrote to Trenberth and his bosses. "If that is not forthcoming I will be pursuing this further. More generally, in the future how about we agree to disagree over scientific topics like gentlemen?"
When asked about the claims that he sent threatening emails, Pielke told HuffPost: "In a nutshell this is ridiculous."
Pielke acknowledged contacting Mann and Trenberth and asked "them to be accurate in their representations of me and to conduct public discourse in a gentlemanly fashion."
"I do not threaten," Pielke told HuffPost, adding that he found "the idea offensive that they would characterize my correspondence in this way."
In a another email to HuffPost, Pielke said that his correspondence to the two colleagues was not on behalf of FiveThirtyEight, "but rather to two scientific peers I have known for decades." If FiveThirtyEight apologized on his behalf, Pielke said, "that is kind but unnecessary."
ThinkProgress editor Judd Legum told HuffPost that he contacted Silver and FiveThirtyEight managing editor Mike Wilson regarding Pielke's emails, which he considered to be threats "to pursue legal action against" against the two climate scientists.
In an email to environment web editor Adam Vaughan, Pielke requested "that The Guardian correct multiple errors of fact in its piece on my work." The Guardian looked into the matter, but did not make any changes to the piece.
John P. Abraham, a professor at the University of St. Thomas who blogs with Nuccitelli at The Guardian, wrote Wednesday on HuffPost that he contacted Silver last week and was invited to write a response to Pielke for FiveThirtyEight. Abraham said he submitted the piece and it went through the editing process before, "late in the game, they decided not to run my post."
Abraham concluded in the HuffPost piece that Pielke's "inexact phrases, extensions of his own work beyond their application, and inclusion of non-weather-related disasters are some of the reasons his conclusions are not taken seriously by myself and other climate scientists."
On Friday, Silver addressed the climate change controversy in a lengthy "Note To Our Readers" on FiveThirtyEight and acknowledged receiving Abraham's piece. But that rebuttal, he said, "wasn't quite what we were aiming for."
"Its criticism spanned several of the categories I outlined above, when we were looking for something more focused on the scientific claims made in Roger's FiveThirtyEight article," Silver wrote.
In the Friday post, Silver -- whose previous incarnation of FiveThirtyEight ran for three years on the New York Times' site and relaunched on March 17 -- wrote that the past two weeks have "been a heck of a learning experience."
Silver said FiveThirtyEight is looking for a rebuttal from someone who has not weighed in yet on the dispute and "has very strong credentials."
"We appreciate your patience in the meantime," Silver wrote. "Climate change is not going away as an issue, and we want to get this right. All journalism relies on trust -- between reporters and sources, between editors and writers, between a publication and its readers. Any time that trust is undermined, it's a huge concern for us. We thank you for your continued feedback. We're listening and learning."
Related
Popular in the Community