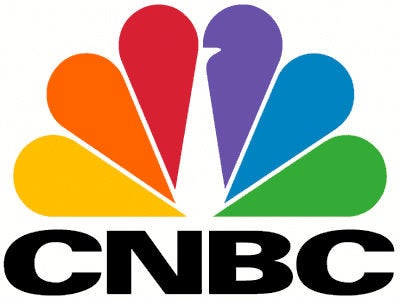 The Progressive Change Campaign Committee has released some genuinely funny video of the group taking its FixCNBC.com campaign to the sidewalks of Wall Street and the network's corporate headquarters.
The clip, spiced up with the help of HuffPost comedy bloggers Katie Halper, Lee Camp, Baratunde Thurston and Jeff Kreisler, is part of a larger effort being undertaken to get CNBC to change its organizational mission, towards more of a Wall Street watchdog. In one of the short's final reels, PCCC co-founder Adam Green delivered a 21,000-signature petition to the network's New Jersey offices. Green tells the Huffington Post that CNBC executives have acknowledged receiving and reading said petition.
The network, popular among the market obsessed, has come under intense scrutiny in recent weeks for what critics claim is a propensity to cheerlead Wall Street. Occasionally brash commentary on White House policy by hosts Jim Cramer and Rick Santelli did little to help CNBC's cause among progressives. A few weeks ago, a group of leading progressives and economists penned an open letter demanding that the network modify its mission.
Since the launch of FixCNBC.com, the network has, in fact, made several programming changes. Former DNC Chair Howard Dean was brought on as a regular commentator, and Huffington Post editor-in-chief Arianna Huffington guest hosted CNBC's morning show Squawk Box last week.
"Too often, groups put up online 'petitions' that aren't tied to any larger campaign," Green said of the FixCNBC.com letter. "We wanted to make sure CNBC truly received the message that people want them to do journalism that holds Wall Street accountable. And now we'll focus the energy of over 20,000 people on electing bold progressives to Congress -- candidates who will hold Wall Street accountable."
The video features and was put together by, among others, HuffPost bloggers Katie Halper, Lee Camp, Baratunde Thurston and Jeff Kreisler.
Popular in the Community