Despite continuing disputes over settlements, Jerusalem, borders, and refugees, there is at least one problem on which Arabs and Israelis can still make progress -- water.
In our region, water is not only scarce but often contaminated as well. The aquifer below the Gaza Strip is so overexploited that seawater is now seeping into it, leaving fresh water in very short supply. Some 1.8 million Palestinians in Gaza have run out of potable water.
Large amounts of sewage are released untreated, compounding the problem. An astounding 90 million liters of raw sewage from Gaza is being dumped into the Mediterranean every day. This risks causing an outbreak of pandemic diseases such as cholera and typhoid, not only in Gaza, but in Egypt and Israel as well.

A stream contaminated with sewage, called Zommer by Palestinians and Alexander by Israelis, flows from Nablus in the West Bank and enters the Mediterranean Sea near Netanya.
Look to models of regional collaboration
Instead of a doomsday scenario there can be a win-win solution, but only if we act now. Fortunately we have successful models of regional collaboration on water issues to look to.
Ten years ago, the Jordan River was about to run dry. But since 2007, concerted regional action led by Israeli, Palestinian, and Jordanian mayors has made significant progress towards rehabilitating the Jordan River.
The mayors are collaborating to turn what was once an open sewer into a water bank, having come to understand the economic benefits that a rejuvenated river system would bring to their respective communities.
Water banking has precedents in the region. Following the signing of the Jordan-Israel peace treaty in 1994, Jordan now stores winter runoff from the Yarmouk River in the Sea of Galilee in Israel, and then gets it back in the summer. This shows how prior enemies can create positive interdependence once they start trusting each other.
These successes suggest that additional progress is possible. Indeed, in 2015 Israel doubled the amount of water it sold to Gaza and supplied water to the new Palestinian city of Rawabi following years of delay. But more needs to be done.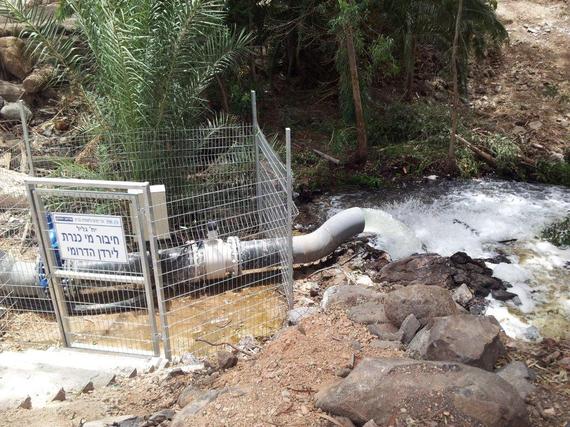 In 2013, connected with rehabilitation work by Israeli, Palestinian, and Jordanian mayors, fresh water flowed into the lower Jordan River for the first time in 50 years.
Palestinians need their fare share of water
For the first time in history, thanks to conservation, desalination, and reuse of wastewater for agriculture, one country in the Middle East enjoys a water surplus -- Israel.
An agreement to share water between Israelis and Palestinians is achievable. Water is no longer a zero-sum game. While in the past sharing water more fairly between Israelis and Palestinians would have meant less water for Israeli agriculture, advances in wastewater reuse and desalination mean that a water deal would not require cutting Israeli supplies.
Palestinians need to receive their fair allocation of shared water resources. To move forward, both sides must stop holding water issues hostage to a broader Middle East peace agreement.
And with careful management, Israel can work with its neighbors to clean up the mess of untreated sewage on its borders and shores.
Fixing the problem is in Israel's own interest. It would prevent Gaza's sewage from polluting Tel Aviv, and West Bank sewage from polluting the shared mountain aquifer and cross-border streams.
Three steps that would benefit everyone
Recently in Brussels, the Ad Hoc Liaison Committee on the Palestinian economy held its bi-annual meeting, bringing the Israeli and Palestinian governments together with the international community. For the first time, the committee identified water and energy for Gaza and the West Bank as urgent issues. This is an important achievement, signaling the willingness of the international community to help the parties move forward on resolving their water issues.
It is critical that this acknowledgment results in concrete action. Such action should be taken now, even in the absence of a broader peace process.
There are three measures that both sides should implement, and that the international community should encourage -- measures that are in the interests of both Palestinians and Israelis.
For starters, Israel should again double the amount of potable water it sells to Gaza. The Palestinians are prepared to pay for it, and they desperately need it.
Second, a wastewater plant in Gaza -- built under the leadership of the World Bank -- should be opened. It alone would treat a third of the raw sewage currently being released into the Mediterranean. Opening the plant requires Israel to supply the electricity needed to operate it, and the Palestinians to pay for it.
Finally, Israel must also provide more water to the thirstiest towns in the West Bank, based on full utilization of a new water pipeline funded by US taxpayers. A thirsty neighbor can never be a good neighbor. This would not be charity -- until a final agreement on water is reached, the Palestinians are willing to pay for these urgently needed supplies.
Like no other issue, solving water and sanitation problems can improve the lives of every Palestinian and Israeli. Progress can help restore faith in the peace process—water is one of the five final-status issues. Action on water builds the type of cooperation needed so desperately in the Middle East.
Munqeth Mehyar, Nader Khateeb, and Gidon Bromberg are, respectively, the Jordanian, Palestinian, and Israeli co-directors of EcoPeace Middle East, an organization leading peace efforts through diplomacy on water issues.
Founded in 1994, EcoPeace Middle East is the only non-governmental association that brings together Israelis, Palestinians, and Jordanians. Over the course of 22 years, EcoPeace has shown that people can work together to solve environmental challenges in the Middle East. The organization has helped leverage over US$500 million of investments in water supply and sanitation solutions, helped protect cultural landscapes of value to world heritage, and helped reform water policies leading to the release of fresh water into the Jordan River for the first time in 50 years.
Calling all HuffPost superfans!
Sign up for membership to become a founding member and help shape HuffPost's next chapter