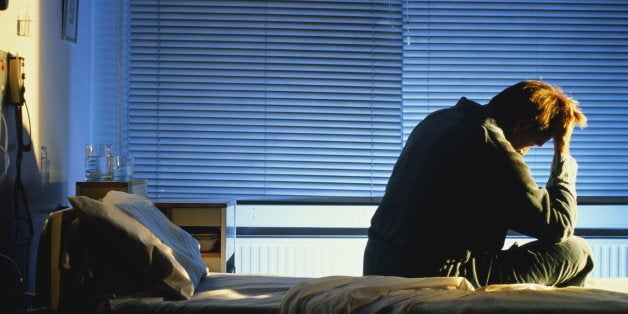 Governor Malloy's Sandy Hook Advisory Commission recently stated that Connecticut's 2013 gun law "cast the net too wide" in requiring that all persons who voluntarily admit themselves to a psychiatric hospital should be reported to the state.
This provision, which unjustly paints anyone with a mental illness as a potential danger to society, is not altogether unique. In the aftermath of the Sandy Hook tragedy, as policy makers -- local and national -- wrestled with the need to restrict guns and gun hardware, it became a rare point of bipartisan agreement to cast the millions suffering with mental illness as scapegoats, sacrificed for a false sense of security.
Reporting requirements like Connecticut's presumably reflect the belief that mentally ill persons who voluntarily seek hospital treatment are, as a group, at greater risk for future violence than the general population of the U.S. But this belief is false, as scientific studies have shown over and over.
The provision strips a specific set of nonviolent patients of their right to privacy. It requires their personal information to be sent to the Department of Mental Health and Addiction Services (DMHAS) and from there to the Department of Emergency Services and Public Protection to be reviewed, catalogued and evaluated for further action -- all because they simply asked for help. It reverses years of work by mental health advocates and the medical community to de-stigmatize mental illness, and convince those who need treatment that there is no shame in seeking it.
The patients it targets are average members of the general public; they include young people dealing with eating disorders, new mothers suffering from post-partum depression, or elderly citizens struggling to cope with a difficult loss. While written with the best of intentions, the Connecticut law may do more harm than good by likely dissuading many persons with common mental health conditions from seeking treatment for fear of being judged and having their basic right to privacy violated.
Equally important, most mental health professionals -- including those on the Sandy Hook Advisory Commission created by the Governor -- agree that one of the best predictors of future violence is not mental illness but in fact past violent behavior. So while further stigmatizing a group of non-violent people the provision misses many groups who could be flagged - including some with a mental illness. The current law does not include those who, for example, have physically abused a spouse or other intimate partner; it does not include the vast majority of individuals who are admitted to a psychiatric hospital involuntarily and may have a history of violence; it does not include those who have a history of violence and are admitted to a psychiatric hospital for treatment of a drug or alcohol problem. The exclusion of these groups raises a question about how effective this reporting requirement can really be as currently written. And how much more effective it could be if it focused on the risk of violent behavior rather than on mental illness per se.
There is no doubt that the Connecticut law made some important and laudable steps towards a safer community through its regulation of firearms and ammunition. However, we believe that amending the reporting requirement would significantly strengthen the law -- both by increasing its effectiveness in identifying potential threats, and by protecting the rights of patients who are not threats and recognize their own need for treatment. Ideally, the reporting system that would be most effective, and most beneficial to public safety, would be one that eliminates the voluntary admission provision and defines appropriate groups whose access to firearms should be restricted.
We are right to identify those at risk for violence including, when appropriate, a person with a mental illness. The problem with the Connecticut law as written is that it indiscriminately stigmatizes thousands who are not at risk and misses the opportunity to identify those who are. The 2015 General Assembly should revisit this requirement, which has created a new hurdle for people seeking mental health assistance in our state.
This piece first appeared Hearst Connecticut Media.