 After making a call that shocked many, Olympic boxing referee Ishanguly Meretnyyazov has been removed from officiating at the London Games.
Despite being knocked down six times, Azerbaijan's Magomed Abdulhamidov was deemed the victor over a fully conscious Satoshi Shimizu from Japan at the end of their men's bantamweight (56kg) bout on Wednesday. The decision stunned everyone, including the fighters in the ring.
Visit Deadspin to see just how badly Shimzu destroyed the Azerbaijani boxer who walked away with the victory.
Allegations of a fixed match quickly began circulating, and Japanese officials immediately filed a complaint. CBS Sports reports that officials have already begun looking into allegations that Azerbaijan may have paid officials to secure the gold medal.
Perhaps unsurprisingly, there were signs of trouble long before the games even started. BBC's Newsnight uncovered a potential $9 million pay-off to officials in exchange for two gold medals in these Olympic Games. However, allegations that the money was intended to fix fights were promptly denied.
Whistleblowers say that WSB's chief claimed the money was in return for a guarantee that Azerbaijani fighters would win two boxing gold medals at the London 2012 Olympics.

The boxing organiser at the Olympics, AIBA [International Amateur Boxing Association], admits an Azeri national paid $9m (£5.9m) to one of their competitions.
Despite the controversy, the AIBA has overturned the bout and awarded it to Shimizu.
After reviewing the video of Bout #105 involving Bantamweights Satoshi Shimizu (Japan) and Magomed Abdulhamidov (Azerbaijan), the Competition Jury made the following decision:

- The boxer from Azerbaijan fell down six (6) times during the 3rd round. According to our rules, the Referee should have counted at least three (3) times. In this case, following the AIBA Technical & Competition Rules, the decision should have been RSC (Referee Stop Contest);

- Therefore the protest lodged by the Japanese corner is accepted and the result of this bout overturned.

AIBA officials will consider on Thursday morning whether to sanction the referee of this bout.
Check out the slideshow below to see Shimizu's disbelief first-hand.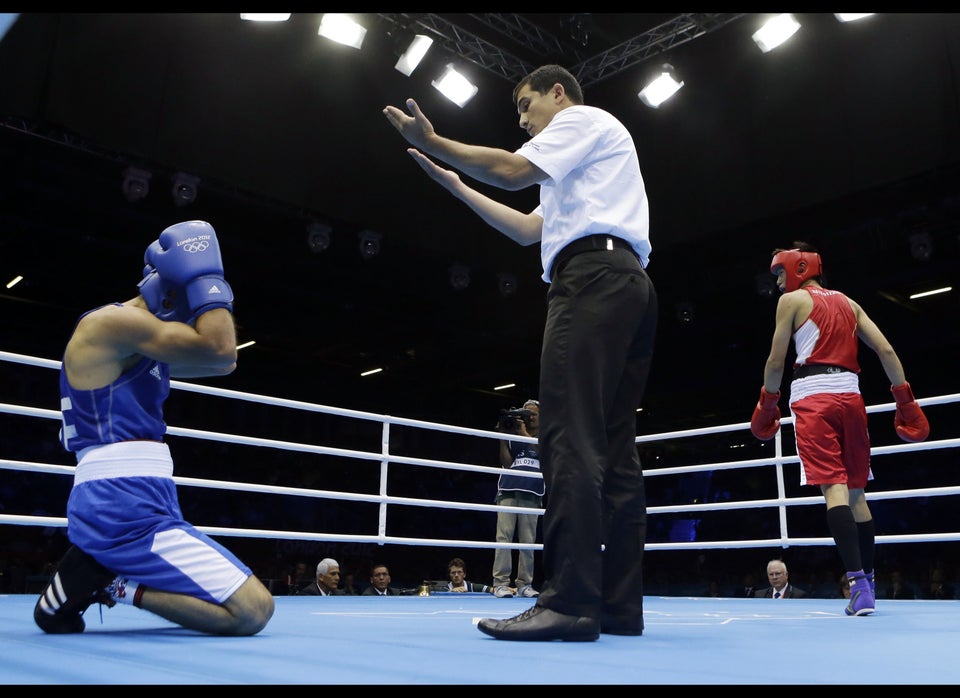 Olympic Boxing Controversy
Popular in the Community