After more than twenty years of interviewing bands, I should know better than to argue with musicians about their own lyrics. They write 'em, I don't. But a few weeks ago, I decided to get cute with Amy Millan from the Canadian indie band Stars and suggest there's nary a sad song in its repertoire, in spite of the fact that Stars' sparsely-appointed-yet-ever-energetic latest collection, The Five Ghosts, kicks off with one of a slew of titles easily misconstrued as macabre. Even the black-and-white archival photo on the cover (featuring an eerie/beautiful photo of a young girl who looks like she could be Millan 100 years ago) conjures an otherworldy presence.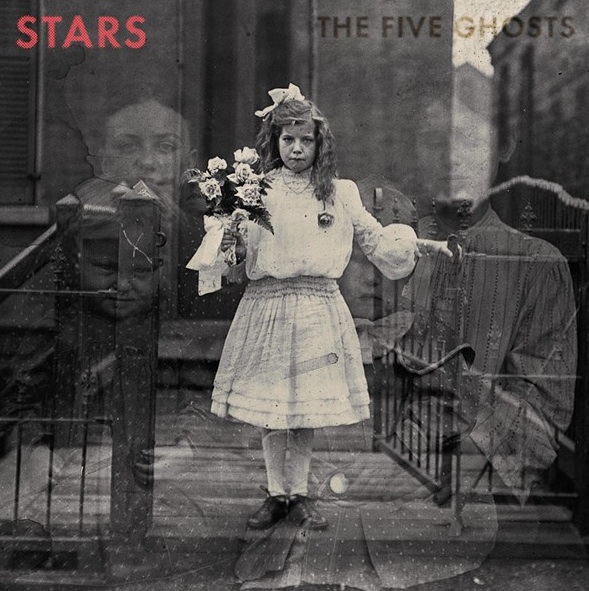 Album art courtesy of Big Hassle.
"Dead hearts are everywhere," Millan and fellow Stars vocalist Torquil Campbell purr together atop piano and arpeggiated guitar chords in the album's opener ("Dead Hearts"). "Was there one you saw too clearly? Did they seem too real to you?" Campbell implores in a reedy tenor. "They were kids that I once knew," Millan sings in reply, "Now they're all dead hearts to you."
Wait -- is this the album equivalent of M. Night Shyamalan's The Sixth Sense? As merely described in words, the song could be mistaken for Goth rumination (remember Dead Can Dance's "The Host of Seraphim"?) or shoegazer musing (ala Lush's "Light from a Dead Star"). And this from Canada's favorite ethereal pop ensemble, nominated for the Polaris Music Prize and numerous Juno Awards?
But as U.S. fans will discover once again during Stars' current jaunt across our fair land in support of The Five Ghosts (including a sold-out stop at Washington, D.C.'s 9:30 Club on September 29), this Montreal-based quintet's music has a positive lifeforce that defies the melodrama of its storytelling; the band's power is virtually indescribable to those who haven't sat with at least one of its five albums or three EPs over the past decade and pondered, "Why do songs called "Your Ex-Lover is Dead" (2005) and "I Died So I Could I Haunt You" (2010) make me feel so happy?"
Is this band actually mysterious? Just enough. Galactically milky and delicious? Most def.
There's probably some scientific research out there about the effects of rhythm and chord progressions on human emotions that could be applied here. But to me, no matter what key "Wasted Daylight" or the gorgeously repetitive "He Dreams He's Awake" (which recalls the best of the Dream Academy) are in, there's something just downright optimistic about Stars' music... which is where my good-natured argument with Millan comes in.
"I think that a lot of people who aren't listening to the songs have the basic impression that it's just a sugary pop band," the singer tells me, on the phone from her home in Quebec. "But they're just not paying attention, because there's actually kind of a poison that lies beneath everything that we do. I think generally, there are both: there is optimism and there is despair; there is hope and hopelessness. I think that's what we all live in our lives."
In the first line of "Fixed," Millan injects us with hope ("What you want, you are, you always were") before telling us that "We all end floating away." That a "gloves-off" handling of poetic endings (in some songs, otherwise known as death, natch) is an essential part of Stars' spiritual and musical exploration doesn't keep the band from having fun -- or rocking out: a recent performance on Jimmy Fallon (see video below) had Millan high-fiving bandmates after the Roots' guitarist "Captain Kirk" asked about her 2009 solo album; plus the singer swears of her four musical bretheren (some of whom also do time with her in the Canadian collective Broken Social Scene), "We're a bunch of people who take things quite seriously, but you won't hang out with us for a day without having a gut-splitting laugh attack."
Getting back to the subject at hand, what's so wrong with sugary pop, anyway? If 2003's "Elevator Love Letter," 2004's "Ageless Beauty," and especially the brand-new "Fixed" -- aka Stars' biggest "hits" -- are upbeat jangling wonders driven by unabashedly electronic riffs and hooks so chewy even today's most celebrated songwriters would probably love to lay claim to them, then why isn't that enough?
Because that's not the way Stars play, eh.
"There is the constant tension of that [juxtaposition between the light and dark], and I think that's what makes us an interesting listen," Millan explains. "It's the drama of anything in life. You need to have both sides or else it's just one-dimensional."
For tickets and more information about Stars' U.S. tour -- running September 24 - November 24 -- click here.
Popular in the Community