The US exclusive economic zone (EEZ) in the ocean is the world's largest, and American fishery management is the world's best. Yet more than 90% of all seafood consumed in the US is imported, and more than 75% is one of only four species: shrimp (mostly farmed in Asia), salmon (mostly farmed in Chile), tuna (almost all canned), and whitefish (mostly tilapia farmed under the most dubious conditions).
Wild fishing is the last true hunting on earth. Seafood is universally considered the healthiest protein. With the waters surrounding America's traditional wild fishing communities blessed with dozens of abundant, sustainable, healthy and delicious species, why don't Americans accept the incredible gifts bestowed on them?.
Americans are accustomed to cheap protein. Corn, soy and wheat are government subsidized and provide artificially low cost feed to industrial meat production. That means cheap meat for consumers, but at a frightening cost to the environment, small farmers, animal welfare, and human health.
Illegal, unreported, and unregulated (IUU) fishing is a worldwide scourge, and last year's AP investigative report shone a light on rampant seafood slavery. Harvesting fish illegally without any labor cost is an excellent business model for cheap imported seafood.
Meanwhile traditional American fishing communities have struggled under the stringent but essential US fisheries management policies that have brought our fisheries back from the brink to the rebuilt status of today. We owe it to ourselves to reward domestic fishermen for their gallant efforts.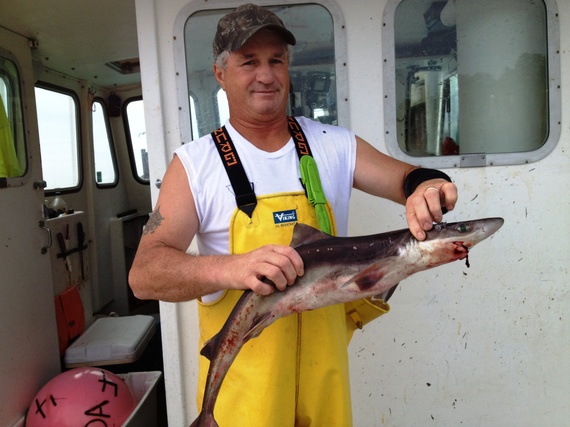 John Tuttle of the F/V Cuda with an MSC certified Dogfish outside Chatham, MA
We can do this by enjoying the many "underloved species" our fishermen catch. In New England, Atlantic Pollock and Acadian Redfish are abundant in the warming waters that cod have left. In the Mid-Atlantic, invasive Blue Catfish and Atlantic Spiny Dogfish, the main ingredient for fish and chips in the UK, are dominating the ecosystem. In the Gulf of Mexico, Striped Mullet, once thought of as bait, is being realized as the tasty treat it is. The Pacific ground fishery, declared dead two decades ago, has been rebuilt and certified sustainable, yielding such unappreciated fish as Grenadier. And in Alaska record returns of Pink and Keta Salmon rarely reach our dinner plates.
Many progressive chefs and campus dining programs around the country have caught on to the fact that "underloved" wild domestic fish are sustainable and healthy; to the fishermen and the communities they support, to the well-being of the people that discover the deliciousness, and due to the affordable cost, to their pocketbooks.
Support traditional American fishing communities by eating better fish. It is better for the fish, the fishermen, and all the people they feed.
But most of all it is better for you and your body.
Calling all HuffPost superfans!
Sign up for membership to become a founding member and help shape HuffPost's next chapter