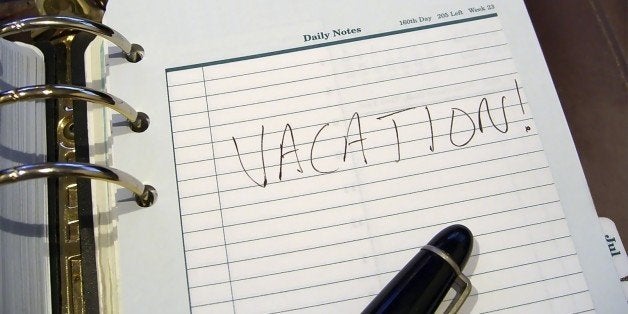 I recently saw some staggering statistics. In 2015, more than 135 million Americans (that's 56 percent) said they hadn't taken a vacation in the last 12 months. Another stat says Americans are taking the least amount of vacation time in almost four decades. (A vacation being defined as a "week off work in a place more than 100 miles from home"). These days many companies employ a use it or lose it policy" when it comes to vacation time, so for lots of people these precious days may end up being lost for good when the end of the year rolls around.

As someone who has worked in the travel industry for nearly 17 years and is a lifelong advocate of travel as essential to leading an enriching life, these numbers worry me. Quite frankly, they make me think maybe it's time we redefine what exactly a "vacation" means.

Certainly everyone's lives are busy, and not everyone can spare the time and expense to take a big, exotic two-week vacation every year. But that isn't all there is; it's not so black and white, and taking time away from work to rejuvenate doesn't need to be all or nothing.

I propose we look at alternative definitions of "vacation." Let's include short weekend getaways and those trips where you tag an extra day or two on to each end of a business trip. Here are some ideas:

• Use long weekends as an excuse to get away. Did you have President's Day off? Did you go somewhere? I took the day off and made a long weekend of it by hitting the slopes in Utah. The next big holiday weekend is Memorial Day... mark your calendar now.
• Stay over on a Sunday and save on your lodging costs. On average, Sundays have the lowest rates for hotel rooms.
• Don't lock yourself in to a short timeframe. Rather than planning for a specific date and then looking for good deals during that timeframe, choose your location and then book your weekend when the rates are low. It might take some detective work, but it's worth it.
• Be spontaneous. If you see a great rate somewhere you've never been or are dying to go back to, go for it! You'll be glad you did.
• Look for inspiration wherever you are. If you're on a business trip, but get a few extra hours to take a hike or explore a new neighborhood, you've learned something.

At the end of the day, it comes down to taking time for you. Disconnect from work and re-connect with family and friends. Expose yourself to new experiences. Vacations are necessary, even essential, to our wellbeing, in whatever form they take. As an employer, traveler, and fellow human, I challenge you to please, use all your vacation time in 2016.

(Hotwire President Henrik Kjellberg has been working in the travel industry for nearly 17 years. A self-proclaimed "travel geek," he took more than 40 trips in 2015.)
Related