As the "Nuns on the Bus" kick off their social justice campaign for immigration reform this summer, there's another Catholic Sister who remains locked away in a Georgia jail cell convicted of one of the most serious federal crimes: sabotaging America's national security. Sister Megan Rice, who is 83, could get up to 20 years in prison when she's sentenced in September, an effective life sentence for her. Earlier this month federal prosecutors were successful in convincing a Knoxville jury that Sr. Megan, along with two fellow nuclear disarmament activists, were responsible for "injuring" security and tarnishing the international reputation of the Y-12 National Security Complex in Oak Ridge.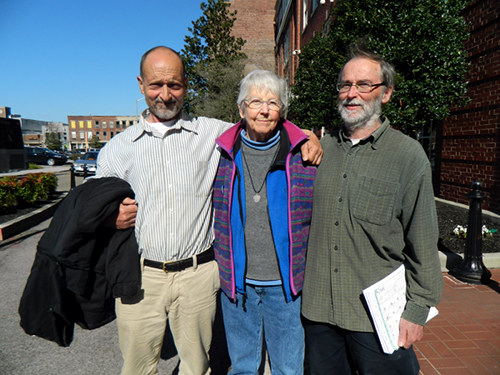 Michael Walli, Sister Megan Rice, and Greg Boertje-Obed (Photo courtesy: John Huotari/Oak Ridge Today)
Y-12 is where America stores its highly enriched uranium, some one million pounds of it, enough to make thousands of nuclear bombs. It has often been touted as the nation's strategic Fort Knox, that is until Sr. Megan, Michael Walli, 61, and Greg Boertje-Obed, 58, (the two men are U.S. military veterans) paid a visit last July.
Wielding bolt cutters, a Bible and candles the trio successfully breached security at Y-12, by cutting through four chain link fences. Shockingly, the three were able to advance, undetected, to the Highly Enriched Uranium Processing Facility (HEUMF), where the bomb grade uranium is stored, before they surrendered outside the building to a lone security guard who had arrived on the scene. The intruders were unarmed.
For Sister Megan and her two compatriots, a lifetime of social activism and opposition to U.S. nuclear weapons policy had led them to Y-12. They hoped their action would trigger a wake-up call to the nation to change policy course and transform the billions of dollars being poured into weaponry with the potential to kill, into that which is life giving. They called their action "Transform Now Plowshares."
But the trio's wake-up call did not produce the results they had hoped for or could have expected. The incident sent shock waves through the federal government reaching all the way to then Secretary of Energy, Steven Chu. He ordered a top to bottom review of security at Y-12 and in a speech overseas at an International Atomic Energy Agency conference sought to reassure other nations the U.S. was taking the matter very seriously. Since 2010, the U.S. has been working with more than a dozen countries to secure their vulnerable nuclear materials some of which are shipped to Y-12 for safekeeping. It was nothing less than embarrassing that America's credibility to safeguard such materials on its own turf appeared to be called into question.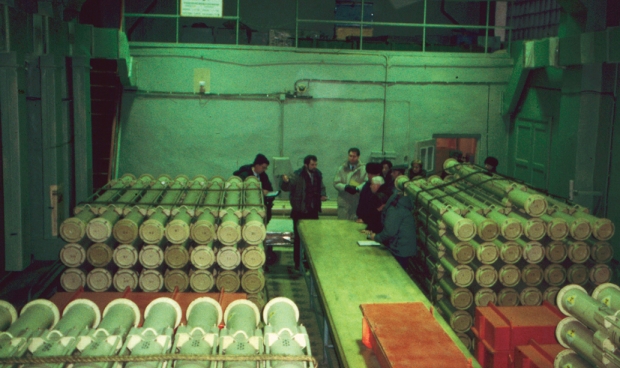 Y-12 secures materials from foreign countries with proliferation concerns (Source)
"Even in the United States, we realize that we must remain vigilant," said Chu. While he maintained the activists' break-in "never posed a threat" to Y-12's nuclear materials, Chu added, "This unfortunate incident is an important wake-up call for our entire complex, and an important reminder that none of us can afford anything but the highest level of vigilance."
Since the break-in there have been a string of Congressional hearings coming on the heels of a scathing incident report by the Department of Energy (DOE's) inspector general, which found "multiple system failures on several levels." It cost taxpayers $150 million annually to secure the complex. Ultimately, the private contractor in charge of the guard force was fired, while officials working for Y-12's corporate manager were either demoted or re-assigned.
"I've got to tell you that they did more for securing our weapons facilities than anybody in history, "says Peter Stockton referring to Sr. Megan and her two fellow activists, and the watershed of corrective government actions following the incident. "If, indeed, they had been terrorists, they would have been into that building and detonating a bomb in no time flat, " he added. Stockton is a senior investigator with The Project on Government Oversight, a non-partisan watchdog that investigates government corruption and waste. He's an expert on nuclear safety and security, who served as a special assistant to the secretary of energy during the Clinton administration and spent 27 years on Capitol Hill as a senior investigator on House and Senate Committees.
"When something is made public like in Megan's case, all hell breaks loose," says Stockton. Nonetheless, years before Sr. Megan exploded into the public spotlight, government reports and Stockton's own POGO investigations had cataloged security concerns at Y-12. For example, in 2004 a report by the DOE's Inspector General described test results evaluating the ability of the private guard force to safeguard Y-12 against attack as "tainted and unreliable" due to apparent cheating. Even worse, the IG said there was evidence the cheating had been going on for some 20 years. Corrective action was taken. The private guard company denied wrongdoing.
A few weeks ago, in announcing sweeping management changes at Y-12, Neile Miller, the acting administrator of the National Nuclear Security Administration (NNSA), the agency which oversees the private contractors that operate the nation's nuclear sites, told a Senate subcommittee, "There is no tolerance for federal or contractor personnel who cannot or will not do their jobs," she said.
Meanwhile, the NNSA, itself, was sharply criticized at a Congressional hearing by Air Force Brigadier General Sandra Finan who headed up a task force investigating the break-in. Finan, commander of the Air Force Nuclear Weapons Center, blamed deficiencies in the NNSA's own management structure that all but allowed private contractors to evaluate their own performance.
While there appears to be lots of blame to go around for the compromised security at Y-12, Sr. Megan, Michael Walli and Greg Boertje-Obed are the only ones being singled out for blame by the judicial system. To prove the sabotage charge against the three, the government claimed national security was obstructed when a truck convoy transporting nuclear materials to Y-12 was delayed because of the break-in. "Convoys get slowed up all the time " said Stockton, the nuclear safety expert. He added, "[to say] that this is terribly damaging to national security... if the convoy never made it, it would not be damaging. " When I asked Stockton what his reaction was to the guilty verdict for sabotage he replied, "That's crazy."
Helen Young is in production on The Bangor 5, a documentary about nuclear disarmament activism.
Popular in the Community