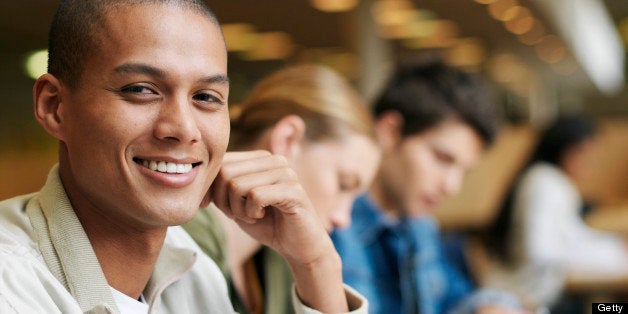 Last week, New York Times blogger and entrepreneur Bryan Burkhart wrote that if he were ever asked to deliver a commencement address, he'd say the following to graduates: "Congratulations. You've just earned your college degree... Despite your newly obtained degree, you don't know anything. You have no skills." Sadly, he's not wrong.
This 'tough love' style graduation speech isn't anything new, but it points to a growing and fundamental breakdown between what students learn in high school and college and what employers both expect and need.
You can see that breakdown in Hart Research Associates' April report. The report surveyed 318 employers and found that three quarters of them want colleges "to place more emphasis on helping students develop five key learning outcomes, including: critical thinking, complex problem-solving, written and oral communication, and applied knowledge in real-world settings."
Former Assistant Secretary for Employment and Training at the Department of Labor Jane Oate summed up this breakdown simply and starkly: "Business speaks one language and education speaks another language. We have to have translators."
While "translators" are useful, the real solution is having businesses and educators become partners in developing students' college and career readiness skills. Because when professionals integrate their business expertise with educators' curricula, the education that students receive is greatly enhanced.
In New York City, I see hundreds of school and business leaders work together in a variety of ways to do just that:
1. Bringing core academic subjects to life for students. Businesses can complement what students learn in the classroom by showing students how they use foundational skills -- like those used in core subjects such as math, science, and language arts -- at work. And more than illustrating real-world applications of classroom concepts, having professionals vouch for the importance of these lessons also provides students with the motivation that they need to master them. Among PENCIL principals who worked with business volunteers on increasing student engagement, 90 percent agreed that partnership activities boosted student engagement, and nearly 7 out of 10 saw improved academic performance in students who consistently participated in partnership activities.
2. Promoting awareness of and access to industries, positions, and career tracks. The other side of having professionals illustrate core academic skills is providing students with access to and awareness of new professions and industries. Students learn from PENCIL Business Partners about the job market as well as the fundamental connection between education and career aspirations. By sharing how they prepared for and found their jobs, today's professionals can help students find a career that interests them, and make a plan for how to obtain it. And by bringing businesses to the classroom, students don't just learn the skills that industry professionals use: they absorb more about the industry itself and the ways that education supports career aspirations. New York City is making big investments in this model with Career and Technical Education (CTE) schools like Pathways in Technology Early College High School (P-Tech, which is partnered with IBM) and Aviation High School (which works with NYC-based businesses like PENCIL Partner JetBlue Airways, among others). CTE programs have more than doubled under the Bloomberg Administration -- from 18 schools in 2002 to 46 by the start of the 2013-14 school year -- and have become a national model for college and career readiness.

3. Through professional experiences in the form of internships and apprenticeships. A report from the Chronicle of Higher Education and American Public Media's Marketplace found nearly 50 percent of respondents "had trouble finding recent college graduates qualified to fill positions at their company." CTE models like P-Tech and Aviation are creating access to on-the-job training. But these experiences shouldn't be focused solely on technical experience, as an expanding field of research suggests that certain behavioral characteristics and social/emotional skills -- such as perseverance, discipline, managing, time management, and other social skills -- are just as important in advancing in a career. There's no better place to cultivate these skills than in the workplace, and developing those qualities now helps our students arrive at work ready to contribute.
Speaking of students arriving at work: right now, nearly a hundred high school juniors and seniors are working at top companies throughout New York City through the PENCIL Fellows Program, a career readiness program that provides students with both critical career training and hands-on professional experience. Over the last seven years, PENCIL has placed more than 600 students in paid six-week summer internships, helping them to develop the type of character that employers look for, and teaching students basic behavioral characteristics and social/emotional skills that they'll need to excel throughout their careers.
The program has been successful because students receive the training they need to succeed before they interview for their internship, and the companies understand that this is an opportunity to further develop their skills. The most effective programs (like the Fellows Program) involve a careful selection process and ongoing training for students so they are prepared before they get to the workplace and supported once there.
Even if educators and business leaders initially speak different languages, we're all saying the same thing: we need better-prepared graduates and employees, with the skills, preparation, and qualities needed to support a thriving economy. We're proving that by working together across sectors, we can do just that.
We all have a stake in this -- so let's all get to work.
Related
Popular in the Community