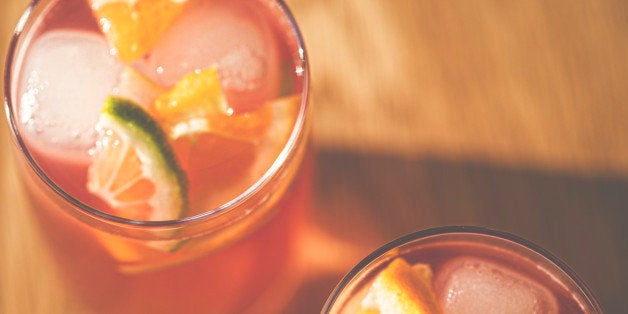 A party drink is a party essential! Hosting a party should be fun for you, too, and trying to accommodate multiple drink requests can be tricky. A party drink -- like this fizzy mimosa punch -- is the answer to keeping your sanity. Whether I am having ladies over for a brunch or colleagues for a fun evening gathering, I love to have a pitcher or a punch bowl or a slow cooker full of a "signature drink" for the event.
This fizzy mimosa punch is the perfect party drink for a weekend brunch and takes just a couple of minutes to put together. I promise your guests will love it.
A few tips ... Don't skip the sherbet in this punch! It might seem a little retro but, trust me, those ladies in the 50s and 60s were onto a good thing. You need just enough sherbet to create a little bit of creaminess. If you have a large enough punch bowl, double this recipe! You won't regret it. If you want more fizz, add more seltzer water.
This recipe will serve 10 servings over ice. If you have 10 people over, no one gets a refill! Don't do that to your friends. If you have more than 5 people joining you, double this recipe - 2 bottles of champagne and 1 full bottle of orange juice.
1 bottle sparkling wine, brut, cava, or prosecco (750 mL)
1 quart orange juice (25 ounces)
1 can seltzer water (12 ounces)
6 scoops orange sherbet
1 orange, cut in circular slices
Combine sparkling wine, orange juice, and seltzer water in a large punch bowl. Top with orange sherbet. Give it a quick stir to create a foamy layer on top. Garnish with orange slices. Serve in individual glasses over ice. Enjoy!

Find more recipes on my blog ... www.erinbrighton.com