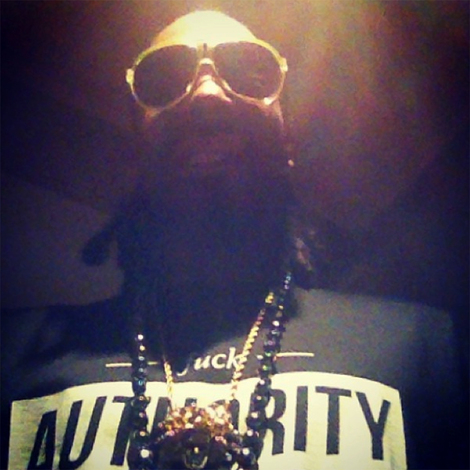 Could you describe yourself in two words?
That's the question I asked myself after watching Snoop Dogg's video for 'What's your Pleasure?' his smooth, smoky collaboration with Daz Dillinger. In this vid Snoop, who it seems has no trouble with the task, wears a T-shirt emblazoned with 'F**K Authority'. Personally I couldn't imagine a more succinct description of the man.
Still amused by the idea, the following day I typed F**k Authority into a search engine and discovered the near impossible story of how a small, unknown Australian fashion label ended up on Snoop's chest using only a clipboard and an enormous pair of kahunas.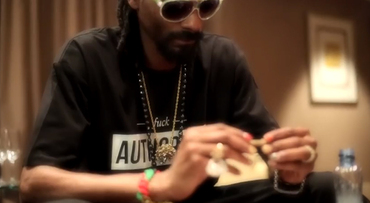 This company, called coincidentally Authority, could well be the coolest streetwear brand in the world right now, and is certainly one of the most innovative. Giving fresh meaning to the term 'streetwear', the brand, founded in Melbourne in 2012, works with up and coming artists, seeking out cool, gritty and often forgotten urban locations and funding elaborate installations, which they then document on video, before finally creating limited edition T-shirts featuring them. But this isn't some hastily sprayed, scrawled graffiti; these projects go far beyond that, creating something unique, and quite beautiful, something that can bring people to a halt in front of them. Something that brings a little wonder to what were once just bare walls in ignored places.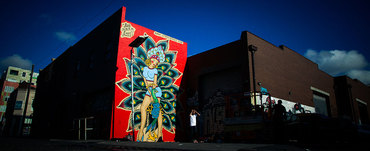 Authorities founder Chris Skyner, told me, "The really unique thing, I guess, is that we add a removable swing tag to the t-shirt featuring the name of the artist and the exact GPS location where you can find the original piece."
Self-taught designer Chris began selling his work in markets around Melbourne, funding it through multiple jobs in the cities bars, clubs and restaurants. "Originally they didn't sell quick," he told me, "Actually they didn't sell at all. I just couldn't move them. But instead of giving up I planned another wall. A much bigger wall. This time with two artists; Steen Jones and Alex Lehours"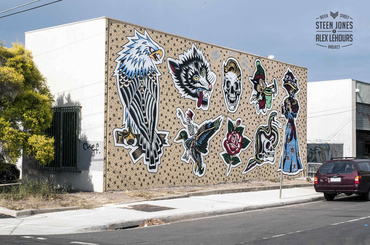 This project, which became known as the Bieth Street Project, catapulted Authority into the Australian press and right across social media. It's a strange piece, simultaneously macabre, playful and ironic, something that brings a wry smile to your face, even if you can't place why. But Chris, who it seems, was born with more than his fair share of confidence, set his sights on something even bigger. Snoop Dogg.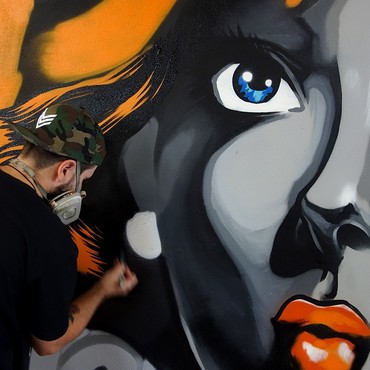 When the star appeared in Melbourne, Chris, and his previously mentioned kahunas rocked up to the venue with a clipboard and a well built personal trainer friend in tow claiming to be Snoop's agent and bodyguard. In what can only be described as an epic display of tactical bulls**t, he somehow managed to talk himself into the dressing room claiming he was there to drop off outfits for the show.
Unfortunately that night he was disappointed to find them nowhere to be seen, marking it down in life's 'worth a try' category. Then two weeks later a picture turned up on Instagram of Snoop wearing it. Shortly after came the video for 'What's your pleasure?'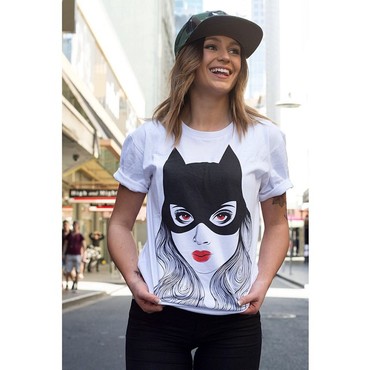 With new work sold only as pre order now and selling out almost instantly, plans to enter Europe and the US, as well as major collaborations with Rolling Stone Magazine and a new Skateboard arm of the company in the works, you suspect it's only a matter of time before world domination becomes a reality for Authority, Chris and his kahunas. And good for them, the world's too short of people willing to task risks, willing to put their clipboard where their mouth is.
Personally having talked to him I have no doubt that when man first steps out onto Mars they'll somehow find themselves wearing one of his shirts.