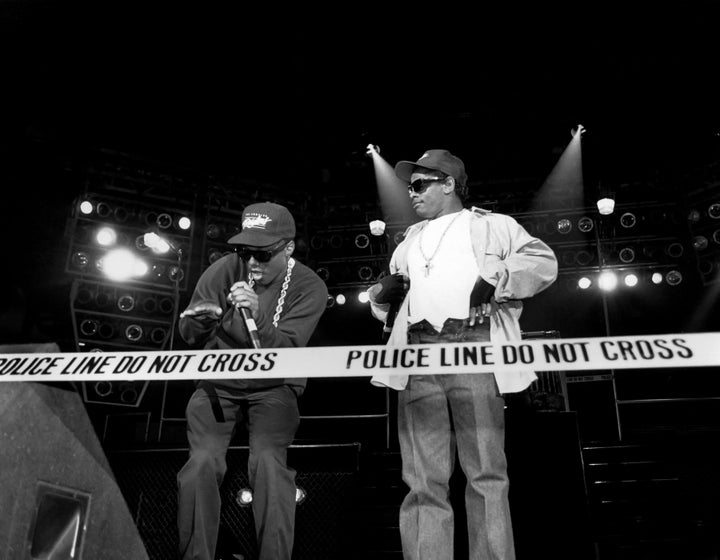 A DJ has reportedly been charged with disorderly conduct for playing N.W.A's "Fuck tha Police" as officers tried to clear out an overcrowded bar.
Kashawn Harris, aka DJ Boogy, was spinning at Shenanigans Pub in Westfield, Massachusetts, last October when police began trying to disperse a crowd more than twice the size of the bar's capacity, MassLive reports.
As the officers ordered people out and tried to clear a path, police say Harris started to play the 1988 protest song.
A police report argues that the music selection was "an intentional act by the DJ to incite the crowd which showed a reckless disregard for public safety."
Harris, 25, denies the accusation and says the song was cued up before police even arrived.
"I had no intention of inciting a riot," he told MassLive. "It was just college kids having fun."
A month after the Oct. 17 incident, Harris received his summons. Last week, he was found responsible for disorderly conduct and ordered to pay a $50 fine.
Reached by The Huffington Post Thursday, Harris called it a "very unfortunate" situation and one that could have been handled "simply" by a "face to face conversation."
On the bright side, Harris doesn't necessarily have to shell out the $50 if he chooses.
Since word of his fine came out, people on social media have offered to pay the sum for him, with one person informing Harris that they'd sent him $20 in bitcoin.
"I'm not even in or from Mass, but I would gladly pay the $50 for you, B," one Twitter user told him.
Harris said he's declined the offers.
"I am not... searching for money," he told HuffPost. "I just wanted the truth to be told and spread my name as a DJ."
Calling all HuffPost superfans!
Sign up for membership to become a founding member and help shape HuffPost's next chapter
BEFORE YOU GO