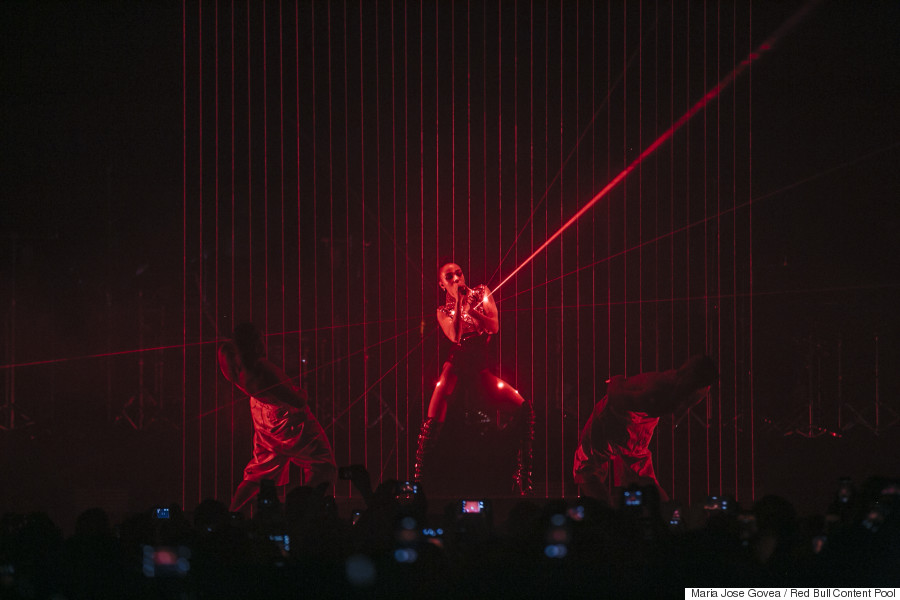 The 27-year-old British artist, born Tahliah Barnett, played three special shows this week at the sweltering warehouse-turned-venue Brooklyn Hangar, the last of which wouldn't have happened had it not been for her overwhelming fan base. The first two nights of FKA Twigs' "Congregata" show, presented by the Red Bull Music Academy Festival, sold out, thus prompting a third show, which also sold out.
"The name is 'Congregata' and it means 'coming together' in Latin, and this is a coming together of my friends," FKA Twigs said at the end of the Tuesday-night show, her gentle voice breaking through the uproarious applause and "Yass!" screams from the crowd when it could. But FKA Twigs' show is also a thrilling display of the marriage between various dance styles and visual aesthetics. Throughout the nearly two-hour show, one feels like they're witnessing a Cirque du Soleil show transformed into a ballroom drag celebration blended with moving interpretive dance set to a live violinist.

Photo credit: Drew Gurian/Maria Jose Govea/Red Bull
Yet what grounds this eclectic blend of voguing, contortion, acrobatics and performative dance is the moody, throbbing sound of FKA Twigs' music. Performing songs from "EP2" and last year's acclaimed "LP1," with everything from "Two Weeks" to "Water Me" to "Papi Pacify," FKA Twigs balanced the night's energetic performances with her elegiac vocals (which, as we've said before, basically sound like sex).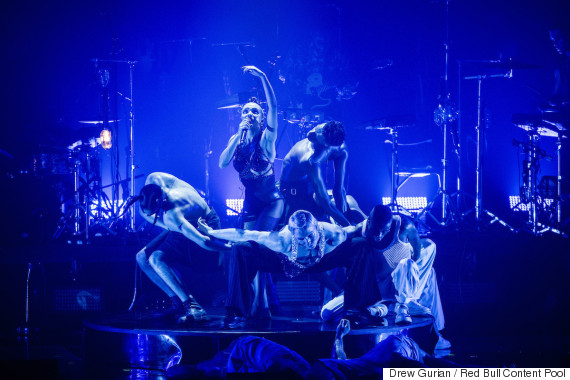 At one point, FKA Twigs took to the stage sans dancers to sing "Lights On," her voice alternating between the chorus and background vocals, as if wavering between restraint and vulnerability. Few performers have the ability to switch between melancholic hip thrusts and extravagant krumping.
The real treat of the night came when FKA Twigs danced to a rendition of Madonna's "Vogue" -- only to be interrupted by New York's finest voguers. Derek Auguste, Alex Cephus, Javier Ninja of House of Ninja, Dashaun "Evisu" Wesley, Benjamin Milan of House of Milan and Leiomy Mizrahi of House of Mizrahi took over the stage with a full-on voguing tutorial that almost literally brought the house down, as remnants from the warehouse's wooden ceiling rained down on the crowd from the pounding bass.
And still, FKA Twigs knows she's no legend: the humble artist told the audience at the end of the night that she's always conscious of crediting her influences. "It makes me feel uncomfortable when people write on my Instagram or Twitter, 'FKA Twigs: Queen of vogue,' because I'm not," she said. The singer even took the backseat during the show multiple times, stepping back with her band to DJ as four of her all-male dancers showcased their skills onstage. It was difficult, at times, to decide who to watch -- the star of the show or the many bodies fiercely revolving around her.
The most exciting aspect about FKA Twigs is that she's only just begun. She's already evolved since her first EP debuted and is still settling into her prime. Consider her name alone -- the FKA stands for Formerly Known As, a change made after a still-ongoing legal battle over her previous stage name, Twigs -- which puts the performer in a context of continual reinvention. She's an artist simultaneously defined by who she once was and by the ambiguity of her current identity. Who exactly is FKA Twigs, then? We're not sure, but she has our full attention.
REAL LIFE. REAL NEWS. REAL VOICES.
Help us tell more of the stories that matter from voices that too often remain unheard.
BEFORE YOU GO
PHOTO GALLERY
Best R&B Albums 2014