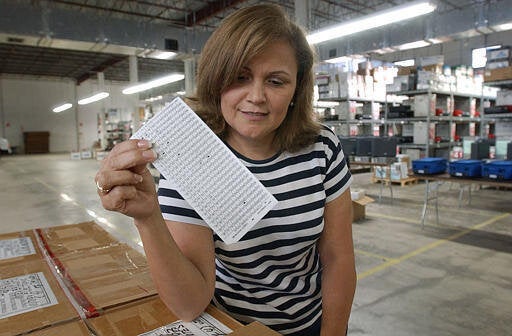 Florida's voting infrastructure became famous in the 2000 election when "hanging chads' became a household name. And problems keep popping up.
Can Florida voters be confident that their votes will be accounted for properly?
According to Secretary of State Kurt Browning, the answer is yes. He is confident that today's voting will go smoothly and there won't be anything more than 'normal election day' issues like voters showing up at the wrong polling place. That means no hanging chads and no undercounting as happened in a 2006 Congressional race.
Florida spent millions of dollars on touch screen machines only to have them scrapped last year because the machines lack a paper trail. This is the last election that 14 Florida counties will use the touch screen machines. They will be replaced by optical scanning machines in time for November's election.
Also last year, an anomaly in the state's voting database listed 16,000 people as living in the same apartment complex in Duluth, GA although the overwhelming majority had never lived there. The database was fixed by the vendor and Browning says no other similar problems have been reported.
Jerry Holland, the Supervisor of Elections for Duvall County (where Jacksonville, Florida's largest city sits,) says that his county just finished verifying 100,000 petitions and there was no problem using the voter registration database.
Ion Sancho, the Supervisor of Elections for Leon County (home to Florida's capital, Tallahassee,) says "the database is under-analyzed and was flawed in 2000 and 2004," referring to 20,000 African Americans who weren't allowed to vote because their names didn't appear on the official registration list. A report by The U.S. Commission on Civil Rights found many voting anomalies with Florida's black voters including a rejection of 14.4% of votes cast by Florida's African Americans as compared to 1.6% rejection of nonblack voters.
Sancho says "campaigns need to end outside the ballot box and not be contaminated with partisan poison.... The only way to ensure a fair vote is to have a professional, non-partisan elections administration" and to codify the "right to vote in the Presidential election into the Constitution." Yes, you heard right, there is no constitutional right to vote in a Presidential election.
Two new laws were passed by the Florida legislature that might affect voter registration. The first law imposes high penalties and great liability on third party voter registration drives when laws are broken. The League of Women Voters sued saying that the law was too restrictive and would negatively impact minority voting rights. Local courts ruled the law unconstitutional, so the Florida legislature made changes. According to Secretary of State Browning, the plaintiffs and the defendants decided to send the law to the U.S. Department of Justice for pre-clearance, which id did last week. According to at least one civil rights group, the law is still restrictive and will decrease third party voter registration drives.
The other law has to do with identification requirements for voting. At the end of last year a federal judge ruled that the state can not require a person to show a driver's license or Social Security number when voting. The state appealed and argued last week in the 11th Circuit that it be allowed to require such identification. A decision has yet to be handed down.
Then there's the problem my 87 year old grandmother pointed out to me. She's a poll worker, has been for years. Problem is that she's not that good with machines. She found out at the training that there were new machines, which were explained in about 10 minutes. That wasn't enough for her, so she and three other of her fellow co-workers went to a special training to see how the machines work. My grandmother had to share a machine with someone else (4 students, 3 machines.) The class before her had 20 'students' being trained on 3 machines. She spent the weekend studying the instruction manual and hopes there will be someone to help out. Grandma's prediction: Chaos.
So the big questions for tomorrow's vote in Florida are has the state corrected its past problems? And will Florida's primary be fair? Is Grandma over-reacting? If you vote in Florida, how was your experience? Send an email to hpickman@yahoo.com.

Popular in the Community