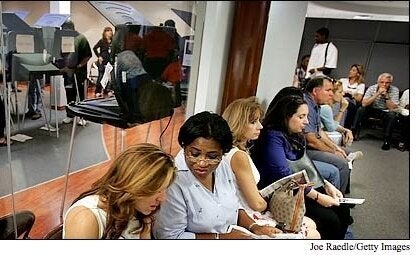 FORT LAUDERDALE -- Broward County, home to nearly one million voters and the site of much controversy in past presidential elections, is in the eye of the election campaign storm, with Democrats pushing to capture roughly 75 percent of those million ballots for Sen. Barack Obama, hoping to edge out Republican votes elsewhere in the state.
County Democratic chief Mitch Ceasar is a man on a mission to see that happens, taking on GOP spokespersons in a marathon schedule of debates, in raising sufficient funds to air the first-ever TV commercials from a Sunshine State county committee, organizing a crowd-filled number of workshops to get out the vote, and overseeing dozens of events to "bring out the crowds" for early voting.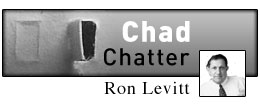 In previous presidential elections, Broward has turned out approximately 67 per cent of the votes for Democrats, but with non-stop TV commercials, a surge in early voting, Ceasar believes that the county will set new turnout records. County election officials say there are actually 997,321 voters in Broward, roughly two-thirds registered Democrats.
"Mitch is all over the county, urging everyone to go out and vote and attend workshops to get other people to vote," said one Democratic Executive Committee member. "And Obama will be back in Broward this week for a rally in the city of Sunrise.
Ceasar is not only the Democratic Chairman of Broward County, he is also a member of the Executive Board of the DNC and a former Florida Democratic State Party Chairman. He is the originator of the Florida Presidential Recap of 2000.
Broward -- with its Fort Lauderdale hub -- is the site of dozens of concentrated communities, including many condominium buildings housing a population which is historically, overwhelmingly composed of Democratic voters. The area -- along with two adjacent South Florida counties -- Miami-Dade and Palm Beach -- is being inundated this week by celebrities in hopes of "upping" the percentage in the party's growing tally.
Actors Matt Damon, Jason Alexander and Alicia Silverstone plus a handful of Latin entertainers including Spanish vocalist Noella Zanon are among those showing up at concerts, get-out-the-vote parties and other Democratic get-togethers here. Vice Presidential candidate Joe Biden and his wife as well as several western state governors have been active in the get-out-the-vote campaign as well.
Not to be outdone, the Republicans brought out Sen. Joe Lieberman, again, and TV personality Elizabeth Hasselback to counter the large number of Democratic events featuring celebrities. The Miami Herald (which earlier had endorsed Obama) in its front page story Monday referred to the surge in personalities as "Star Wars."
Whether or not these celebrities influence any votes is questionable, but no one doubts that their appearances may have helped spur the large numbers of early voters who have turned out here (forcing those in line to wait up to five hours in some locations). Early voting continues through Nov 2.
Florida is astir with politics, with most pundits watching the South Florids turnout (particularly Broward and the adjoining counties ) and early voting along the I-4 corridor (the Spacecoast-Orlando-Tampa stretch) to get an indication of just what is happening.
While most eyes currently are on South Florida, huge crowds were reported in the Tampa Bay area for Vice Presidential candidate Sarah Palin, who was introduced by conservative talk show host Hasselback.
As big as the target vote is for Broward, Democratic officials also are hoping for an avalanche in the nearby Miami area as well. In figures provided by the Democrats and not refuted by the local GOP, signs point to a pivotal win for Obama. Indications show that in Miami-Dade, 57 percent of those who opted for early voting were Democrats, 25 percent Republicans and the balance, independents.
The Republican leadership in Broward says that county's hopes for such a large Democratic "record-breaking" turnout may be "wishful thinking."
However, the number of normally Democratic voters casting early ballots is viewed by most as a positive sign for Obama.

All agree -- despite the polls now showing Obama with as much as a double digit lead -- that the fluctuating polls can not be relied upon in this volatile swing state.
But, Democrats are saying that the huge early voting turnout indicates Florida will become a Blue State and provide its 27 electoral votes to their nominee. Republicans are arguing their historic lead in absentee ballot will be more than enough to counter the Democrats.
All of the latest polls have the Illinois Senator leading by several percentage points in Florida. On Sunday, the influential South Florida Sun-Sentinel endorsed him, following the lead of three other publications: the Miami Herald, Orlando Sun-Sentinel and the Naples Daily News. Those three newspapers in the past have endorsed mainly GOP presidential candidates. More newspaper endorsements are expected as the campaign winds into its final days.
Republicans still are making a last ditch appeal to keep the Sunshine State "red," urging their long-term loyal base to make the difference.
"But all the headlines, polls, long lines and endorsements seem to be heading our way," said Democratic Sen. Dave Aronberg of West Palm Beach.
Mary Cooney, public service director for Elections in Broward indicated advance voting and absentee balloting might set new marks despite the long wait in most polling sites designated for early balloting.
Hoping to add to the numbers, the Obama campaign on Monday - using symbolism "27 for 27" -- organized 27 statewide early vote marches for the State's 27 electoral votes, according to Congressional candidate Joe Garcia. Garcia is one of three candidates hoping to unseat South Florida's three incumbent Republican House members, with a huge coattail effect when all the votes are tabulated.

Among the big events this week will be an enormous sports complex rally in Broward where Obama is scheduled o appear. Weston Democratic Club president Ann Zucker reminded her members to be on hand to meet "the next president" less than a week before Election Day.
"It's part of a concerted for Florida's 27 electoral votes -- one-tenth of the number needed to win the presidency, " she noted in an email to Democrats.
Support HuffPost
The Stakes Have Never Been Higher
Related
Popular in the Community