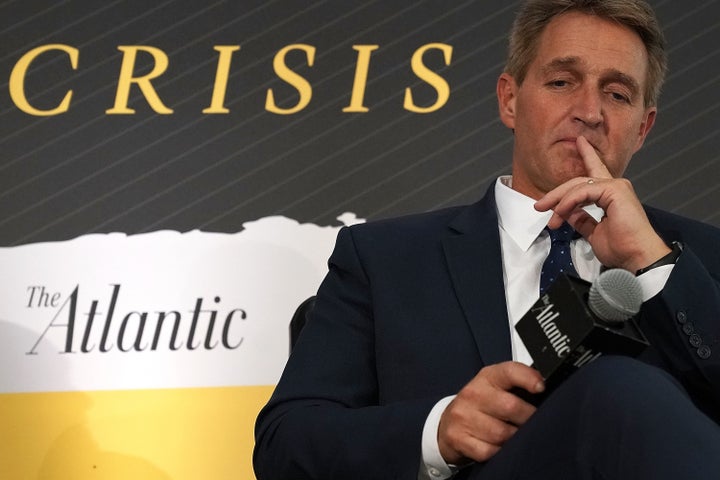 Brett Kavanaugh on Thursday appeared to inch closer to becoming a Supreme Court justice as two key Republicans in the Senate said they were satisfied with the FBI probe.
Speaking to reporters Thursday afternoon, Senate Judiciary Committee Chairman Chuck Grassley (R-Iowa) said he expected the full Senate to confirm Kavanaugh on Saturday.
Yet all eyes are still on Flake and the handful of senators who have indicated that what the FBI turns up in its report will influence their decision on Kavanaugh. The nominee faces assault allegations from multiple women.
Sen. Susan Collins (R-Maine), a fellow undecided voter, said the investigation appears "very thorough." She plans to "personally read the interviews" later in the day, she added.
A pair of red-state Democrats, Sens. Joe Manchin (W.Va.) and Heidi Heitkamp (N.D.) are also considered influential. According to a Politico report citing Manchin's aides, President Donald Trump has personally discussed Kavanaugh with Manchin. The senator appears to be leaning in Kavanaugh's favor, the outlet said.
Although Heitkamp initially dodged reporters, she told an ABC affiliate in her home state that she would vote against Kavanaugh.
"The process has been bad," she told the outlet.
Centrist Sen. Lisa Murkowski (R-Alaska) has not indicated which way she is leaning, either, simply telling HuffPost that she was about to read the FBI report. Murkowski did not attend a briefing on the report earlier in the day, preferring instead to hear it in person.
A single copy of the FBI report was made available to senators in a small, secure room.
A key concern for both Collins and Murkowski is whether, if confirmed, Kavanaugh would overturn Roe v. Wade, the landmark 1973 Supreme Court ruling that legalized abortion nationwide. Both continued to indicate on Thursday that they did not believe the judge would overturn the ruling.
Christine Blasey Ford testified last Thursday before the Senate Judiciary Committee about the 1982 party where she says Kavanaugh pinned her to a bed and attempted to remove her clothing while grinding against her. Deborah Ramirez subsequently came forward to accuse Kavanaugh of thrusting his exposed penis against her at a Yale party in the 1980s.
Kavanaugh passed the committee on Friday pending a "gentlemen's and women's agreement" on the investigation. The White House announced very early Thursday that it had received the FBI's report and sent it on to the Senate, saying the administration is "fully confident" in Kavanaugh's confirmation.
While Ramirez was interviewed by the FBI, Ford was not. Attorneys for Ford blasted the report shortly after its release and stated that the FBI's effort "cannot be called an investigation."
Democrats similarly criticized the investigation for failing to interview more witnesses ― FBI officials reached out to 10 people and interviewed nine.
This story has been updated throughout with additional comments from senators.
Jennifer Bendery contributed reporting.
Popular in the Community