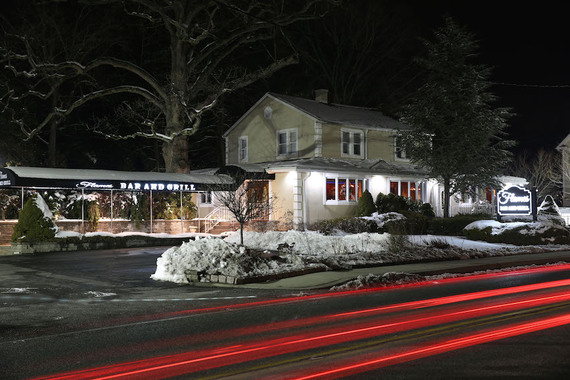 I have been happily dining at and writing about Flames since Nick Vuli opened it in 1992 as a paragon of a steakhouse whose quality of beef and other food exceeds that of far better know, much pricier competitors in NYC. In all that time Flames has had some added decorous touches--along with adding "Bar and Grill" to its name--but now, wholly revamped, it has emerged as one of the loveliest restaurants in Westchester County and one of the best-looking steakhouses anywhere.
Now everything about the dining room and a wholly reconfigured bar-lounge where a lot of people eat after hopping off Metro North is bathed in a glow of golden and lavender light that softens every surface of fine, polished woodwork, soft leather chairs, and plaid curtains that fit right into this affluent suburban neighborhood, 45 minutes from Manhattan by train or car.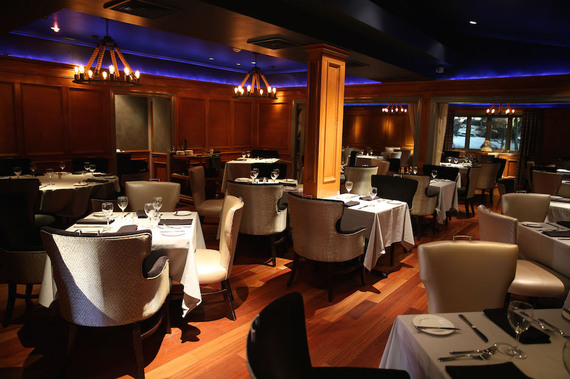 Mr. Vuli has trained his staff to be alert to guests' needs within a moment's notice, and their own generosity of care is mirrored in the generosity of the portions at Flames. The wine list, cellared in a gorgeous private dining room downstairs, seems in flux, with far fewer whites now available than there used to be, while the stock of reds is still superlative and very reasonably priced.
Most important, as the quality of beef continues to slide at those new steakhouses around the country that profess to serve USDA Prime, there has never been the slightest decline in the excellence of what Mr. Vuli buys after so many years in the business. Back in 1992 he made a commitment to buying the finest because he knew that it would be a competitive draw outside of NYC, and he's held to that commitment even as the real McCoy becomes more and more difficult to find.
But even before you get to the steaks and chops, there are decisions to be made from a large appetizer and pasta menu, which includes jumbo shrimp ($15.95) and colossal lump crabmeat ($15.95) that easily live up to their designations. Eggplant rollatini ($9.50) with prosciutto and fontina in a creamy tomato sauce is delicious, as is the ahi tuna ($1.95) quickly seared and given a lick of wasabi and a bed of seaweed. Fried calamari ($10.95) are cut thickly and cooked till tender and golden brown, easily shared by a table of four.
I haven't tried any of Flames's pastas in a while, though I recall with past pleasure the spaghetti alla carbonara ($21.95) "done the right way," as the menu says.
There's steamed or broiled lobsters of varying sizes (market price)--three pounders will feed two--and they are always full of meat in body and claw. You'll probably take home part of your extra thick veal chops ($43.95). The huge lamb chops ($43.95) are, of course, domestic and delectable, as is the bone-in shell steak ($43). I was persuaded that my least favorite cut, filet mignon, should be tried on the bone, and, aside from the unexpected rich flavor of the meat itself, the bone did indeed keep the succulence in a cut so often dried out. Then there are mammoth porterhouses for two ($89.95), three ($127) and four ($170), which are impeccably seared and cooked at 800 degrees precisely the way you order them, then sliced and placed on a very hot serving platter.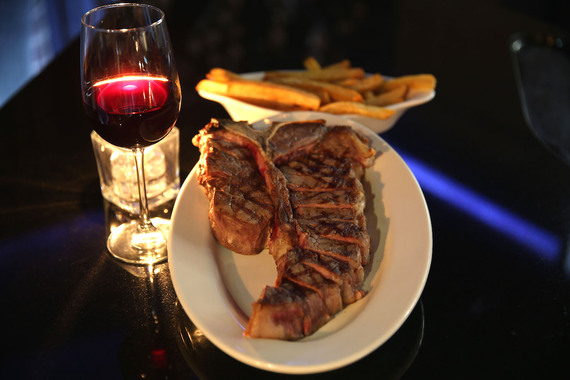 For side dishes, you should order the home fries (not crispy enough on my last visit) and the creamed spinach.
Desserts are up to you: they're competently made, including a good cheesecake and the textbook crème brûlée.
After nearly a quarter century in business, Flames is regarded as a classic restaurant of consistent quality in Westchester and the surrounding counties. For commuters, it's far easier to dine well here than to navigate their way to Palm or Spark's or Peter Luger's, and for those whose appetite for finding the best steakhouses in the region will draw them out of NYC, Briarcliff--Hillary and Bill live in the neighborhood--is less than hour a way.

Flames is open daily from 11 AM-10 PM.
FLAMES BAR AND GRILL
533 North State Road
Briarcliff, NY
914-923-3100
http://flamesbarandgrill.com