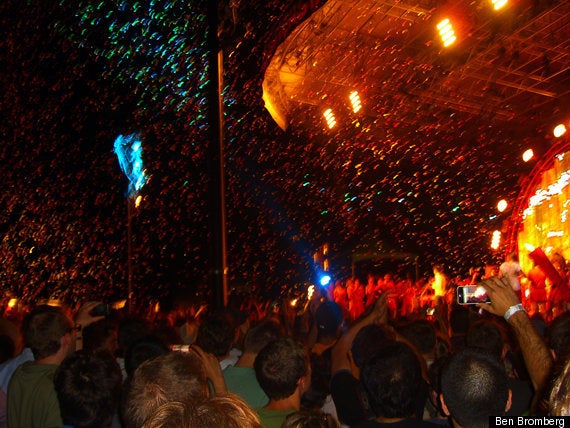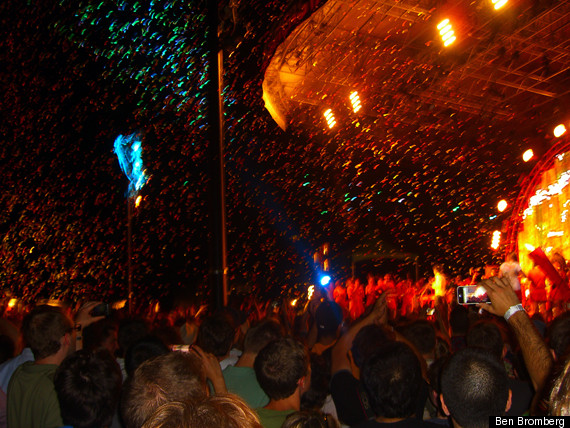 For anyone who has seen the Flaming Lips perform live before, they know there is nothing quite like sky-filling plumes of orange and yellow confetti being shot into the audience by cannon, especially when it syncs up with the question mark in bandleader Wayne Coyne's title chorus, "Do You Realize??" The Flaming Lips have the rare talent of creating magic on stage without rabbits or top hats, and for those who haven't witnessed the band's live show before, it can feel like a once-in-a-lifetime experience, impossible to replicate. But replicating the once-in-a-lifetime is exactly what Coyne and his Lips have been in the business of doing for more than a decade, building up their reputation as one of the most sought after live acts on the planet. And this Monday at the Central Park SummerStage, they did not disappoint.
Obviously one half of the Flaming Lips live appeal is the multitude of bizarre stunts they regularly perform, enlisting the sorts of hijinks that no other band could replicate. You'll always recognize something -- like Coyne singing "The W.A.N.D." through a megaphone with a strobe light tied around his neck, spinning in an enormous cloud of smoke, or striking a gong on every seismic crash of "Pompeii am Gotterdammerung". But even for a seasoned fan there are always new surprises -- I, for instance, was not quite prepared for when Coyne suddenly mounted the shoulders of a giant black bear (OK - it was a guy in a costume) in the middle of "Silver Trembling Hands", one of the single's off of their latest, 2009's Embryonic. Sometimes the most recognizable of tricks is the most exciting, though, as Monday's crowd was treated to Coyne crawling into his infamous inflatable hamster ball and catapulting into the audience. For every fan who helped keep the wobbling frontman afloat, they got a chance to feel like they were part of the show, while coming face to face with a true rock icon.
Interactivity has always been the secret to the Flaming Lips' live success, which brings me to the other critical half of the band's appeal -- the enormous likeability of Wayne Coyne. Coyne constantly checks in with his audience, asking "How's everyone doing?" in between almost every song, communicating in his bumbling, conversational way some sort of message of peace or love to the audience, frequently with an enormous blow-up of his face on the semi-circular screen behind him, via mic-cam. Make no mistake, this show is certainly catered to, if not specifically designed for, the members of the audience on drugs -- and I'm not just talking about the potheads. Coyne's presence is constantly reassuring and familiar, and you can see from the sincerity in his eyes -- the way he nearly tears up, grinning ear to ear, when his audience sings his choruses back to him -- that the road-wearied icon is attempting to make some kind of real, legitimate connection with every single crowd of people he performs for.
For fans of the music, Coyne's desire for mid-set conversation can be frustrating at times, especially during particularly long rambles. In introducing "In The Morning of Magicians", a song purportedly dealing with questions of love, Coyne attempted to share some lessons on the subject: "I think it's better to give love than to worry about if you're being loved, if you're receiving it. And you can give love to anyone, you could give love to the people around you -- or maybe the people around you are fucking assholes, maybe they don't deserve your love -- but you could give love to animals, you could love these trees, you could love an idea, you could love a song..."
For those who had chosen to give love to songs by the Flaming Lips, they might have felt the band's set would have been better spent if Coyne didn't spend nearly fifty percent of it in monologue. That being said, it's clear Coyne's motives are pure, and you have to forgive the man for his rambling nature and his desire to communicate peace -- after all, its what draws you to the friendly frontman in the first place. And there's no mistaking, the emotional weight of fan favorites like "Yoshimi Battles the Pink Robots, Pt. 1" becomes that much stronger placed midway through the set, after Coyne has started to build a connection with his audience.
After their most recent Embryonic broke the mold of the band's psychedelic dream-pop sound, as developed on their previous three albums, I was curious how their live set would manage working in the new material. The heavy acid-rock of their latest songs actually made for a nice juxtaposition with the cinematic, sweeping pop epics of their last few albums, re-grounding the band at times as a psychedelic rock'n'roll outfit. Meanwhile, new songs like "I Can Be A Frog" fit in perfectly with the nature of the Flaming Lips show, confirming that the band's new sound represented evolution rather than seismic shift. As Coyne sung "She said I can be a wolf" while strumming an acoustic guitar, he couldn't help but laugh as he received back from his audience a chorus of howls.
REAL LIFE. REAL NEWS. REAL VOICES.
Help us tell more of the stories that matter from voices that too often remain unheard.