Western North Dakota is in the news again one week after the announcement of a 20,600-barrel oil spill from a six-inch oil pipeline in a farmer's wheat field near Tioga. It was the largest oil spill in the current Bakken boom and may prove to be the largest land spill in U.S. history. While oil companies have so far avoided concerns of environmentalists, they may not be able to evade a lawsuit alleging lost income by mineral rights' holders due to the flaring of natural gas.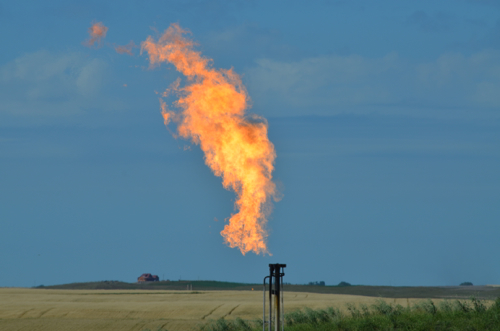 August 2013 Flaring in the Bakken (Credit: G. Nienaber)
This week, North Dakota mineral owners filed ten class action lawsuits in North Dakota state district court against oil companies operating in North Dakota's Bakken oilfield. The issue is not the transport and leaking of oil through an aging infrastructure. Plaintiffs are seeking damages for natural gas flaring from oil wells that are in violation of state flaring laws.
The lawsuits allege that North Dakota mineral rights owners "lost millions of dollars in royalties due to producers' practice of burning off large quantities of gas rather than selling it," according to a press release issued by North Dakota's Baumstark Braaten Law Partners and four law firms from Wyoming, Texas, Colorado and Montana. The respondents named are Burlington Resources Oil and Gas, Continental Resources, Crescent Point Energy, HRC Operating, Marathon Oil, Samson Resources, SM Energy, Statoil, WPX Energy and XTO Energy.
The lawsuits seek to force operators to comply with state law and pay royalties to mineral owners on the value of flared gas. Attorneys say that Bakken natural gas is some of the most valuable gas in the country due to its density of natural gas liquids.
A July 2013 report by the sustainability think tank CERES says that North Dakota natural gas flaring has more than doubled in two years. Although estimates from CERES say 70 percent of North Dakota's natural gas is marketed, the rest is wastefully burned off due to a lack of pipelines and other infrastructure.
According to the class action suit, "North Dakota allows limited flaring during the first year after an oil well enters production if certain oil production limits are followed; then after a year, a producer must apply for a written exemption for any future flaring. Ifit [sic] fails to do so it must pay royalties and state taxes on the flared gas."
The economic angle on flaring is unique and a stark departure from efforts by environmentalists to focus on the dangers of drilling, fracking, and the transport of oil through sensitive landscapes. Besides the wasteful economics of flaring, there are other concerns as well.
Money unfortunately always trumps aesthetics, and money cannot buy the spiritual experience of a clean and clear night sky.
Flaring is not only destroying the night sky on Indian lands; it is also ruining the nightscape in one of America's most rugged landscapes -- Theodore Roosevelt National Park. The effect on the night skies is so obvious, that the park's Summer 2013 Visitor's Guide commented on the effects of the oil boom, noting that each new well means another drill rig, well pad, pumpjack, debris pit, flare pit, storage tanks and access road on the landscape.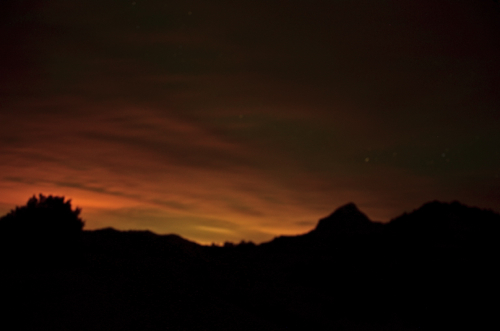 Red Skies at Night Theodore Roosevelt National Park August 2013 (Photo: G. Nienaber)
Natural gas flares are now visible from space and the light emissions rival those from midwestern metropolitan areas around Chicago and Minneapolis.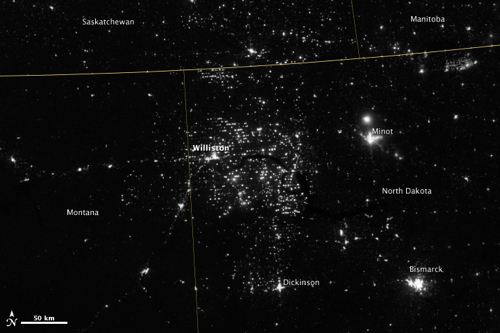 Nov. 12, 2012, the Visible Infrared Imaging Radiometer Suite (VIIRS) on the Suomi NPP satellite (Source: NASA Public Domain)

The health threats of natural gas flaring are real and have been demonstrated in Russia, Iraq and Nigeria. The United States has gaining the dubious distinction of being number four in the world's top ten flaring countries, due to the Bakken flares.
In the CERES report, "Flaring Up", the think tank writes, "absolute volumes of flared gas more than doubled between May 2011 and May 2013, resulting in the loss of approximately $1 billion in fuel and GHG (greenhouse gas) emissions equivalent to adding one million cars to the road."
As the class action lawsuit notes, gas has a much lower value to developers than oil, and as a result it is cheaper to burn it off than installing the infrastructure to harvest it. Dollars are literally going up in smoke -- $3.6 million a day -- and that smoke is going directly into people's lungs. It is not just the 4.5 million tons of carbon dioxide that should worry western North Dakota residents. Black carbon is part of the emission process, and receives a very bad grade from the World Health Organization.
"Epidemiological studies provide sufficient evidence of the association of cardiopulmonary morbidity and mortality with exposure to black carbon. Toxicological studies suggest that black carbon may operate as a universal carrier of a wide variety of chemicals of varying toxicity to the human body."
Is it time to love North Dakota's unique landscape?
Two time Green Party Vice-Presidential candidate and Greenpeace board member Winona LaDuke thinks so. In an interview with the Forum News Service, LaDuke said she does not want North Dakota to become a "national sacrifice area."
Support HuffPost
The Stakes Have Never Been Higher
Related
Popular in the Community