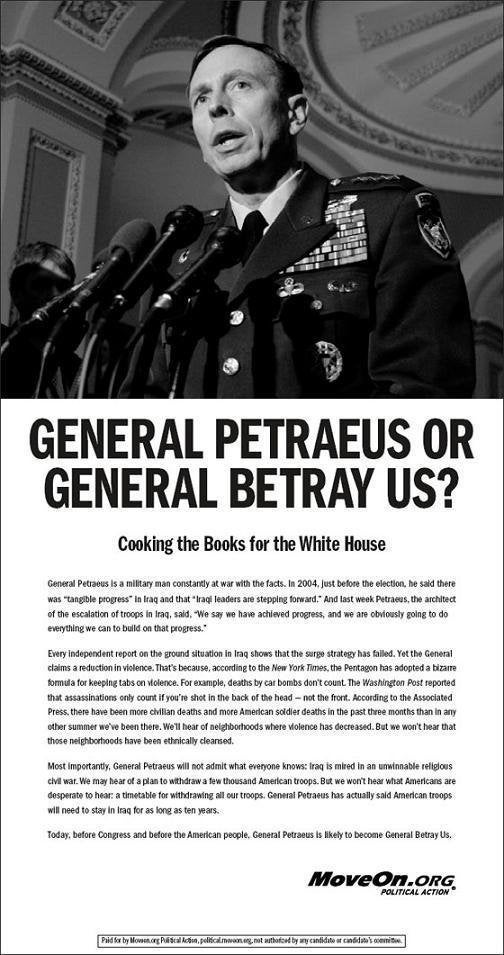 An astute tipster points out to me that one minor point of awkwardness concerning President Barack Obama's embrace of General David Petraeus to take over the mission in Afghanistan is that back in 2007, then-Senator Obama declined to vote when that chamber passed a resolution condemning MoveOn.org for running this advertisement in the September 10, 2007 edition of the New York Times: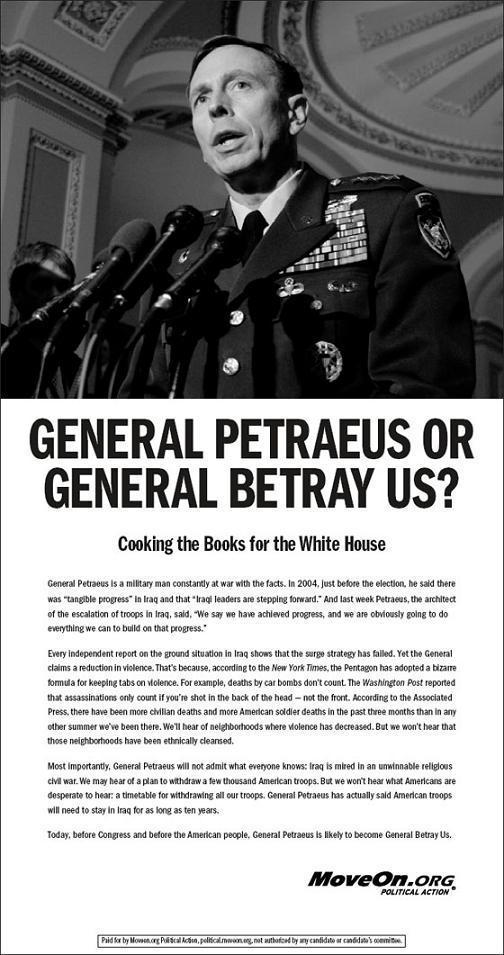 MoveOn.org, with 3.2 million members, has become a powerful force in Democratic politics and the advertisement it paid for, which appeared in The New York Times, has come under sharp attack from Congressional Republicans and others as unpatriotic and impugning the integrity of General Petraeus.

Senator Hillary Rodham Clinton of New York and Senator Christopher J. Dodd of Connecticut, both Democratic candidates for president, voted against the resolution, which passed 72 to 25.

But curiously absent from the vote was Senator Barack Obama of Illinois, also a Democratic candidate for president, who had canceled a campaign appearance in South Carolina so he could be in Washington for votes.

Mr. Obama issued a statement calling the resolution, put forward by Senator John Cornyn, Republican of Texas, "a stunt." Mr. Obama said, "By not casting a vote, I registered my protest against these empty politics."

Mr. Obama had voted minutes earlier in favor of an extremely similar resolution proposed by Senator Barbara Boxer, Democrat of California.

Ms. Boxer's proposal, which failed, called for the Senate to "strongly condemn all attacks on the honor, integrity and patriotism" of anyone in the United States armed forces. It did not name MoveOn.org, but criticized the ad that appeared in The Times. Mr. Dodd and Mrs. Clinton also voted in favor of Ms. Boxer's proposal.
Popular in the Community