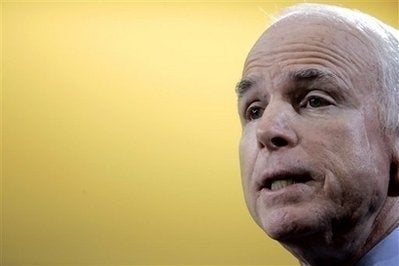 UPDATE: John McCain said on Thursday that President Bush shouldn't be blamed for the "Mission Accomplished" banner:
Republican John McCain says President Bush should not be held responsible for the much-criticized "mission accomplished" banner five years ago, but he should be blamed for bungling the early months of the Iraq war.

Thursday was the fifth anniversary of Bush's dramatic landing on an aircraft carrier where the banner hung. The certain GOP presidential nominee said he thought the banner was a mistake at the time.
As a refresher, here is the first paragraph of Bush's speech in front of the banner: "[M]y fellow Americans: Major combat operations in Iraq have ended. In the battle of Iraq, the United States and our allies have prevailed."
NEIL CAVUTO (host): Senator -- after a conflict means after the conflict, and many argue the conflict isn't over.

McCAIN: Well, then why was there a banner that said mission accomplished on the aircraft carrier? Look, the -- I have said a long time that reconstruction of Iraq would be a long, long, difficult process, but the conflict -- the major conflict is over, the regime change has been accomplished, and it's very appropriate.
And on May 22, 2003 -- just three weeks after Bush spoke on the aircraft carrier -- McCain offered a mission accomplished speech of his own. On the Senate floor, McCain proclaimed "massive victory" in Iraq and credited combat-readiness for "our victory" in Afghanistan and Iraq.
Here's the extended excerpt from that speech:
Operations Iraqi Freedom and Enduring Freedom demonstrated to the world what we saw just 12 years ago. We went to war as the most combat-ready force in the world. The value of that readiness is clear. We won a massive victory in a few weeks, and we did so with very limited loss of American and allied lives. We were able to end aggression with minimum overall loss of life, and we were even able to greatly reduce the civilian casualties of Afghani and Iraqi citizens.

In order to understand the issues involved, it is necessary to recognize just how difficult it is to achieve the kind of readiness we had during Operations Iraqi Freedom and Enduring Freedom. Readiness is not solely a matter of funding operations and maintenance at the proper level. It is not only a matter of funding adequate numbers of high quality personnel, or of funding superior weapons and munitions, strategic mobility and propositioning, high operating tempos, realistic levels of training at every level of combat, or of logistics and support capabilities.

Readiness, in fact, is all of these things and more. A force beings to go hollow the moment it loses its overall mix of combat capabilities in any one critical area. Our technology edge in Afghanistan and Iraq would have been meaningless if we did not have men and women trained to use it. Having the best weapons system platforms in the world would not have given us our victory if we had not had the right command and control facilities, maintenance capabilities, and munitions.
Popular in the Community