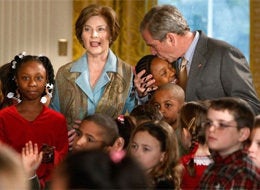 Republicans have been in an uproar recently over video footage of children at a New Jersey elementary school singing the praises of President Barack Obama. The outrage has been fueled mainly by a constant drumbeat from conservative media. But on Friday it boiled over into the realm of political opportunism when the Republican National Committee sent out a fundraising appeal calling the episode an "indoctrination of our nations... children" and "fanaticism."
"Friend," RNC Chairman Michael Steele wrote, "this is the type of propaganda you would see in Stalin's Russia or Kim Jong Il's North Korea. I never thought the day would come when I'd see it here in America."
Alas, such "propaganda" has not been limited to despots, dictators and the Obama White House. As a savvy source points out, back in 2006 children from Gulf Coast states serenaded First Lady Laura Bush with a song praising the President, Congress, and Federal Emergency Management Agency for their response to -- of all things -- Hurricane Katrina. The lyrics were as follow:

Our country's stood beside us
People have sent us aid.
Katrina could not stop us, our hopes will never fade.
Congress, Bush and FEMA
People across our land
Together have come to rebuild us and we join them hand-in-hand!
The event took place at that year's White House Easter Egg Roll and included roughly 100 children from Louisiana, Mississippi and Alabama. President Bush, it seems, wasn't in attendance during the song itself. But he was there earlier, when the First Lady read the book, Will You Be My Friend: A Bunny and Bird Story by Nancy Tafuri, to the children.
"After the reading," the Wall Street Journal reported at the time, "Mr. Bush asked, 'Did you like this book? Does it tell you about what people can do to help other people, what bird did to help bunny? Be kind to him and give him shelter.'"
The weather that day was described as a "chilly rain" which must have seemed appropriate given the fact that the Gulf Coast children were actually thanking the administration for its feeble response to the hurricane.
Popular in the Community