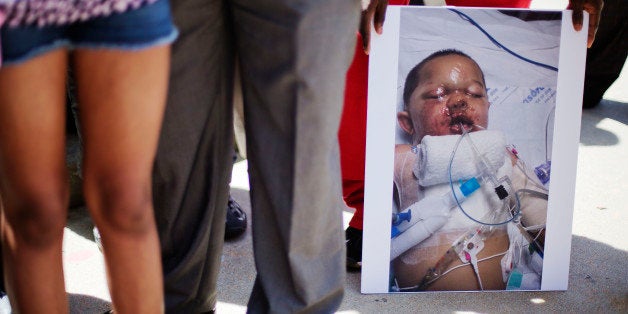 ATLANTA, Oct 6 (Reuters) - A grand jury in Georgia on Monday declined to indict sheriff's deputies who during a drug raid in May set off a stun grenade that severely injured a 19-month-old boy, prosecutors said Monday.
The toddler, Bounkham Phonesavanh, was badly burned when the "flash-bang" device landed in the playpen where he was sleeping during a raid to arrest a suspect police say had sold methamphetamine to an undercover officer in northeastern Georgia.
A federal investigation of the incident is still pending, Habersham County District Attorney Brian Rickman said.
County Sheriff Joey Terrell has called the boy's injuries "devastating" but unavoidable, saying police who tossed the grenade to distract the suspect did not believe children were in the home.
The suspect, a relative of the child, was not in the house during the raid but was later arrested nearby, police have said.
Rickman decided to let the grand jury decide whether to bring state criminal charges against the officers.
The grand jury concluded the deputies did not intentionally injure the child and were not criminally negligent, Rickman said. But the grand jurors did issue a 15-page report suggesting how to prevent a similar tragedy from occurring again.
"Basically, they recommended that these types of SWAT entries into homes be done only when it's absolutely necessary," the district attorney said.
A recent report by the American Civil Liberties Union found that nearly 80 percent of police raids carried out by heavily armed Special Weapons and Tactics (SWAT) units - originally designed for emergencies like hostage takings and active-shooter situations - were being used to serve search warrants, usually in drug cases.
The child's relatives are unhappy with the grand jury's decision, said their attorney, Mawuli Davis.
The Habersham County Board of Commissioners has said the law prevents the county from paying the toddler's medical expenses.
Davis said he knows of no legal barriers to payment of the bills, which he said exceed $800,000. (Editing by Jonathan Kaminsky, Steve Gorman and Eric Walsh)

Related
Before You Go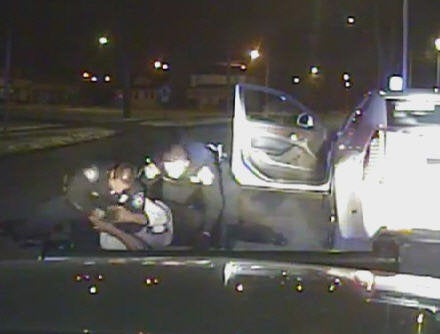 Police Brutality Incidents
Popular in the Community