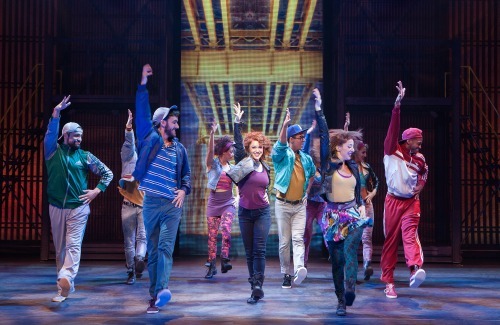 All of us 70s and 80s babies probably in some way or another have seen the movie Flashdance. Even if you haven't, there is probably slim chance you never at least seen that iconic dance scene where the water pours down on the movie's lead character Alex Owens. It was one of those movies that defined the sound and look of the 1980s. Now, over 30 years later, the film has new life live on stage as a musical, and will be hitting Detroit for a nearly two-week run from March 10th to March 22nd at the Fisher Theatre.
Building off the movie, the new musical features a book written by Tom Hedley, who was co-writer of the original screenplay, along with familiar songs such as "What A Feel", "Maniac", and "Gloria". However, the musical does dig a bit deeper into the evolution of its characters through its modern adaption, along with the addition of 16 brand new songs written and produced by Robbie Roth and Robert Cary.
The tale of Alex Owens and her dreams of becoming a professional dancer in the steel city of Pittsburgh is a timeless story, one of overcoming one's own obstacles to achieve their dreams in life. Recently, I was able to chat with Flashdance cast member Katherine Roarty, whose roles in the musical include Dance Captain and female ensemble swing, while she was on tour with the production. Roarty was born in Pittsburgh and still calls that home, but did spend some time growing up in the Detroit area and has lots of family that still resides here, so her return to Detroit with Flashdance comes full circle.
Has your time with Flashdance been inspiring in any way?
Certainly, I am the Dance Captain as well as the female ensemble's swing; those roles are both new to me in terms of my past experience. I've done musicals but I've always been an ensemble member, so this time I have a lot more responsibility in both departments. As swing member role, if you're unfamiliar, is responsible for knowing all female ensemble tracks as well as the understudy tracks, and responsible to and able to go on at any point. Let's say someone gets injured in the middle of the show, they would go on. That's been fun to get to play multiple people and do tracks that you haven't learned, so you really get to know the show both in and out from multiple perspectives.
So you spent some time growing up in the Detroit area and you still have family here.
I was born in Pittsburgh but I lived for a brief moment in the Grosse Pointe area. Growing up, I'd come back to Detroit every summer and every Christmas. My dad is one of eight. I come from a very large family in Detroit. My grandmother is who I'll be staying with and she's in Grosse Pointe Shores. My uncle and his four kids, my other uncle and his three kids, are also there and it's kind of bit of a home reference. I've always gone and drove from Pittsburgh to Detroit every year. Detroit kind of reminds me of family. I'm excited to get to see everybody and a large group of my family are coming in the first weekend that we are playing, so that'll be fun.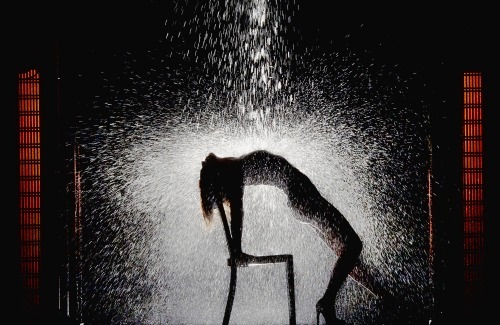 Being from Pittsburgh, how is it to be in a story that takes place there?
It's really fun. I'm excited to have my family come see it because it'll be like in harmony singing in Detroit, Michigan. Some of the costumes are Pittsburgh gear, Steelers gear, the old school Penguins stickers; the stuff that you grew up with being part of your props and your costume. It's really fun. It adds some enjoyment to singing some of these songs.
We all know the original movie. What message does this musical of Flashdance bring to the new audiences?
It's very much kept true to the movie with the storyline and obviously some things have to be adapted to the stage. I really feel like you get to understand the development of the characters a lot more. Also, because its live theater, you really get to see people respond and react to situations right in front of you, as oppose to shots and angles that happen with a camera that can kind of take your focus point a certain direction. What's always so great about live theater is you get to choose where you are looking at and how you are interpreting the story. There's an answer at the end. You get to see that side of it. You get to see all the characters are a bit more multidimensional than in the film.
What's your favorite moment of the musical?
One of my favorite moments, and it happens more than I actually thought it would, the opening scene, Alex Owens, the female leading character comes out, and she hits the metal rod and shoots these sparks in the air. It's really fun when the audience begins to applaud. I'll actually say when the audience reacts to moments that you don't anticipate. When the audience has that honest reaction, that reminds you as we go from city to city, and we do this show each week, that people are there with you, and I feel like that's been the most exciting thing to experience, that relationship with the audience.
What's the ultimate message of Flashdance?
Definitely to follow your dreams. It's the quintessential, one girl, one dream, and one chance. The career choice we have all chosen as humans is not your typical choice. It's not your safe choice. So we have all taken risks in own career and this leading character does that and you see the struggles that she has in choosing that. To choose her dream and to go for something that makes her uncomfortable, to go for something she thinks she never thought she would be able to achieve. We have a very young cast, and we are all at the beginnings of our careers, so it's definitely that same mentality we can all recognize with that character.
Flashdance the Musical hits Detroit Mar. 10 - Mar 22 at the Fisher Threatre. For more information or to purchase tickets, visit: broadwayindetroit.com.
(Photo Credits: Chad Bremerman, Denise Truscell)
Calling all HuffPost superfans!
Sign up for membership to become a founding member and help shape HuffPost's next chapter