On Monday, U.S. District Court Judge Henry Autrey issued an order temporarily blocking a Missouri town from punishing drivers for their warnings, stating that flashing headlights falls under free speech as protected by the First Amendment.
The suit, which was filed by the American Civil Liberties Union, centered on Michael Elli, a driver who was ticketed in Ellisville, Mo. for flashing his headlights after driving past speed radars. According to the Wall Street Journal, he was charged with a moving violation and faced a fine up to $1,000. The city dropped charges after Elli pleaded not guilty, but Elli followed through with the lawsuit.
While Ellisville police said they have since stopped ticketing drivers for warning of speed traps, Autrey said a change of policy is not enough.
"The chilling effect of Ellisville's policy and custom of having its police officers pull over, detain, and cite individuals who are perceived as having communicated to oncoming traffic by flashing their headlamps and then prosecuting and imposing fines upon those individuals remains, regardless of the limited special order," Autrey wrote in the order. "As the other preliminary injunction factors are presumed when a likelihood of success on a First Amendment claim is shown, the Court will issue a preliminary injunction."
ACLU attorney Tony Rothert praised the judge's ruling.
"In our view that's speech that's protected by the First Amendment and it's also good for the public because it tells people to slow down, to use caution. That's never a bad thing," Rothert said, according to KTVI.
In a separate interview with the Wall Street Journal's Law Blog, Rothert said the ruling marked a civil liberties victory.
"When someone is communicating in a public street, [he is] expressing [himself] in a way that's protected by the First Amendment," he said. "Unless there is a strong reason why the government should be allowed to censor that speech, the police shouldn't be stopping or prosecuting people because of the content of their speech."
Meanwhile, Peter Dunne, the lawyer representing Ellisville, said the ruling would have little impact.
"It won't have any practical effect on police operations in the city of Ellisville because for the past nine months we haven't been enforcing this ordinance in this way anyway," he said, according to the St. Louis Post-Dispatch.
Before You Go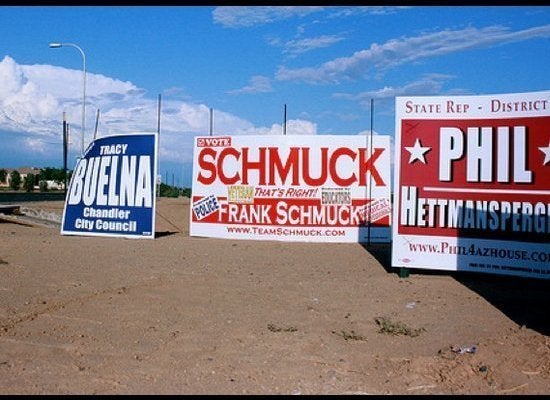 Unfortunate Politician Names
Popular in the Community