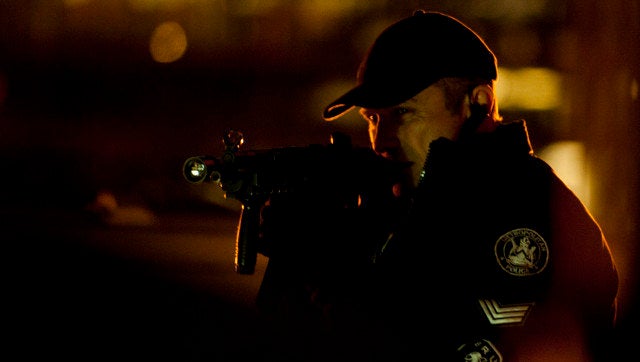 It's a bittersweet day for "Flashpoint" fans as the fifth and final season of the Canadian drama kicks off tonight. The show was launched amidst the 2007-08 writers' strike, when U.S. networks were looking elsewhere for options, and it found success on both sides of the border. Throughout its run, it performed decently for CBS/ION, but it was always a hit for CTV. "Flashpoint" probably could've went on for a few more years, but they (whoever "they" are) decided the time was right to call it a day.
So who better to talk to about the upcoming season than Enrico Colantoni, who has led this team -- on-screen and off -- from the beginning? Because he's all kinds of awesome, we reminisced about my first set visit for "Flashpoint'"s first season (on a scorching July day outside of Toronto) and chatting with him was like chatting with an old pal. So what can fans of the show expect going into the final season?
HuffPost TV spoke with Colantoni, and he was candid about his love for co-star Hugh Dillon, what it's like to feel closure on a series (for the first time!), and what he'll miss most about "Flashpoint." (Oh, and he also let me blather on about my love for "Galaxy Quest," and of course we talked about "Veronica Mars" and the possibility of a movie. You didn't think I was going to pass up that opportunity, did you?)
I'm sure many people gush to you about their love for "Veronica Mars," but when I first met you four years ago, I couldn't hide my "Galaxy Quest" love. What do you get recognized for most? It depends where I am. If I'm in Toronto, it's "Flashpoint." If I'm in the Toronto airport, it's "Person of Interest." I don't know why. Airports. "Person of Interest." If I walk by some teenagers, it's "Veronica Mars," for sure. And the close-to-baby boomers, "Just Shoot Me." I really thought the geek generation would gravitate towards me because of [his "Galaxy Quest" character] Mathesar, but nobody really has.
I'm a geek! [Laughs] [Laughs] I mean, the whole generation. It was such a great movie.
Is "Flashpoint" the first time you're experiencing actual closure with a series? Yes. Love that question. Yes! You get canceled. You're usually the last ones to find out. "Just Shoot Me," we were always the bastard child. We didn't know if we were coming back after the second season.
There's another show on right now that's also the bastard child of a network, that reminds me of what "Just Shoot Me" went through: "Rules of Engagement." Yeah, you're absolutely right. That's a great example. [The network] moved our ass 13 f--king times. Thirteen times in six-and-a-half seasons! Really, you're going to build an audience around that? The network buried us in a midseason on a Wednesday night, never expected people to tune in, so of course they did, and then it was seven seasons later. And in our last season, [executive producer Steven] Levitan took it upon himself to not wait for any answers, and came up with our last kind of goodbye episode around the George Segal character. So we made our own goodbye episode, but we still didn't know. We just knew that on some level, we wouldn't be given the respect.
I guess that's how it works, but to leave people hanging like that -- It happens like that, all the time. "Veronica Mars"? Don't get me started. We had plans for season four. [Executive producer] Rob [Thomas] knew where he was going to go. Rob knew.
Now people are clamoring for a movie -- Just for closure! Let our very loyal, very rabid fan base know what the hell happened to Veronica Mars. Let's find out. She's here, she's fine, she's living in Neptune with her dad.
So you'd obviously be on board for a movie. Oh, yeah. Oh, for sure. Keith will be the weekend guy she visits while she's going through all this shit. [Laughs] This is all, in a very long-winded way to answer your question about "Flashpoint," I love that [executive producers] Bill [Mustos] and Anne Marie [La Traverse], the networks, the producers ... I don't know who it was that ultimately decided to give us so much time to say goodbye.
That's perfect. On your own terms -- perfect. Yeah. I know the fans are a little upset, but everything must end. Sometimes it ends the way they cancel you abruptly, other times, it's dignified. So I like the dignity.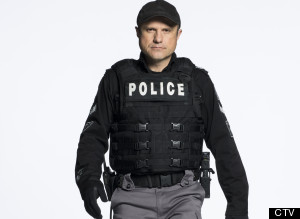 Are you sad it's all over? Excited to move on to other things? Yeah, man. I always say, it'll take me six months to realize how much I miss it. But Hugh and I want to collaborate, Hugh and I want to write things together, we want to produce things together, we want to direct together, Hugh and I just want to basically do everything together --
Live together? No, no, no, we couldn't live together. We can't tolerate each other for more than an hour unless we're working. If we're working, we could spend years together. But if we're just hanging out ... no. But I adore him. I do. I want to keep working with him. The people we met, just fantastic, talented, amazing people, those writers, those directors ... it was great. But do I miss the whole running up the stairs, living that high-octane level for five seasons? No. Because like everything else, by the fifth season, it was just the hardest thing to re-invest into that emotional place. I mean, we did it, of course, we loved doing it once we got there, but it was like, "Oh, no, not another mother who lost a baby." And I'm not implying that they were ever similar in stories but at that level, you invest that many hours and we did it in seven days, man. Other shows of that caliber get nine days, 10 days. "Person of Interest," nine days to do a show like that. We're doing 12, 14 pages a day and half of it is, "Get down, get down, get down, put down the gun." And mean it. [Laughs]
-- WARNING: SPOILERS AHEAD! DO NOT READ NEXT FOUR QUESTIONS IF YOU DON'T WANT TO KNOW WHAT HAPPENS IN THE FIRST TWO EPISODES OF "FLASHPOINT" SEASON 5! --
I've seen the first two episodes of the season. The premiere was dark -- not that any of the episodes are light and fluffy -- but this one was a real downer. Perhaps even more so, knowing that it's the final season. That was probably meant to push our buttons. Yeah, they raised the bar. Anne-Marie, [co-executive-producers] Mark [Ellis] and Stephanie[Morgenstern], every season, they just said, "How do we make this bigger? How do we keep putting all this money on screen?" I don't know if they knew, when they knew, when they told us vs. when they decided, but the energy was as if this is going to be our last season, and we're going to go here. It was like, "Really?" That episode was evidence of that. Really, really, we're going to kill the girl? Really?!
It seems like the natural place to go. It was so heavy. Yeah! The abuse, how he was treating his wife. It's like, "Oh my God!" Then to turn around and save him and take the daughter ... really?
That last scene, where everyone is trying to take the blame for what happens -- was it as intense to film as it was to watch? Yeah. There was nothing easy about that episode. Not only that whole thing at night, on the roof, literally at 5 a.m., one of the coldest March mornings, but to wrap your brain around something like that. The guy, he was great, Ty Olsen, he was so great at that abusive father. They were all great. But in the five seasons, we had never dealt with a character like that, who was just rabid. He was a rabid animal. It was like, "Really? Why don't we just take him down now?"
Thankfully the second episode ended with a little more hope, a little brighter. Yeah, you'll get more of them. You won't be disappointed. The first one was pretty devastating. The second one, we go back to the hope. [Guest stars] Shawn Doyle, David Julian Hirsh, they were great. One thing about Anne-Marie, in spite of everything, her achievement on this show, she really just had great taste in actors. Those guest stars, just week after week, she knows how to pick 'em. Any actor coming on this show, they'd salivate because they got all the good stuff.
-- SPOILER-FREE CONTINUES HERE ... --
So, the final episodes -- what can you tell me? Is there anything you can spill, any guest stars fans might be interested in? Will we see Wordy again? Yeah, we will see Wordy again.
What can long-time fans look forward to? Again, we were aware that the season was ending, so there's a lot of loose ties that are neatly tied by the end. Just know that.
Fans won't be disappointed? Fans will not be disappointed, no. But I'll tell you, the last two episodes are bigger than any other episode we've ever done. And to quote "Spinal Tap," we went to 11. [Laughs] We went to f--king 11.
What has it been like, playing the leader of this great team as well as being the leader, the vet, of this cast? I don't know if I'm the self-proclaimed leader, or the team-proclaimed leader. Hughie is very generous when he talks about me, he inspires me to no end. He is the most creative person I've ever met. I brought something that he didn't have, and that's an actor's skill set. He was already well-established, he was doing it, but I brought something else that he appreciated, and that he soaked up. So, yeah, I did not take those stripes on my sleeve lightly.
And not just with Hugh, obviously... Yeah, I knew who I was, I knew where I'd come from, and I knew how to lead that team. Parker knew how to lead that team, and with great help from his right-hand. So my relationship with Hugh in real life bled into the entire series. Those characters were wonderful, if not for the love that I have for Hugh and vice versa, those characters wouldn't be what they were. And you can tell. It's always sad to me when I hear actors not like each other. [Laughs] How do they do that? How do you not like the person you're supposed to be liking? Why don't you just leave? What are you doing? If the common goal isn't taking care of the baby, if it's not about taking care of the baby, then go do something else.
Hugh and I, from day one, yeah, we disagreed, we had little moments, but I saw his integrity, he saw mine, we put egos aside, and we're going to make this work. And through that commitment of taking care of the baby, we found enormous, enormous respect for each other. He's a man of integrity, great talent and creativity. He's fantastic.
If your name is mentioned, you are described as funny, generous, a great leader, a hell of an actor, and even though you go on about Hugh, a lot has to be said about your subtlety. Thank you.
Besides Hugh, what will you miss most about "Flashpoint?" I'm going to miss Greg Parker. [Long pause] I'm going to miss him. I'm going to miss the uniform, that uniform did all the acting for us, man. It was like our cape, everyone felt it. We hated episodes where we didn't wear them. It was like, "Ugh, I'm fat." I put the vest on and I'm super-human. But he is the character that has given me so much opportunity to dig deep, and keep digging.
"Flashpoint" starts its fifth and final season tonight at 10 p.m. ET, and continues to air every Thursday on CTV in Canada. ION in the US will air the season premiere on October 16.