We've all been there: After a long day of running errands outside in the cold, you pull off your hat only to find your hair is either completely flat or standing on end from static cling, or some version of both.
While knit caps are a cute addition to your winter get-up, they can often leave your hair looking a little worse for wear. But you don't have to choose between flattened, static-y hair and protection from the elements. There are a few workarounds to avoiding this situation in the first place, as well as quick fixes you can employ to revive hair that's already lost its oomph. We turned to hairstylist Ted Gibson (he's working with Gabrielle Union and Allison Williams these days) and Kien Hoang, an Oribe educator, to give us a few pointers on preventing hat hair. Keep these tricks in mind next time you throw on a wool topper, and flip through the gallery below for the best styling products to keep your hairstyle intact.
The material and size of your hat is important. Gibson says that "a wool cap is best to avoid flat, static-y hair." Hoang also notes that those "made from materials like cotton or cashmere will help avoid static cling, while ones made of synthetic materials will make it worse. As far as the type, those that don't sit too tightly on the head such as loose berets, floppy styles and bolo hats are best." Hoang points out that skull caps, beanies and tight trapper hats are the worst hair offenders. "These will force hair to be tight against the head, which could cause your scalp to perspire and result in even flatter hair," he says.
Wet hair under a hat will become flat hair. "It's also important to make sure that hair is completely dry before putting a cap on –- even if it's slightly damp, it will dry flattened and in the shape of the hat," warns Hoang.
Build volume with products beforehand to counter your hat's flattening effect. "Volumizing sprays will add body to the hair, keeping it full for hat days," says Gibson. Other styling tricks include twisting your hair into pincurls after using a curling iron. "This will help set hair in soft waves and will hold longer," says Gibson. Hoang advises "a little light back-combing beforehand, which will provide some extra padding for the hair."
Hat hair isn't completely avoidable, but you can revive it. "Leave-in conditioners add moisture to hair, which will help combat static caused by dryness," says Hoang. As far as discreet products you can throw in your bag, Gibson cleverly created hair styling sheets, similar in shape to dryer sheets, they deposit smoothing product as you rub them over static cling. If you don't have those handy, blast hairspray on your fingers and "spot treat" flyways. However, try to avoid brushing hair -- since it's already dry, it will only cause more static.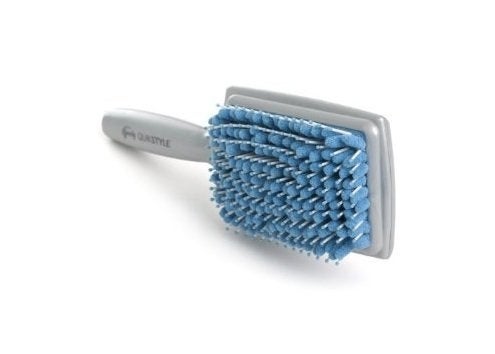 Prevent Hat Hair This Winter
Want more HuffPost Style beauty content? Check us out on Twitter, Facebook, Tumblr, Pinterest and Instagram at @HuffPostBeauty. (For everything else check out our main HuffPost Style Twitter, Tumblr, Pinterest and Instagram @HuffPostStyle.)
Support HuffPost
A No-B.S. Guide To Life
Related
Popular in the Community