"What kind of flat iron do you use?" Ryan Tamras, my hairdresser at New York City's Chris Mitchell Studio, asked when trimming off inches of my split ends.
"Ummm…." I couldn't even think of the brand name. "I bought it at a drug store?"
"How many years have you had it?"
I blankly stared back at his shear-wielding stature.
"What temperature do you keep it at?" he asked.
"You can change the temperature?" I responded.
By this point Ryan had realized that I was clearly clueless when it came to straightening my own hair, something I have done on a regular basis for close to a decade.
"No wonder your hair is so fried," Ryan said, as he pulled out a notebook and proceeded to give me instructions on how to care for my sad strands.
As I have fine, wavy (and supposedly damaged) hair, Ryan suggested that my first step to recovery was to clean up the split ends and cut a bit of length. "It will only get worse," he instructed, showing how my disgusting habit of picking at my split ends had caused the bottom four inches of my hair to resemble a rat's nest. After cutting off the thin and most frayed portion of my hair, he suggested that I step up my bi-annual haircut to every three months. "Trimming your ends more regularly will actually make your hair grow," he claims. Ah, I have heard this before, but have always been skeptical. Will getting my hair cut more regularly make it grow faster? (I'll address this in another post). At the very least, I won't have to have quite so much hair cut off at my next trim.
With a new, shorter style (about 4 inches), Ryan began instructing me on how to maintain my healthier locks, starting with a boot camp in flat irons. His how-to-have-healthy-heat-styled-hair rules below:
1)Invest in your flat iron. A quality flat iron should last up to 10 years. Make sure to purchase one that says "ceramic plates," which will ensure that the heat is evenly distributed. Don't skimp on the purchase, it will cause more damage in the long run. The first thing I did when I got home was throw away my flat iron, which I realized must have been over six years old. As per Ryan's recommendation, I tried the FHI Platform. Lightweight, simple and ceramic, the FHI flat iron also had the option to adjust the temperature. I had a winner. I also liked the CHI Auto Digital Iron which was similarly lightweight, offered different temperatures and additionally had a timer to automatically shut off. No more worrying I left my flat iron on after leaving the house.
2)A heat protector is a must! Ryan recommended MoroccanOil. For fine hair, use MoroccanOil Light. Avoid applying any heat protector 2 1/2 -3 inches from the scalp because they contain oil, which will make your hair look greasy. Put a drop on your hands, rub your hands together and then apply from the bottom up, as if your fingers are a comb. With this kind of product, a little bit goes a long way. With our Beauty Editor Dana Oliver's help, I found some Kerastase Nectar Thermique and MoroccanOil Light. In addition to my Living Proof "Restore" shampoo, conditioner and leave-in conditioning treatment, I was ready to flat iron.
3)Make sure the temperature is right for your hair. This is a big one. My hair should only be ironed at a low setting, below 300 degrees, as it is fine and damaged (the same goes for chemically treated hair). Normal hair can be ironed at 300-380 and thick, coarse or extra curly hair at 350-400. Start at a lower level and increase as needed. I had to rule out some options like the Remington Style Pink 1'' Ceramic Flat Iron, as although I liked the bright packaging I couldn't adjust the temperature and the auto setting was too hot for my hair.
Not only have I received compliments on my super-straight hair since I got it cut almost two months ago, but I have noticed a significant improvement in my hair quality: it's softer, smoother, shinier and appears to be growing faster. And since it's been a few months since I last saw Ryan, it's about time I schedule another trim.
Take a look at some of our favorite straight hair looks below: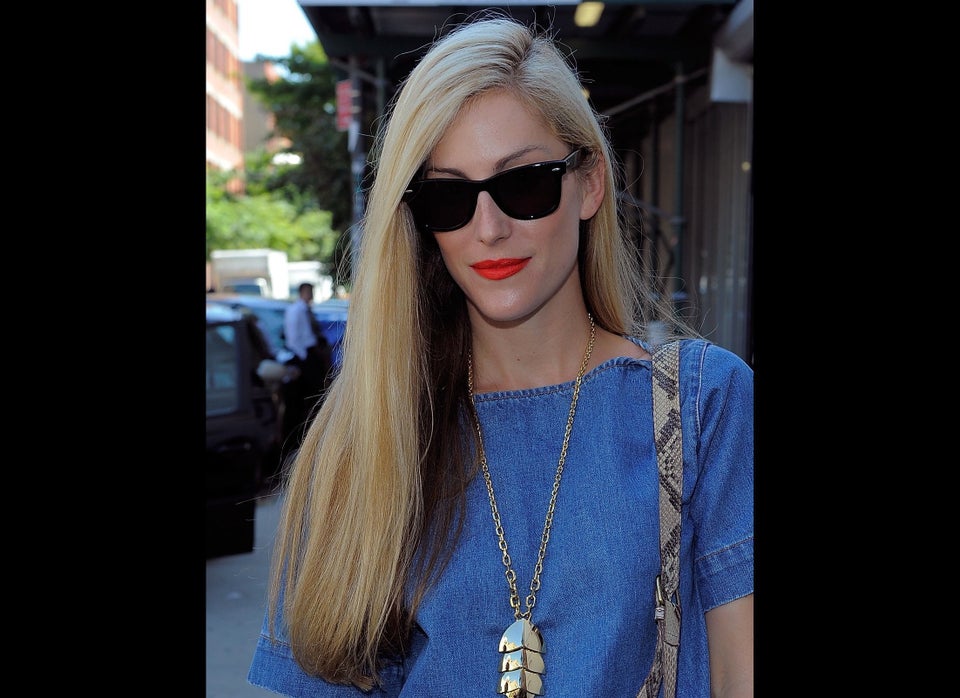 Support HuffPost
A No-B.S. Guide To Life
Related
Popular in the Community