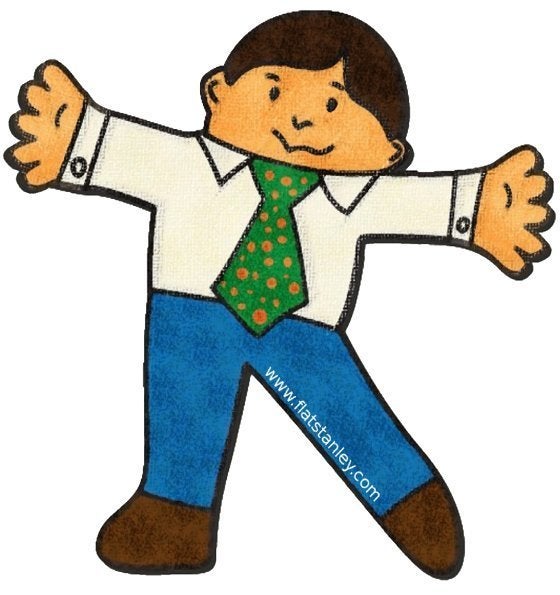 Those of you who know Flat Stanley from your younger years are probably thinking: Hooray, Flat Stanley!
Those of you who don't know Flat Stanley are probably thinking: Um, who, or what, is Flat Stanley, and why is this nut so excited about him?
Well, for those of you with a Flat Stanley-shaped hole in your childhood, I offer some background on the remarkable Flat Stanley: Based on a character from a 1964 children's book by Jeff Brown, the Flat Stanley Project was created by Canadian elementary school teacher Dale Hubert as a way to get his students to have fun while reading and writing.
The idea is simple: Students all get the same black-and-white cutout of a Flat Stanley, that they can color in however they want. They then write all about their own Flat Stanley--where he's from, what he likes to do for fun, his favorite foods--and then they send their Flat Stanley off in the mail, either to a student at another participating school, or to a relative or friend who lives far away. The Flat Stanley recipient takes a picture with their penpal's doll, and then mails the Stanley back with a photo. The student shares with the class, or writes about the location that the Stanley had his picture taken. At the end, the student has written about his Stanley, written a letter to his penpal and read the response: Literacy has been organically encouraged.
Every year, at least 4,500 schools across 88 countries take part in the Flat Stanley Project, and one million people all over the world learn about or see a Flat Stanley every year. Stanley is a well-traveled guy; here he is with someone you might recognize: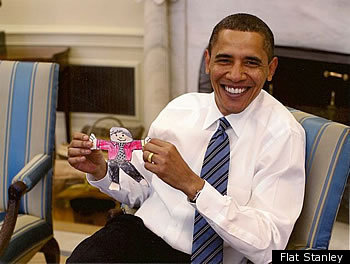 "We need to find ways to engage students where they are," Hubert, a soft-spoken, kind-voiced former elementary school teacher told me in a phone interview. "The app is a great way of bringing Flat Stanley to the students, and literacy to the students."
And here's my own iPhone-generated Flat Stanley (Flat Jason, natch) at the Huffington Post offices in New York City: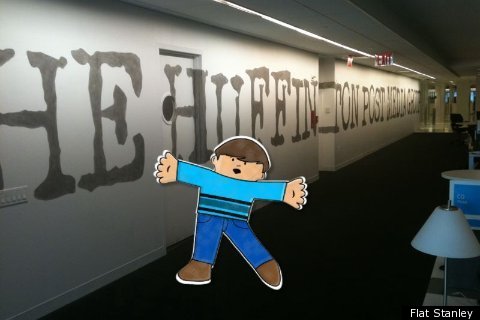 After downloading the free app from the iTunes store (with their parents' help, of course!), students can create their Stanley on the phone, changing out its hair style, clothing and skin color. You can even change its sex to create a new character, Flat Stella.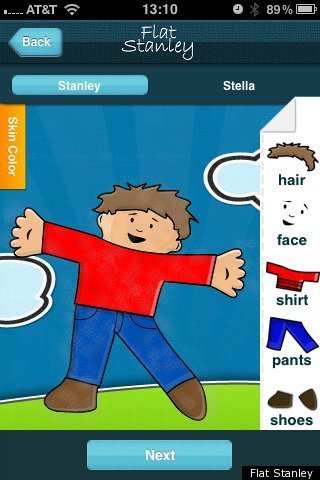 Once in your Stanley is created and named, you can either take photos of Flat Stanley in different locations with your iPhone camera (Here's Flat Jason helping out HuffPost Tech editor Bianca Bosker with an important story!):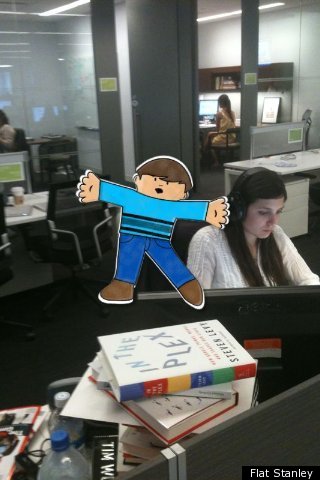 Or you can send your Stanley away to other people with the Flat Stanley app, who can then take pictures with your Stanley and then "return" your Stanley to you.
This is where things get really cool.
Hubert and lead designer Darren Haas have tried, as best they could, to replicate the experience of snail-mailing Flat Stanley as best they could (without the part about Flat Stanley getting lost in transit). The app lets only one person interact with your Flat Stanley at a time; this way, kids are not just sending out their Stanleys to dozens of people all over the world hoping for a really cool locale.
Here, I received "Tanned Stan" from Dale Hubert: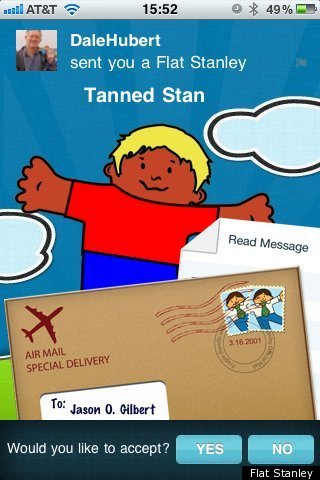 He then shows up in the "My Flat Stanleys" pane as "visiting", so that I am able to take a picture with him and return him: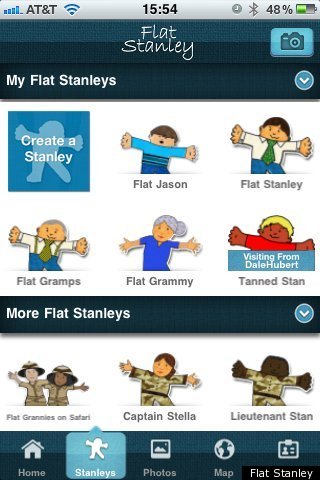 Students also have the option of taking their Stanley back, if the person they've sent it to has taken too long to respond.
The Flat Stanley app also comes with a few social features, too. There's a "Stanley Feed"-type home page (think: the Facebook Friend Feed, but with only pictures of Flat Stanley); a map where you can see pictures of Flat Stanley taken around the world (the app comes with the option of geo-tagging photos of Stanley, but this can be turned off in the app itself); and the ability to "Follow" or become friends with other Flat Stanley users":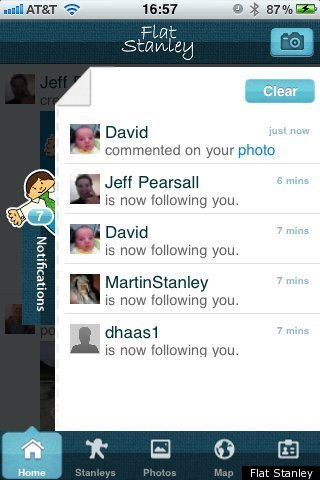 There are a few changes that I hope are made on the next update of the Flat Stanley app, but they are mostly minor tweaks. First, I wish that, in designing my own Stanley, I was allowed to choose the color of the articles of clothing, or even color the clothing in with my finger to simulate coloring on paper, for a more fulfilling creative experience. Second, Flat Stanley needs to add an Android app in order to truly reach as many kids as possible; as a platform, Android is used by far more Americans than iOS; third, it would be great if there were a way for the app to connect Flat Stanley users with similar users in different areas of the country to foster Stanley swapping. I know that this is a complicated matter, as it raises the issue of children's safety (though the Flat Stanley team approves each individual picture before allowing it up on their platform), but in order to get kids talking to each other, and to practice reading and writing, some kind of Stanley Matcher would be terrific. Finally, right now the Flat Stanley photo exchange does not put enough emphasis on the writing aspect of the exchange; sending a message along with your Stanley is optional. Adding a mandatory message field, or at least making the message field more visible within the app, could better encourage the penpal aspect of the original Flat Stanley project.
Otherwise, the user interface is simple, clear and attractive, and the features are fun and easy to use. The Flat Stanley people have released a solid, solid app.
As a (*gulp*) adult, my heart filled with nostalgia when I heard that the Flat Stanley was now an iPhone app, and even more so when I started flipping through the pictures of happy children with their digital Flat Stanleys. This app is a real win for primary education, and I hope to see a picture of Flat Stanley at the top of the iTunes app leaderboards some time soon.
iPhone users can download the free Flat Stanley app here.
REAL LIFE. REAL NEWS. REAL VOICES.
Help us tell more of the stories that matter from voices that too often remain unheard.