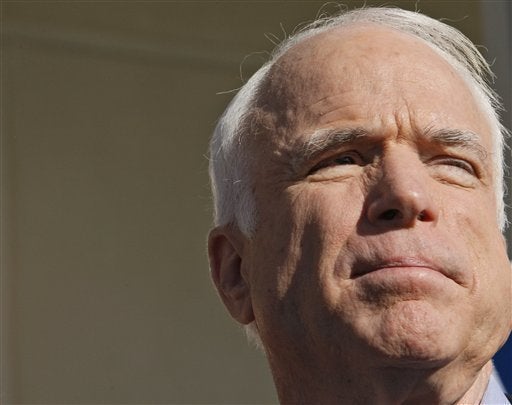 John McCain's re-emergence to lead the GOP presidential field following back-to-back primary victories in South Carolina and Florida has brought the narrative of the 2008 election full-circle.
McCain, the party's heir-apparent going into the 2008 cycle, was hit with a barrage of political obituaries following a major staff-shakeup in July, and a precipitous drop in opinion polling. McCain's campaign, the pundits declared, was toast.
"For all intents and purposes, McCain's campaign is over," wrote Charlie Cook, editor and publisher of the Cook Political Report in a July column in National Journal:
"The physicians have pulled up the sheet; the executors of the estate are taking over. Paying bills and winding down - not strategizing, organizing, and getting the message out - will be the order of the day."
A few weeks earlier, The Times of London's Sarah Baxter wrote that "former presidential front-runner John McCain may drop out of the 2008 race by September if his fundraising dries up and his poll ratings continue to drop."
Polls, Baxter wrote, were showing that McCain faced an uphill climb, as illustrated by a Rasmussen Reports survey that showed Fred Thompson leading the GOP pack with 28 percent of voters' support, followed closely by Rudy Giuliani at 27 percent.
McCain, it was noted, was stuck in third place, tied with Mitt Romney. Another poll, Baxter noted, had McCain pegged at fifth in Iowa.
Conservative commentator Michelle Malkin started a "McCain campaign death watch," asking, "So, what will the exact expiration date of the McCain '08 campaign be?"
And Chicago Sun-Times columnist Robert Novak, when asked on the July 15, 2007 airing of NBC's "Meet The Press" whether it was "doable" for McCain to claw his way back to the top, responded "remotely":
"They never come back. A lot, these early front-runners, I've seen a lot of them, George Romney, Ed, Ed Muskie, they're way on top and they collapse, they never come back. There's always a first time."
Newsweek's Richard Wolffe took readers "inside the McCain campaign meltdown" and a New York Daily News columnist declared McCain's "Prez run dealt fatal blow."
The polls in the summer of 2007 showed a much different picture of the presidential race today. A CNN poll released on August 10 pegged Giuliani ahead of the pack at 29 percent. Thompson was close behind at 22 percent.
A Fox News poll released at the end of August showed Giuliani again at 29 percent, with Thompson in second at 14 percent. In both polls, McCain was in the single digits.
Pundits seized upon the polling results as proof that the final contours of the 2008 race had begun to take shape.
And Michael Goodwin, the New York Daily News columnist, read the August polls and said 2008 was a two-horse race, with Clinton and Giuliani poised to square off.
A sampling of national polls, Goodwin wrote on August 5, 2007, showed Clinton "firmly atop" the Democratic field, with an average 16-point lead over her rivals. Giuliani, Goodwin wrote, has a 9-point lead over Fred Thompson.
"Coming after debates and forums and months of rubber-chicken and baby kissing, the shakeout is starting to feel like the real thing. Clinton and Giuliani always have been the most likely to come out on top, and it's a big deal for them to be where they are at this stage. With the first votes in January, it's no longer early."
Panic had taken hold amongst the challengers, Goodwin wrote, and pointed out that Obama had slipped 21 points in one poll. McCain, on the other side of the aisle was "flirting with a flameout."
Fast forward to January 30, and Washington Post.com political writer Chris Cillizza wrote shortly before the final GOP debate before Super Tuesday:
"Most Republican strategists -- aligned and unaligned -- agree that if McCain makes no big mistakes between now and Super Tuesday he will almost certainly be the GOP nominee."
Calling all HuffPost superfans!
Sign up for membership to become a founding member and help shape HuffPost's next chapter