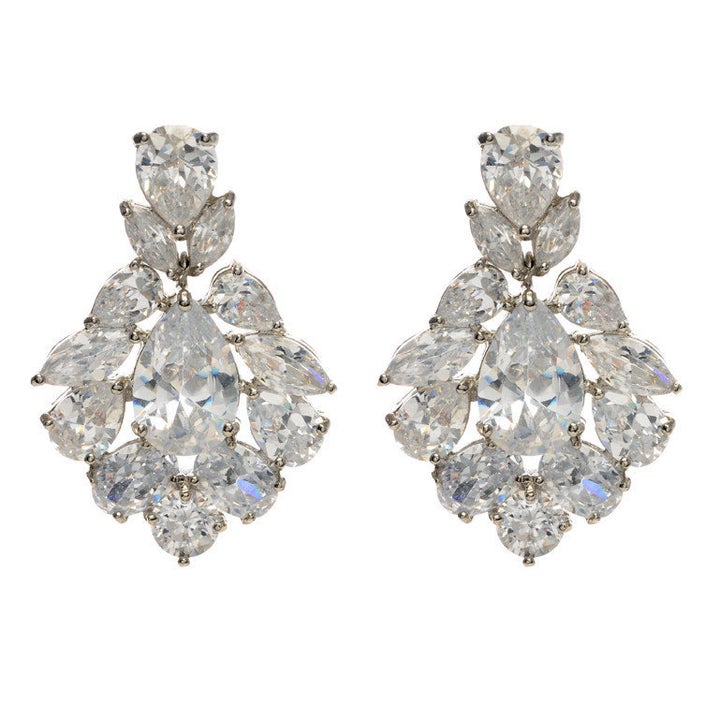 One of the greatest joys in my life is working one-on-one with brides each and every day in my showroom to help them select their wedding jewelry. Imagine rows of chandelier earrings, studs, drop and multi-tiered earrings. The options are endless, so it's no surprise so many brides are left wondering what complements their face shape.
If you're feeling stumped on what style suits you best, let your face shape be your guide. Find your face shape below for tips on your signature style and stop splurging on expensive jewels that just don't work!
Round faces, like Cameron Diaz's and Emma Stone's, are as wide as they are long, with the widest point at the cheekbone. Look for earrings that will help to elongate your face. A slim, dangly pair -- just longer than chin length -- will help make your face appear thinner.
Opt for pearls for a classic look or go art-deco cool with a long geometric pair. Keep in mind that thin doesn't mean small. You can go statement, just keep it on the long and narrow.
A square face is one with the forehead, cheeks and chin at the same width, accentuated by a strong jaw. The goal is to soften your angular shape with smooth, curved pieces. Your celeb inspirations includes ladies like Angelina Jolie and Olivia Wilde. Avoid anything square or diamond-shaped that will enhance sharp edges.
What I love about square-shaped faces? You exude power, and with equal confidence, you can pull off serious statement styles (my favorite!) down the aisle. Go for big, cascading teardrop chandelier earrings to really up the wow-factor.
A heart-shaped face is graced with a wide forehead, tapering down at the chin. Similar to a square face, the focus for heart-shaped beauties is balancing the jawline. Think the styling of Jennifer Aniston and Reese Witherspoon. Drop earrings -- ones that are wider than they are long -- will even a narrow jaw. Look for styles that have circular details, like teardrop-shaped stones, to soften your chin.
For the modern bride, try a triangular pair of earrings. Make sure the point of the earring starts at the top, and the wide base will create the illusion of a wider jawline.
An oval face shape is wide at the forehead and cheeks, with a skinnier chin. If you have an oval face, aim to cancel out narrowness with your earrings. Celebs like Drew Barrymore and Kim Kardashian (also a great source for all things bling!) are your style icons. A wider pair of earrings in any form -- from studs to statements -- will do.
Almost any earring style works for you -- lucky girl! Select a large stud for a traditional affair, angular earrings for a modern edge against your smooth face shape, or rounded/teardrop chandeliers for a glamorous touch.
If you've found your shape but still need help with your style, Ask Urvi for a complimentary personal recommendation.
Below, photos of some wedding earring options, all available from Tejani.com: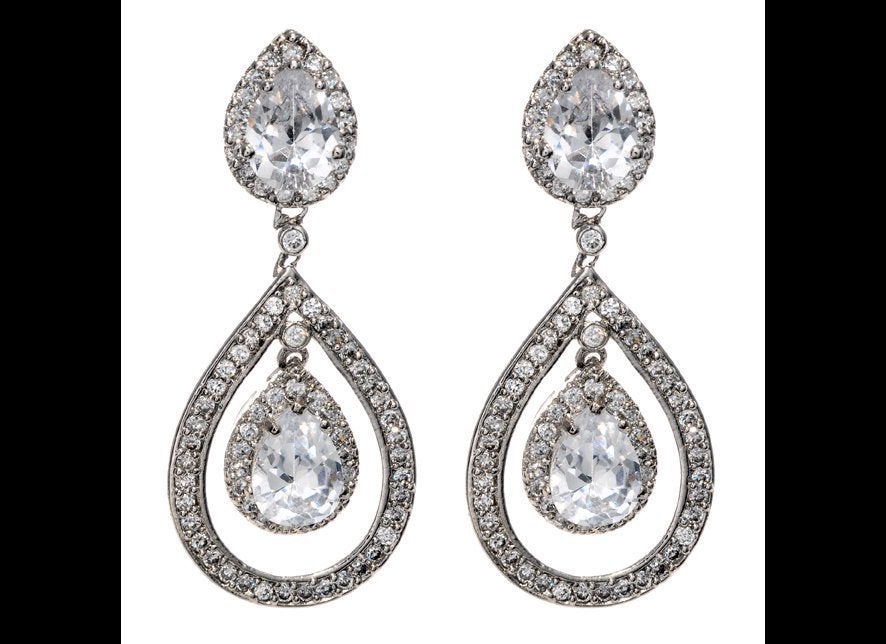 Flattering Earrings For Every Face