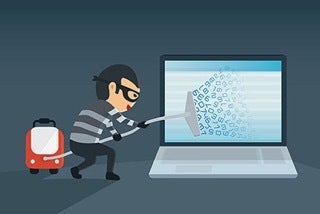 Louise Stanger is a speaker, educator, licensed clinician, social worker, certified daring way facilitator and interventionist who uses an invitational intervention approach to work with complicated mental health, substance abuse, chronic pain and process addiction clients.
When we think of identity theft or fraud in the behavioral health care field, one aspect we think of is the internet and the way in which treatment centers, health professionals and individual providers' names can be usurped for illegal means. The United States Department of Justice defines identity theft and identify fraud as "terms used to refer to all types of crime in which someone wrongfully obtains and uses another person's personal data in some way that involves fraud or deception, typically for economic gain."
In this case, fraudulent parties online take the identify of a behavioral health care provider and post it wherever they please. They may also go so far as to redirect calls that come into call centers to other providers and never report it. "It's deceptive marketing, it's dishonest and it's a short-sighted approach that in the end helps no one," says West Jones.
In the past month, I discovered several sites were usurping my own and others' credentials. When folks called a call center and asked for me by name as the interventionist, the callers were redirected to affiliate marketing sites where they were told they could be given a better match. This, as well as other infractions, appears to be an ongoing problem.
In many ways, this fraud can be seen as a wonderful compliment. Folks think you are well known enough to use your name. When talking with West Jones, here's how he put it: "Don't forget that a weaker brand stealing your brand name is actually a form of flattery. It's something you should address, but throughout the process remember that this happens to the best of brands. It may very well be a sign of your own growth and maturity." On the other hand, while one may gain more traffic, the question becomes: does it actually personally benefit you with leads?
In response to the recent fraud and identity theft I've experienced, I published an op-ed piece in Counselor Magazine titled "Ethics: Be Visionary, Visible and Vocal." In the article I write, "with the move to an online presence, misrepresentation on the internet such as high definition doctored photos, fake positive reviews, and misrepresented facility locations have tricked unsuspecting clients seeking help. In addition to fraudulent websites, 1-800 help lines have also usurped ethical providers, funneling good providers' resources to phantom call centers that have nothing to do with them."
This kind of identity theft and fraud hurts small businesses. As a small business owner, I join my fellow colleagues in saying that we depend on our past clients, websites, speaking engagements, articles, blogs and books, and relationships with treatment centers to generate leads and referrals. What we cannot afford and cannot tolerate is for our faces, hard-earned credentials, and reputation to be damaged through misconduct online. In my discussion with Mr. Jones on the topic, he shared some insights to help the small business or behavioral health care professional work through identity theft. "If you see your identity has been stolen, your name is misrepresented or your taglines & brand are misused, my best recommendations are two-fold:
Sleep on it, cool off. It's perfectly okay to get heated about something like this, but it's in your best interest to take a smooth rational approach. And secondly…
Contact the person/entity who is misusing your name and address the situation calmly but head on. Ask them to remove all instances of this misuse. Often times this can be quickly resolved without any further action. However, if you encounter issues resolving this, contact your lawyer right away, typically a simple cease and desist can go a long way."
Already I've used these recommendations in my daily business practice and have taken to calling centers, speaking with CEOs and requesting that situations like these be rectified. Just this past week I called a center with a webpage entitled All About Interventions - my registered business name and trademark - and the center without fuss changed the page.
And it's not just the business side of behavioral health who feel the effects of fraud and misconduct. It's the clients - real people with homes, families and jobs - who experience substance abuse, mental health issues, chronic pain and process disorders. These people depend on quality care providers to bring them hope and healing. Law enforcement, regulators and lawmakers respond by adding harsher laws and regulations, which hurt the treatment centers, and in turn get passed on to a public in need of behavioral health care. "Whether illegal or unethical, these tactics hurt the patients who desperately need our help," says Mr. Jones.
Another tragedy is that we have little recourse in this wild west of behavioral health. The truth is, legal action would be difficult as it would be hard to prove loss of reputation or earnings. And, it is a very costly undertaking. However, Harry Nelson, a behavioral health care attorney, sees the silver lining: "One positive notion is that ethics in behavioral health has been in the spotlight thanks to the procession of ugly legal cases concerning misleading marketing, urine drug testing fraud, and kickbacks being paid to patient brokers."
With misconduct being exposed, perhaps interventionists and other health care professionals who have had this happen could join forces in a social media campaign to combat unethical practices. The campaign could be shaped to be a deterrent to promote a robust and ethical behavioral health care industry. Mr. Jones believes in a similar approach, saying "if you're considering deceptive marketing, I strongly encourage you to think how much better off you'll be by focusing on doing the right things instead. Sure deception can be a quick fix, but how much better off will you be in the long run creating your own sustainable brand & reputation? The difference is exponential."
Still, the response to these issues from the behavioral health care industry as a whole doesn't help the cause. As Mr. Nelson points out, the response has been hand wringing, lip service to ethics, and a "can't we all get along and play by the rules" dialogue. The downside to this is that many respond in finger-pointing with claims that everyone around them is responsible for the unethical behavior. Or simply that it's just a few bad apples.
My discussions with Harry Nelson and West Jones helped me come to this conclusion: I believe we need to address the systemic lack of oversight that is a relic of the era in which addiction treatment was predominately private pay or self-insured before the arrival of medical health parity and the Affordable Care Act. The behavioral health care community needs to develop a shared understanding of what real compliance standards are and what compliance programs, training, advertising, marketing policies and auditing should look like.
To learn more about Louise Stanger and her interventions and other resources, visit her website.
Related
Popular in the Community