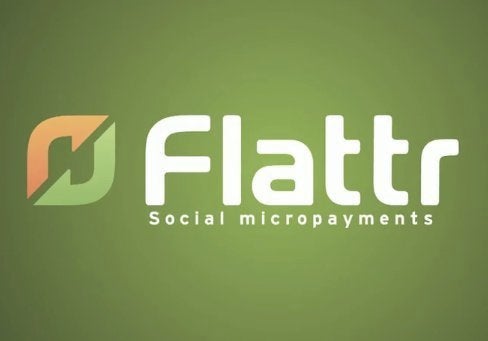 This post is part of a new series from HuffPostTech, Socialized, that will profile a different social startup--from apps to services to websites--every day. Want to be featured on the site? Email us about your startup, which should have a social media component and be less than two years old, at bianca@huffingtonpost.com.
Facebook "Likes" are sweet. If you "Like" this article, it will make me feel warm and fuzzy inside. But it won't pay my bills. To truly show your love for something you like online, give small cash donations to its creator using Flattr.
What it is: Flattr allows you to donate tiny amounts of money to a blogger, filmmaker, photographer or any other content creator without having to type in your credit card information each time. The service also enables users to give mobile micro-donations to things in the real world.
How it works: Once you sign up for Flattr, you must deposit a minimum of $3 each month into your Flattr account. Over the next month, you can "flattr" certain web pages (blog posts, videos, images, etc.) that use the service simply by clicking the page's Flattr widget.
Each time you flattr something, your monthly budget is divvied up between the sites you've flattr'd. The more sites you flattr, the smaller each donation becomes. And if you don't flattr at all in a given month, your monthly budget is donated to charity.
Creators can also print out their Flattr codes and stick them on real world things, like artwork or a street-performer's tip-jar, so that people with the smartphone app can flattr in the physical world too.
The number of Flattr clicks on a certain web page is visible to everyone, but the amount of money the clicks represent is private to the page's creator. And much like a Digg or Facebook "Like," content distributors can use Flattr clicks as a metric to rank the popularity of their site's content.
The catch: Flattr is only as game-changing as the size of its user base, which is still small. Launched in August 2010, Flattr's 70,000 registered are mostly based in Europe. In Germany, which has the most users, the country's two largest newspapers embed Flattr buttons on each piece of online content they produce. In Sweden, where the company is based, Wikileaks used Flattr to collect donations even after Mastercard and Visa bailed.
Why you'd use it: Essentially, Flattr eliminates the need to type in your credit card information each time you want to donate money to someone or something online. In addition, few if any banks allow you to make the tiny payments Flattr enables its users to dole out.
For content creators who use Flattr, the micro-donations can add up. According to Flattr founder Peter Sunde, some of the most influential bloggers in Europe net over 2,000 euros ($2,789) a month from Flattr clicks. But, at least in its early stages, users shouldn't expect Flattr buttons to pay the bills.
How to get it: Register here, fill in your credit card information, and get to flattr'ing. Or, if you ever see a Flattr button on a web page, simply click it and you'll be taken to the registration page.
Related
Popular in the Community