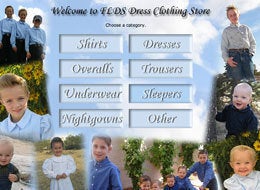 A new clothing brand may be born out of the Texas raid on a polygamous sect.
FLDS women for the first time are offering their handmade, distinctive style of children's clothes to the public through the Web site fldsdress.com.
Launched initially to provide Texas authorities with clothing for FLDS children in custody, the online store now is aimed at helping their mothers earn a living.
The venture, which has already drawn queries from throughout the U.S., is banking on interest in modest clothes, curiosity and charity to be a success.
"We don't know what to expect on demand but we have had a flood of interest," said Maggie Jessop, a member of the Fundamentalist Church of Jesus Christ of Latter Day Saints. "Our motive is not to flaunt ourselves or our religion before the world. We have to make a living the same as everyone does."
The initial Web site featured only photographs of clothes because the children were still in state custody. Now those are being replaced with photographs of smiling, beatific FLDS children modeling the fashions.