Imagine fleeing a war that is taking place in your country. The further the distance you get from the fighting, the safer you would seem to be.
Tragically this is not the case. For another enemy is waiting for you. It is hunger, and dehydration. These are the most relentless of foes. You cannot run from them.
This is the reality for war victims from the Central African Republic, for they are facing deadly malnutrition at refugee camps in Cameroon. Children are starving to death because of the war.
The UN World Food Programme (WFP) is there trying to feed the hungry in this emergency. Here is what their most recent report says about the situation:
A Senior WFP Nutrition mission is on the ground in Cameroon. Screening in Gbiti site found 31% of new arrivals at the entry point are globally acute malnourished, of whom 11% are in a state of severe acute malnutrition; these rates far surpass international emergency thresholds of 15% and 2% respectively. Screening at all other sites confirm the dire situation, and acute malnutrition is also observed among school-age children.
This malnutrition threatens the lives of children, particularly those under the age of five. Malnutrition can cause lasting physical and mental damage if not treated in time, or even death. Malnutrition obviously leads to a greater chance of disease, because there is less strength to resist illness.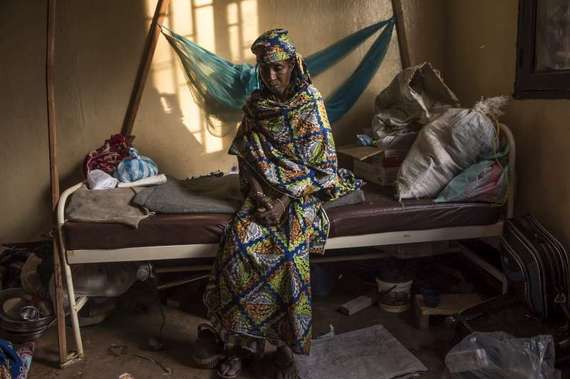 Hourriatou mourns the death of her grandson, 18-month-old Djaratou from malnutrition. Djaratou's father and twin brother were killed in the Central African Republic during their flight. The boy's mother was injured but is recovering. Hourriatou was distraught when the little boy died after reaching the safety of Cameroon. (UNHCR/F.Noy)
As UNICEF pointed out, these refugees are traveling on foot very great distances to reach Cameroon. Children and their families are facing exhaustion and dehydration after these journeys. Remember, these are families fleeing a war zone in an impoverished country. They are in a weakened condition physically even before starting any journey.
UNICEF, WFP and other aid groups are rushing aid into to save the children, but they need funding. WFP just airlifted a peanut paste called Plumpy'Sup to the refugee camps in Cameroon. This vitamin-rich food can help children fight off malnutrition. UNICEF is providing therapeutic milk and other foods to children as well.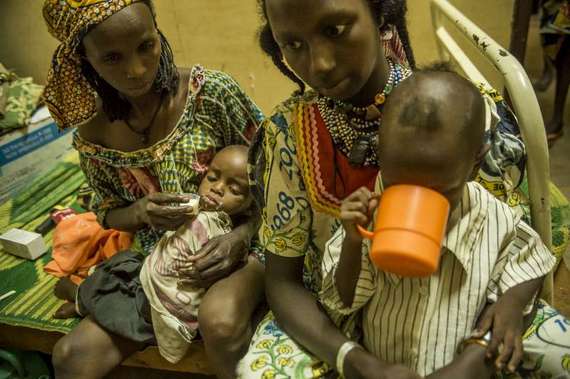 Two mothers nurse their malnourished children in Batouri Hospital's nutrition centre in Cameroon. The United Nations Refugee Agency (UNHCR) gives them advice on the care that is needed to restore their children to good health. (UNHCR/F.Noy)
These aid agencies rely on voluntary funding, and they do not nearly have enough. They are taking on a major hunger emergency in Central African Republic as well as the refugee camps in neighboring countries. In addition, there are the wars in South Sudan and Syria. You are looking at three large-scale humanitarian emergencies at once, in addition to the ongoing hunger facing a number of other countries.
WFP, UNICEF and other aid agencies need funding to feed the starving children. They depend on voluntary donations from governments and the public, but often do not receive enough. Wars happening a world away, and the starvation that results, just do not receive the attention in the media.
Everyone can do their part, starting with this famine that is now here with 3 major emergencies taking place at once. After World War II, for example, President Truman appointed Herbert Hoover as a food ambassador to "master this famine". We need a position like that in today's government.
But why wait around for that. Everyone can step forward in the public and be a food ambassador of sorts. Just the very act of alerting others of what is going on helps and then finding ways to take action.
The World Food Programme has set up a Central African Republic donation page.
Related
Popular in the Community