In Niger, the Diffa Region bordering Nigeria is home to more than 300,000 refugees who have been driven from their homes by massacres, abduction and rape by Boko Haram militants. Women and children are 70 per cent of displaced persons, and have experienced widespread sexual violence. Women refugees and survivors also lack means to an income. UN Women and UNHCR are working in partnership with local organizations to ensure that the humanitarian response addresses these specific needs and risks of survivors.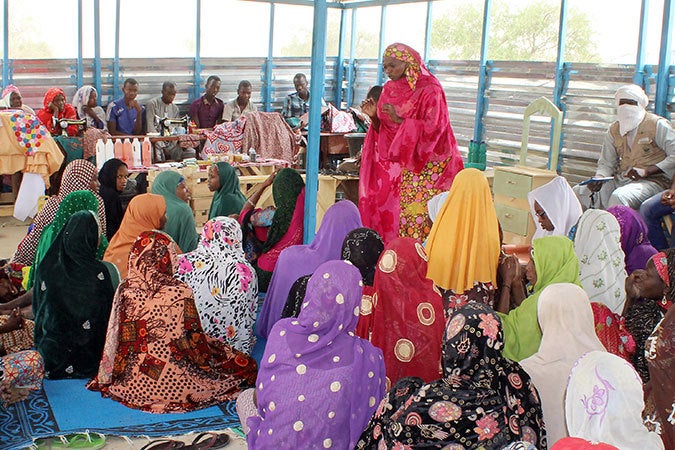 At the age of seventeen, she lost her husband. Raoudi Abdulay recalls being driven out of her native village in Nigeria by Boko Haram fighters with her 10-month-old child after the militants killed her husband: "They gathered all of us in the mosque, the men inside and the women under the shed outside..." Abdulay couldn't see or hear what was happening inside, but understood that her husband had been executed among 11 others.
"They said that we were all non-believers, and accused the culprits of colluding with the government army," she elaborates. "The verdict was that those found guilty should be killed on the spot."
The next morning, Abdulay and her sister buried her husband and fled to a refugee camp in Assaga, Niger, in the south-east of the country. There, they found food, water and a health centre, but no means to earn a livelihood.
In the past three years, over 100,000 women and girls fleeing the violence perpetrated by Boko Haram in Nigeria have found shelter in camps across Niger. However, upon arrival, women survivors often find themselves trapped in a cycle of poverty. They often have no assets of their own, and 70 per cent of women refugees lack access to income-generating activities because humanitarian assistance rarely prioritizes employment opportunities for women.
In a joint initiative by UN Women and UNHCR (the UN Refugee Agency), in partnership with the NGO, Appui au Développement, women survivors in the Gagam, Kitjandi, Kablewam, Boudouri camps for Internally Displaced Persons (IDPs) and Sayam Forage refugee camp are provided with not only the basic necessities, but also supported to build and run their own businesses.
Through this initiative, generously funded by the Government of Japan, women survivors receive training on micro business management and start-up funds through a local micro-finance institution, ASSUSU. To date, 350 women have started their own businesses and have used the income to improve the health and wellbeing of their families.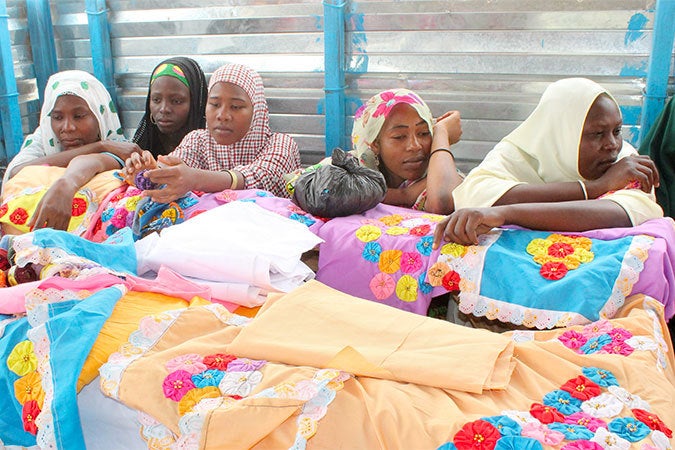 Saratou Ourmane of the Sayam Forage refugee camp, benefitted from the micro-finance and business management trainings. Today she sells cereals and spices.
"After seven months of support from ADL and UN Women, now I have 20 bags of maize and five bags of millet in my cereal bank, and over 50,000 FCFA (approximately USD 89) in my savings account. After each sale, I divide the profit into three parts, as we learned from the management training. I put one part in my account for savings, reinvest another part in my business, and the third part allows me to support my family. Today we have a stable life and no longer depend on someone. My children are happy now," Ourmane explains. Five of her seven children are now going to school regularly.
Most of the women fleeing from Boko Haram have been traumatized by physical and sexual violence. They lived in settings where gender inequality led to normalization of violence and discrimination against women and girls on a daily basis. Psychosocial support for survivors is urgently needed in the camps and host communities.
Ariram Moustapha, now 20 years old, was three months into her second pregnancy when Boko Haram fighters stormed her village. "I was doing housework when I heard voices…and suddenly I saw five hooded people, armed to the teeth, encircling our house. I ran to the room to hide and was tackled," recalls Moustapha.
Moustapha is among the 5,000 people (male and female) receiving psychosocial support in camps in the Diffa region, supported by UN Women. In "social cohesion centres" (safe spaces), survivors meet with the psychologist daily. They also get access to protection services, such as sensitization on their rights, referrals to health centres for further treatment, vocational training and police protection.
"Working with the displaced women has not been easy due to the persisting insecurity," says Beatrice Eyong, UN Women Programme Director in Niger, adding, "However, it has been enriching to see hope restored among those who had lost all hope. The project has supported more than 5,000 people in five refugee and IDP camps in the Diffa region. The establishment of income-generating activities through the sale of various products has directly benefited 350 women from female- and male-headed households and early warning systems to prevent gender-based violence has also been set up in the camps."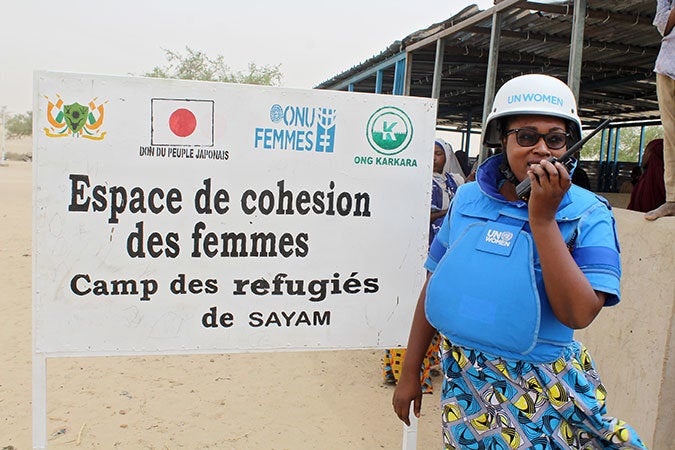 The programme in Niger is part of UN Women's expanding efforts to draw global attention to gender as an essential dimension of preventing and responding to extremist violence. Recent years have seen a dramatic increase in violent extremism around the world, and the terror unleashed by Boko Haram placed Nigeria among the five countries most impacted in the 2016 Global Terrorism Index. Putting women at the centre of peace and security concerns, UN Women is implementing a global programme across 27 countries that examines the impact of terrorism on women, supports women as leaders in prevention of violent extremism, including through economic empowerment.
Related
Popular in the Community