When asked to describe Fleetwood Mac's latest tour, the closest thing Mick Fleetwood could compare it to was a circus. Aptly titled, "On With The Show," the 33-city stadium run is intended to be a spectacle: a live reunion of five bona fide rock stars, whose personal lives are intertwined like tree roots and documented on a dozen albums. For Christine McVie, it's a homecoming; this marks her first set of public performances since rejoining the band this spring. For Fleetwood, Lindsey Buckingham, John McVie and Stevie Nicks, the next few months are a kick in the face to skeptics who believe the band lives in the past. As Fleetwood told HuffPost Entertainment, "Underneath that canopy, anything can happen."
That was the feeling as the lights went down at New York's Madison Square Garden on Monday night. There was the reunited Fleetwood Mac: Nicks at the microphone, her band assembled behind her (McVie stood at the piano in a sparkling black blazer, ready for her pseudo-coming out party). "Welcome back, Chris! Where have you been?" Nicks bellowed, before shouting a call to action: "Let's get this party started!"
Without a beat, Fleetwood Mac jumped into a 24-song set that included two encores, one glittery gold shawl, a black top hat and two Buckingham guitar solos that could melt metal.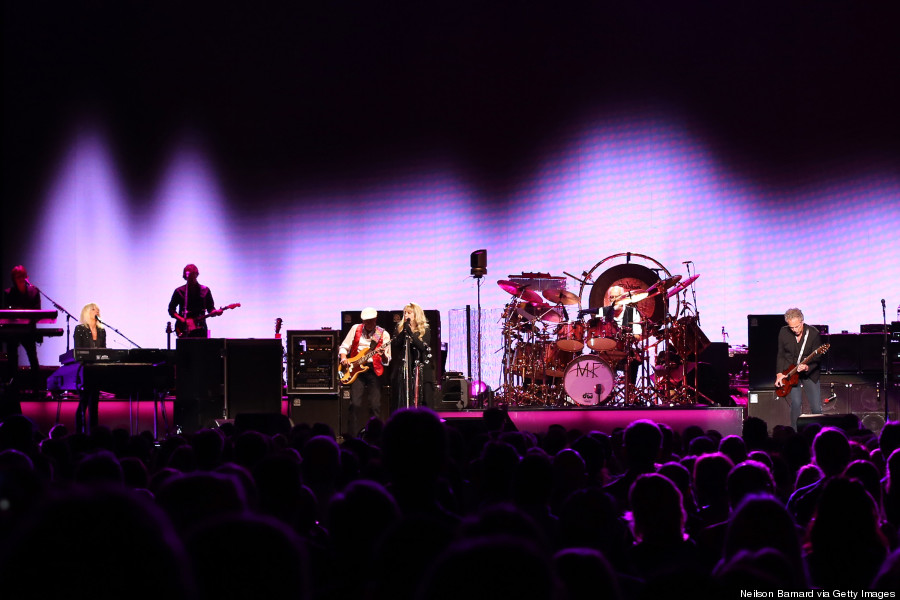 "In the last year and a half, none of us in our wildest dreams would have thought that we would be going on this adventure," Fleetwood, the band's drummer, former manager and self-proclaimed "gatekeeper," told HuffPost Entertainment over the phone a few weeks before the New York show. He spoke from the Santa Monica canyon house he and McVie rented together as the band rehearsed. McVie decided to return to the band earlier this year, after 16 years of living in England's countryside. Fleetwood helped her get over a paralyzing fear of flying and she joined her ex-husband, John McVie, Fleetwood and guitarist Buckingham in Los Angeles to lay groundwork for a new album and plan the tour.
For fans, McVie's return means the band gets to play her songs -- some of Fleetwood Mac's best, most recognizable tracks -- in their original arrangements. "I just love these songs even after all these years," McVie said, speaking from the same home in Santa Monica. Her favorite at the moment is "Little Lies." Fleetwood, though, is partial to "Everywhere," only because watching Buckingham fiddle with it is like "watching a kid in a toy shop." During the New York show, the band also ripped through "You Make Lovin' Fun," "Say You Love Me," and ended the concert with McVie and a grand piano alone on the stage. She sang her delicate single "Songbird" just after Fleetwood had said to the crowd, "Our songbird has returned, Christine! Hallelujah!"
The band didn't play any songs from the upcoming album, and that's by design. "It's really all about Christine returning," Fleetwood said. "It's all about the fact that we're doing all these lovely songs we haven't done in 20 years. That's a big enough slice of cake." As nearly 18,000 people sang along to every word, they made the right choice. "There's about 10 songs, I always say, that truly if we didn't do we would be lined up and shot."
On stage, Fleetwood Mac looked like a band at the height of its powers. Buckingham slammed his guitar with thoughtful determination. Nicks twirled and twirled, telling stories about dreamcatchers and seeing the future. Fleetwood sat atop his drum set throne, looking like a delighted six-foot-five cherub. McVie never left Fleetwood's right side nor addressed the crowd, but playfully nudged his bandmates when they came by to say hello. And Christine McVie embraced the spotlight, clearly giddy with this musical reunion. She joked to the audience about her and John's divorce, strapped on an accordion and joined the others as they skipped around the stage like Maypole dancers, connecting with one another for brief moments. "You don't often get to do what you love twice," she said to the crowd.
For those not under Fleetwood Mac's witchy spell, it's easy to brand the group as has-been Baby Boomers clinging to the '70s and '80s. "But it just feels so new," McVie insisted. "Obviously we are living with the history of us all, but everything we do is the present." When asked why she thought fans, in earnest, still want to hear Fleetwood Mac enough to warrant this kind of production, she paused. "If I knew the answer to that, I'd bottle it."
Fleetwood summed up Fleetwood Mac's apparent staying power as best he could: "I hope that the message is this: That a bunch of people in their 60s, who have taken the blows, brought up families, sometimes gone off the tracks, are sitting here like hundreds of millions of people going, 'Now what do we do?' I think it's like Fleetwood Mac."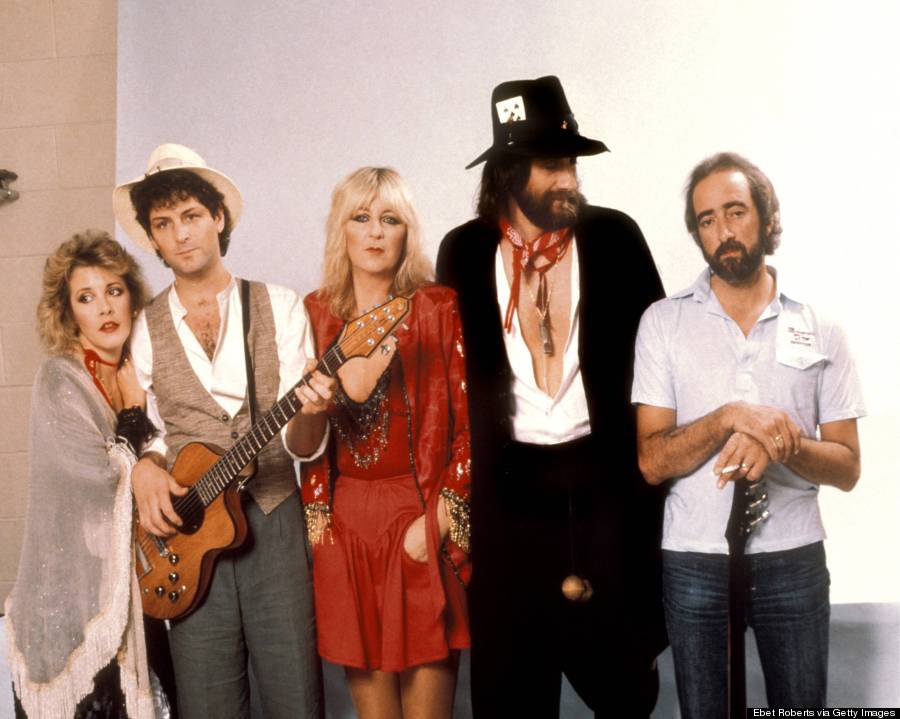 A band firmly placed in the rock and roll canon has nothing left to prove, which is why "On With The Show" feels like such a celebration. "Our professional pipe dream, if you like, has been fulfilled on such a fantastic grand level against hopeless odds, sometimes, most of which we created ourselves," Fleetwood said. "It just feels like a time warp, as though I never left," McVie echoed. "I look across the stage at Lindsey, Mick, John and Stevie and it's a sense of disbelief. Mainly it's just a pure sense of profound joy."
By this time, the band is well-aware of their worn history, documented in gossip magazines and in 37-year-old Rolling Stone features. "Our lives were almost too public, but that's the way we handled it. Now it's part of the fabric. We have a chance to re-write some of the bits and pieces now, because of Christine's return," Fleetwood said. "I really believe that."
After the encores, which included "World Turning," "Don't Stop," "Silver Springs" and the aforementioned "Songbird," all of Fleetwood Mac returned to the stage for a bow. They hugged each other and took turns at the microphones, not yet ready to leave the carnival they created for two-and-a-half hours. "I just want you to know how happy we are that we have our dream girl back," Nicks said. Fleetwood, the night's de facto ringleader, had brought out a red top hat for the finale and said goodbye. "We are literally in heaven, floating on a cloud."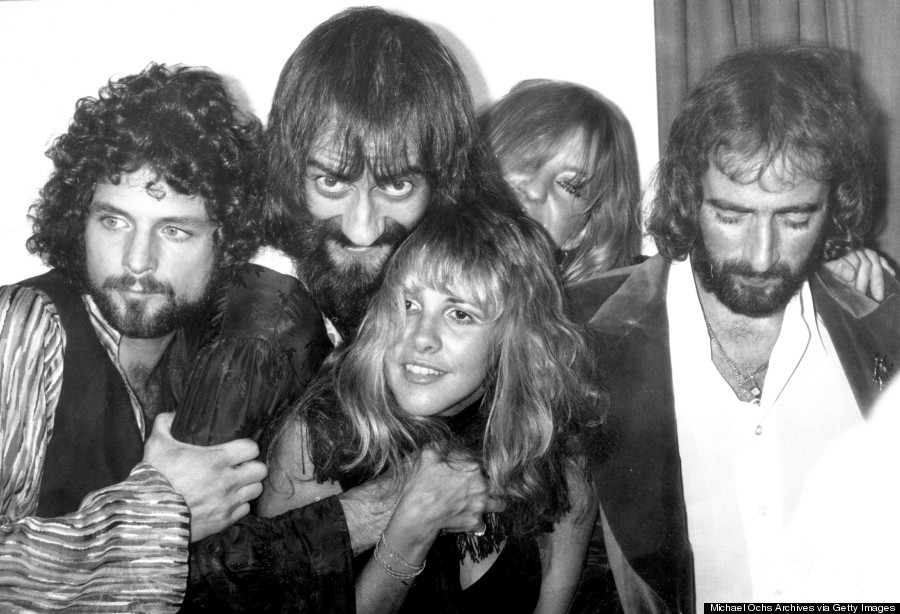 Find tickets for Fleetwood Mac's On With The Show tour at Ticketmaster.com.
Before You Go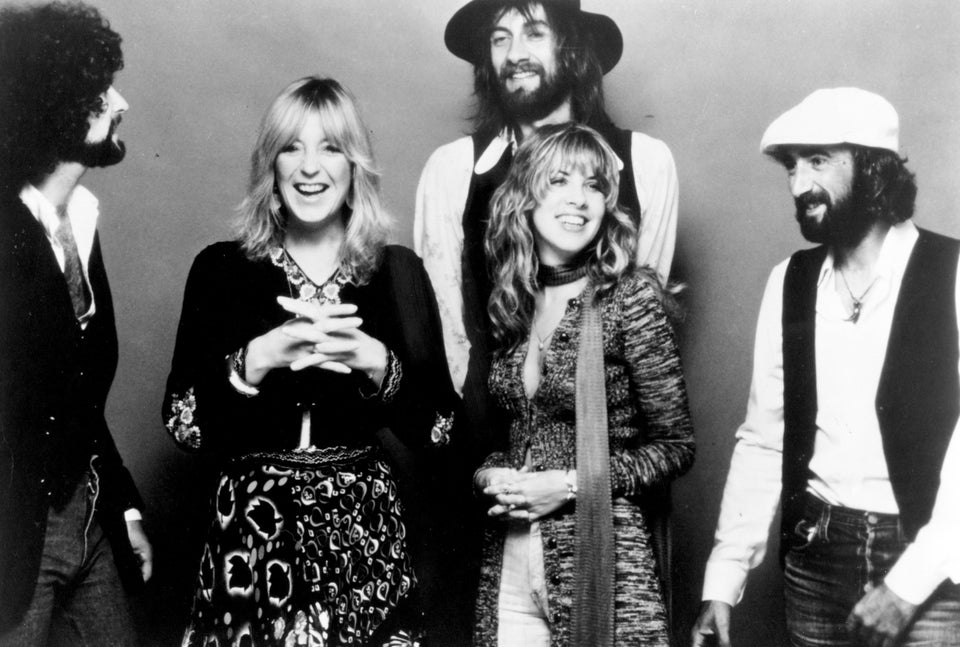 Fleetwood Mac
Popular in the Community