Most of us are all too familiar with autocorrect snafus. Sometimes embarrassing, often hilarious, but frequently frustrating, the text-prediction function that comes with touchscreen keyboards can often be a pain to manipulate.
But according to the creators of Fleksy, a new keyboard replacement app for iOS, autocorrect fails can soon be a thing of the past.
So powerful, in fact, that Fleksy claims to be able to decipher a garbled word containing all the wrong letters and turn it into exactly the right word you meant to type. A user could even hide the keyboard completely and still tap out words with -- apparently -- near-perfect autocorrection.
"On Apple's mobile platform, you can't replace your keyboard as you can on Android, so the odds are that most iOS users won't actually use this unless they really are blind or have poor vision. But it's an interesting idea," wrote Sarah Perez for TechCrunch, adding also that the Fleksy user experience required "some practice."
Buzzfeed's John Herrman also notes that Fleksy's assertive autocorrect system may actually become as annoying as the predictive keyboards we are currently familiar with.
"It's very similar in operation to a run-of-the-mill iOS or Android autocorrect engine… if Apple or Google were to make its autocorrect systems more assertive -- that is, have it guess at a lower threshold of certainty -- it would look a lot like this. And, as with Fleksy, you would get enough misses that you'd probably want to switch back to something less aggressive," he said.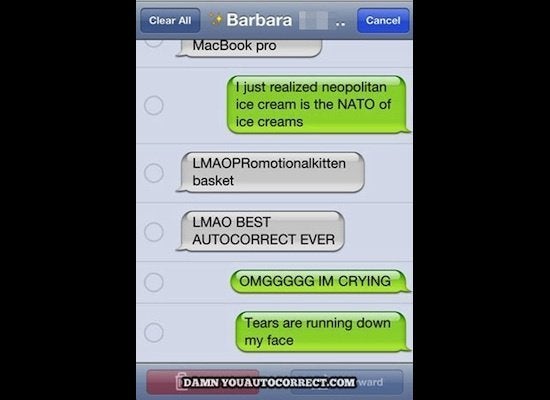 Damn You Auto Correct's 11 Funniest Texting Fails
Related
Popular in the Community