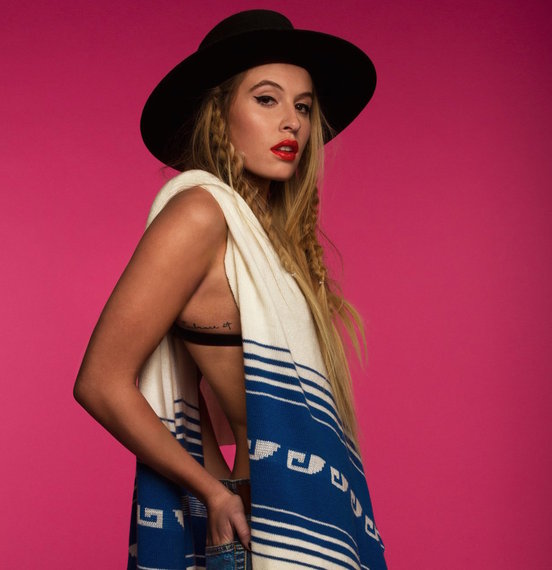 FLETCHER. Photo courtesy of artist
With the number one most viral track on Spotify, FLETCHER is on the rise and has no plans on stopping anytime soon. With her fiery persona and impassioned pop-driven tracks, she offers anthemic, passionate songs full of depth and soul. Her edgy, introspective lyrics veer slightly off kilter for your average top 40 artist, but just enough to pique the interest of curious pop and indie fans alike.
FLETCHER's first single, "War Paint" is an empowered song about "fighting for whatever it is you believe in, and overcoming the hardships in your life, no matter how f--ked up they may be."
Her goal? To "inspire others to ignite their individuality and to fearlessly fight for whatever is they want out of this crazy life." A powerful message, especially in a world filled with unattainable standards, cruel bullying, and superficial social media antics that are slowly engulfing our society.
FLETCHER answered a few of my questions regarding her impressive musical background, current role models, and just what it is that makes this "crazy life" meaningful to her.
When did you realize you could sing, and when/how did you go about pursuing that talent? Did you move to pursue opportunities at a young age?
My mom always tells me I used to belt out big songs when I was three years old. She said I barely spoke and only sang. Because she didn't want me to hurt my voice, she put me in lessons then and classical training when I was five.
I never moved around when it came to pursuing opportunities -- I took advantage of everything happening around me. Even being in a small community, I was surrounded by many musical opportunities that allowed me to grow. I was able to perform in theater, as well as take vocal, dance, piano, guitar, drum and flute lessons. There was also a lot for me to explore being just an hour away from New York City.
I didn't chase my dream, I worked towards it.
Your debut single, "War Paint" has had over 5 million plays on Spotify and was at the top of the Spotify Viral Chart for two weeks. Incredible. What has the process been like for you? What kind of response do you get from fans?
This process has been extremely surreal. Just two months ago I was trying to find new music on Spotify and came across their Viral Chart. I remember thinking to myself how crazy it would be if one day my song was on there. I'm always on Spotify and other platforms looking for new music to jam to, so it's exciting that people are finding my song, loving it and sharing it all over social media.
I'm so humbled that 5 million sets of ears have streamed "War Paint." I wish I could personally thank each person -- it seems as though many are truly connecting with the message of the song, which is incredibly gratifying as a new artist.
You have tribal influences in your music -- is there a story behind this? In what ways do you draw inspiration from the tribal theme?
For as long as I can remember I've always been super inspired by world music -- it's always what I've gravitated towards. I find the percussion the most beautiful because the sounds are made by the hand (which is as organic as it gets).
When I went down to Nashville with Jamie Kenney for a few months to produce my project, we would lay a ton of instruments out all over the room to use. Jamie's an incredible musician, so his selections were always insane. Every single time we went to write, I gravitated towards a tribal-inspired percussive instrument. There's just something innate within me that is so inspired by those sounds... it moves me to be creative.
Recently, you received praise from both Perez Hilton and Chloe Moretz for your music. Perez hasn't always been the most complimentary guy. Were you surprised to receive that response?
When I saw the tweet from Chloe pop up on my phone, I was in the middle of serving myself frozen yogurt. I straight up just left it at the machine and walked out because my heart completely dropped.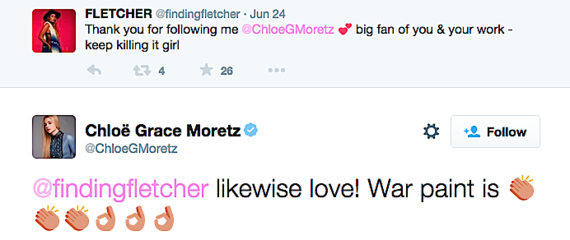 I felt the same sort of feeling when I saw Perez's first post. I felt super honored to have a guy like Perez Hilton on Team FLETCHER so early on. He definitely has been such a huge support with the music so far and I'm really grateful for that. I had the opportunity to hang with him at a Pentatonix show one night and had a blast. I'm still waiting on an invitation to hang out with the beautiful Chloe Grace Moretz. (Hi Chloe!)
NYLON stated that your music was "a mix of Sugarland with Tove Lo -- anthemic pop with introspection and soul." In what ways do you agree with that statement? In what ways do you view your music differently? How do you view your music in general?
I'm very grateful for NYLON's support, they truly kickstarted the "War Paint" era. I thought the Sugarland comparison was really interesting, I had never gotten that before -- definitely a compliment though.
When it comes to how I interpret my music, I consider it pop with substance. I've always wanted to make music that sat a little bit left of center but could still live in the world of top 40 radio, much like Lorde.
My sound is a hybrid -- a fusion of tribal influence and pop sensibility. It pairs a lot of acoustic elements with programmed beats and tribal-inspired percussion. I feel that some of my project is anthemic and inspirational whereas some is romantic and introspective. I want the music to speak for itself, and for listeners to take what they want from it. I want each person to connect with each song in its own way, absorbing each sound and listening to each lyric.
In the "War Paint" video, there's so much movement and it combines a dark background with these bold bright colors -- you end up with this amazing contrast. Were you able to be involved in the creative process of planning the "War Paint" video? What was it like shooting the video?
We produced "War Paint" in a studio in Brooklyn -- it was all done in one massive room. I showed up at 6:30 a.m. and [we] wrapped around 6:30 p.m. Filming the video was so fun. I definitely loved being involved with the creative direction of the video, it was cool to vibe with my director Garen Barsegian, who created the juxtaposition of both dark and colorful elements.
Oleksii Babenko, the genius who ended up editing, came back with such a stunning interpretation of my initial vision for the project, with the dancers at the forefront. The choreography is my favorite aspect of the video -- I actually enlisted my friend and former roommate Stephanie Troyak for that. I expressed how I wanted it to be wild, yet equally gentle and beautiful at the same time. She totally killed it, along with all of my friends from NYU who danced. They were so GIF-worthy.
What was your experience like at The Clive Institute in New York? What specifically did you learn that was particularly helpful in creating your music and launching your career?
I'm actually still a student at the Clive Davis Institute and I really do owe a lot to this program. A few years back, I knew I wanted to be an artist but was really lost when it came to any sense of direction. The program has been an incredible opportunity for me to explore all aspects of the music industry. I take courses in production and learn how to use DAW's like Logic & ProTools, as well as songwriting with professors like Amund Bjorkland of Espionage and Tor of Stargate.
This place not only has cultivated me as a performer but as an entrepreneur as well -- I look at this industry from a different perspective now. Specifically, Nora York, Jeff Peretz, Marat Berenstein, Nick Sansano, Jason King, Lauren Davis, Kenn Hicks, and Jeff Rabhan have all been extremely influential in my development. I can't pinpoint one thing that I've learned because it's really just been a culmination of knowledge and support that has given me the wings to launch a career on my own.
Who do you look up to, musically? Who inspires or influences you? Who are your role models in general?
Lately, I've been super inspired by Miley Cyrus and Kacey Musgraves. I love Miley's inspiring work with her Happy Hippie Foundation that draws attention to the LGBT cause and homeless youth. I'm also a huge of fan of Kacey Musgraves as a lyricist and storyteller who's not afraid to break boundaries and talk about similar issues through her music. I love how Miley and Kacey put everything out there and don't give a damn.
Of course, another really big personal role model for me right now is Caitlyn Jenner. Her courage, acceptance and desire to change the way the world sees and understands the transgender community is beyond admirable. She carries herself so remarkably and responds tremendously to criticism. I have just been so moved by this entire process, especially the way to world has received her. It's beautiful.
A year ago, I actually wrote the song "Princess" that relates quite well to her situation. I wrote it reflecting on how a lot of us grow up with the idea that life is going to be a bit of a fairytale, but at some point reality hits and we realize that's not how life goes for everyone or at all at times. It's a message I think everyone will be able to relate to. We should be proud of who we are, and always hold our heads high and keep going no matter what.
Your songs delve into some serious issues -- besides being so open and honest in your songwriting, what other ways do you try to help or inspire young women? Or people in general? I ask because, to me, you seem like the kind of person who really wants to make a difference. Explain why making this impact is important to you.
This impact is important for me because when my time is up in the world I want to know that I did something meaningful, that I absolutely worked my ass off, that I lived a life that was authentic and true to myself.
Ever since I was young, I've always had this desire to help people. More specifically, to understand people. Aside from studying music, I have been educated in children and adolescent mental health. I'm really fascinated by how our minds work, and what music's effect can be. I'm very drawn to people who are different than me and so intrigued by their stories. I love to listen and to put myself in the perspective of others and pretend to walk in their shoes.
It's a definitely a strength and a weakness because I get really really consumed by others' stories and hardships. I take them on as if they're my own. I have a lot of compassion and a lot of love to give and I think that's something that is special about me. We all have something to share.
I'm not sitting here and saying that I'm going to change the world or end world conflict, but that doesn't mean we shouldn't try. We are all so different in this world, but the one thing that we share is the capability to love and be loved. I just want to sprinkle a little bit of FLETCHER on this earth before I leave it. I want people to know that I was here and did something meaningful with my gift.
The world could definitely use a good sprinkle or two of FLETCHER. Here's to fearless female artists full of of substance, strength, and unapologetic ambition, continuously striving to make a positive impact on this world.
Calling all HuffPost superfans!
Sign up for membership to become a founding member and help shape HuffPost's next chapter