Now that most of us have broken our resolutions it's time to check out Flex Donuts, which is located in the dining level of Grand Central Station. Besides running Flex Donuts, Zac Young is the pastry chef at both locations of Flex Mussels. I caught up with him to find out how he makes it all work.
JZ: How did Flex Donuts start?
ZY: Flex Donuts started at Flex Mussels on 82nd Street. On the original menu I had freshly made wild blueberry-filled donuts. The donuts became the best selling dessert. At Flex Mussels you can get over twenty different preparations of mussels so as a joke I put 12 different varieties of donuts on the menu. The restaurant became known for mussels and donuts. It's a kind of weird combination but somehow it works. So, Bobby Shapiro the owner and I had been talking about doing something with the donuts because they were so popular. We were toying with ideas about opening a shop or a donut truck. We really wanted to see how and if it would work. We were lucky enough that Bobby owns Zocalo in Grand Central. So we decided to do a pop-up there and see what happens. We did the first pop-up last winter for 2 weeks and we sold out within an hour everyday. It was a mob scene everyday. When we decided to do it again this year we wanted it to be bigger but also more organized. We went from just having filled donuts to now offering cake donuts and bacon bourbon crullers. It all started with one wild blueberry donut.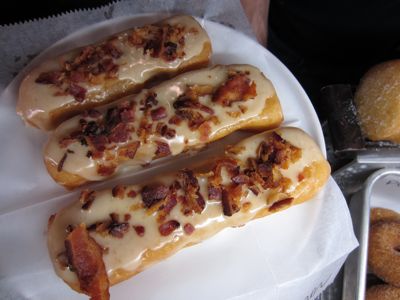 JZ: What have you applied to Flex Donuts this time around that you learned from last year?
ZY: Last year I didn't really have any staff and the operation was basically me doing everything. I didn't really have the proper equipment because I didn't know how busy we were going to be. This year I was able to have the equipment and staffing that I needed and I worked smarter. The biggest difference from last year is that we are open for a longer duration this time around. It's not so much a pop-up as a new business. We have been open for a few months and there has been a chance to really see business develop. When you have a pop-up people will come once and buy donuts with a sense of urgency. Now that we are open for longer I can see people's habits. People tend to come in early and buy 1 donut for themselves then they come later in the afternoon and buy a dozen for the office.
JZ: What's your routine everyday?
ZY: I walk to work everyday. That's my meditative time. I'm usually in no later than 9:30. From the minute I get in it's nonstop. I immediately start production. We make the cake donuts in the morning and the jelly filled donuts come out in 20-minute intervals throughout the whole day. We open up at noon so basically we hand make 500 cake donuts before we open. Nothing is made in advance and it's all fresh for that day. We also need to set up the shop because while we are here for a while it's still not a permanent business. It's not like we are a bakery with an existing set up. As we are setting up even though we are not open people are constantly coming up to buy donuts. The minute I put them in the display people want to buy them. From noon to 2:00 we have the lunch rush then it's a lull until 4:00pm and it's busy till 7:00. Three days a week I leave in the afternoon to go work in the restaurants. For the past few months I have been solely at Grand Central but now that Flex Donuts is grooving I can go back and forth. That's really the hard part for me is how to be in three places at once. Three locations are hard especially because I'm a control freak and it's hard for me to send out a plate with my name on it that I have never touched.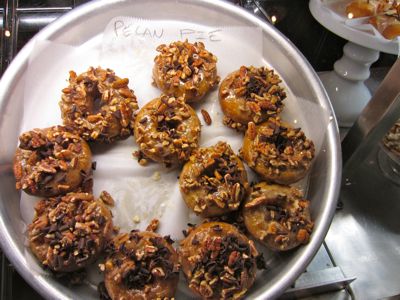 JZ: How many donuts do you eat a day?
ZY: Probably four or five. I don't eat whole donuts but just samples and I will usually eat more if we are working on a new flavor. If we are in development I will be eating ten donuts a day easily.
JZ: How do you stay in good shape?
ZY: I have a trainer and I'm on my feet all day. People don't realize how physical cooking is. I'm lugging 50lb bags of flour all the time.
JZ: Does everyone order dessert?
ZY: Yes every table will order dessert.
JZ: Does the economy impact people ordering dessert?
ZY: Actually, when the economy is down people order more dessert.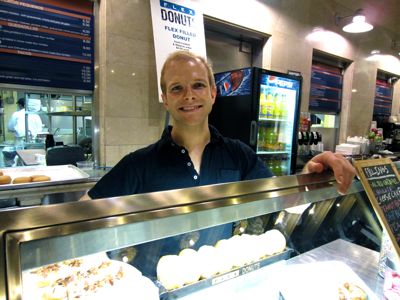 JZ: How has the role of a pastry chef changed? Is it much more important now for a pastry chef to have their own operation?
ZY: You know it's hard. You are always the first department to get cut and it's always a fight to get more equipment and space. You are the last course and sometimes it feels like you are the last thought especially because desserts are not usually the most profitable part of a restaurant.
JZ: So many pastry chefs are leaving restaurants these days and opening their own shops.
ZY: I'm not speaking about anyone's specific situation but there comes a point where you are at the top of your game and you are still competing with the executive chef and still working for someone else. Pastry chefs are usually very detail oriented and it seems natural that eventually they want to be out on their own.
JZ: Do you want to open your own bakery?
ZY: In my dream world I would love to own one fantastic bakery but that's not how you can make money. The market is really scary right now. Opening a business is very expensive.
JZ: That's why pop-ups are better.
ZY: Yes especially with donuts. When you are selling donuts for $2.00 you need to sell a lot of donuts to pay for a fryer. That's the scary thing about opening up a bakeshop as opposed to a restaurant.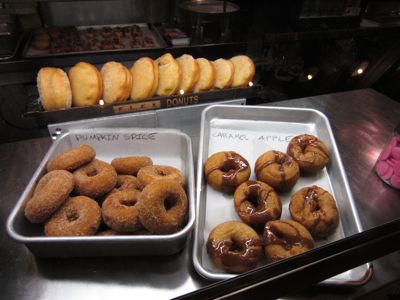 Calling all HuffPost superfans!
Sign up for membership to become a founding member and help shape HuffPost's next chapter