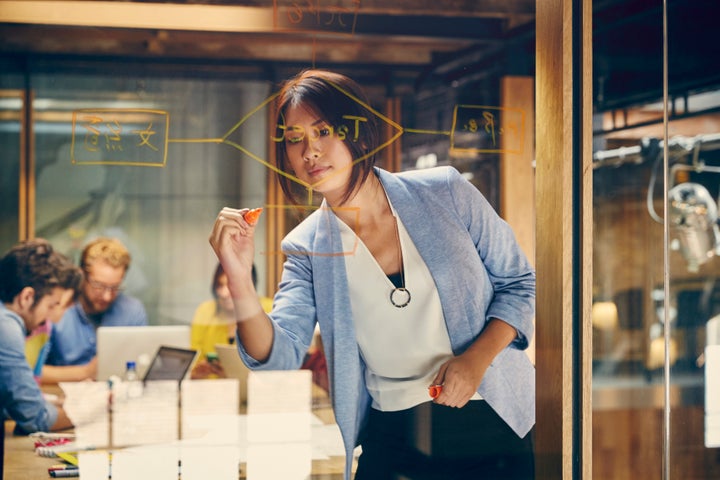 Though women have fought for and technically earned the same rights and privileges as men, the reality is that we remain grossly underrepresented in nearly every industry across both the public and private sectors. The corporate leadership gap offers the most staggering statistics of all: Women make up 47 percent of people entering the corporate workforce, yet account for just five percent of Fortune 500 CEOs—that's 20 female leaders to 480 male leaders. In the S&P 1500 today, there are more CEOs named John than female CEOs altogether. According to current projections, we won't reach corporate gender equality for more than 100 years.
Not one economist or thought leader has been able to offer an actionable solution that would accelerate corporate gender parity because they have been misidentifying the root of the problem. For years, the narrative has remained largely the same: women should be more ambitious, work harder, advocate more, learn better negotiation skills, find a mentor, and so on. Other arguments suggest that male-dominated offices simply aren't ready to embrace and promote female leaders. While providing mentorship programs and working to combat gender bias are worthy initiatives, they alone cannot close the leadership gap.
New data shows that women are underrepresented in the highest levels of leadership because they are being forced out by dated workplace structures. These structures, which do not represent the modern needs of a two-income household labor force, are causing millions of talented employees to fail, especially working mothers—and the result is massive attrition at every point in the leadership pipeline.
Contrary to popular belief, the majority of women who leave the corporate workforce actually want to stay. A recent Bain study showed that women value flexibility over and above any other factor in their career search, including compensation, title, and location. Of the 30 percent of credentialed women who drop out of the workforce, 70percent say they would have stayed if they had access to flexibility. This amounts to 6.6 million women—enough to dramatically increase the number of women in leadership and rapidly accelerate the advancement of corporate gender equality.
Strategic workplace flexibility is the easiest and most cost effective way to retain women in the workplace and advance them to positions of leadership over time.
While many companies have demonstrated a commitment to helping women advance to positions of leadership, they remain largely unsuccessful because strategic flexibility is not a key component of their programming. When companies do provide flexibility programs, they are often underutilized or fail entirely because flexibility is misunderstood. Women tend to not take advantage of existing flexibility policies due to a fear that their requests will make them appear less committed and a concern that flexibility policies will not be faithfully implemented.
Flexibility isn't simply working from home via video conference or a lifestyle perk like free cereal; it's a fundamental shift in the way we think about and expect our employees to work. Flexibility does not alter a job's scope of responsibilities or expected results—it simply modifies the existing agreement between the employer and employee to increase compatibility. And when it's negotiated in a standardized context, it normalizes the conversation around flexibility and eliminates the bias or discomfort women tend to feel during the interview and hiring process.
Working towards corporate gender parity isn't just good for women; it's good for business and the economy, too. When employees have access to flexibility, the result is increased loyalty, higher productivity, and better results. Companies with meaningful numbers of women in leadership improve by every metric, and gender diverse organizations are 15 percent more likely to outperform their peers. Women-led companies tend to have better working conditions and fewer layoffs. Studies estimate that closing the corporate gender gap could boost the U.S. economy by a whopping $2.1 trillion.
As equal parenting and access to gender-neutral parent-friendly programs become the norm, the need for flexibility will be felt by both men and women alike. Flexibility isn't just the future of feminism—it's the future of work.
Annie Dean and Anna Auerbach are the co-founders and co-CEOs of Werk, and Lindsay Dreyer is the Head of Communications of Werk, a marketplace of flexible work opportunities for ambitious job seekers. Werk is a leading advocate for flexibility in the workplace.
Related
Popular in the Community