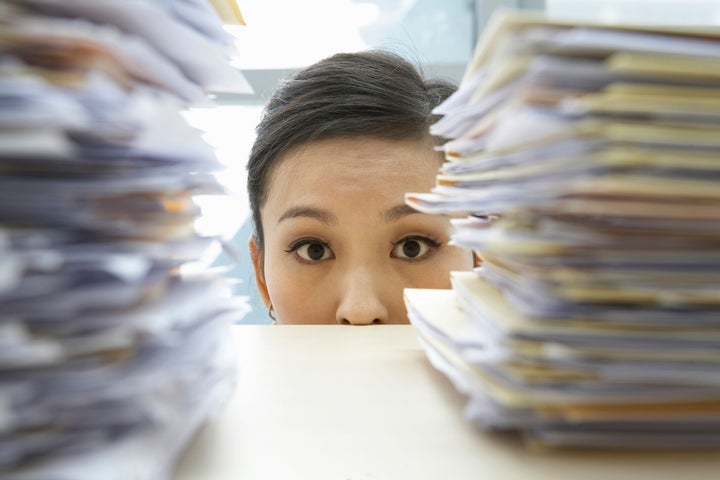 A misunderstanding with a friend, a lurking sense that your long-term relationship isn't as long term as you'd hoped, family tension: If you've ever thought of work as a refuge from the things that aren't going so well in your personal life, you may be in denial, new research suggests.
A European study of over 10,000 people in 30 countries recently published in the British Journal of Management found that while someone with a happy home life is more likely to be satisfied at work, it doesn't work the other way around. Professor Yannis Georgellis from Kingston University in London, a researcher from the study, said in a press release, "Although there is a clear 'spillover' effect from one area of life to the other, there is no evidence that people who are very unhappy at home will feel 'compensated' by work in any way." For women, happiness is even less dependent on work, the study found. According to Georgellis,
The study finds that being happy at work becomes less important to women's overall well-being when they have pre-school children, possibly because this changes working mothers' priorities.
This research could, of course, be interpreted to mean that women don't really value their jobs, aren't as driven as men, etc. Or we could read it as evidence that women, in prioritizing child-rearing -- in other words, their personal lives -- identified that no matter how much you care about your job, work isn't the ultimate source of fulfillment, no matter how successful or powerful you are, not even for men, who were also included in Georgellis' study.
Another new study seems to back up Georgellis' findings. University of Minnesota sociology professors Erin Kelly and Phyllis Moen found that flexible work policies allowing employees to schedule their work to fit their needs left the employees less stressed, more in control of their lives, and were generally healthier. In other words, male or female, the more you are able to schedule work around your life, rather than vice versa, the happier you are.
Some companies have recognized that flexible schedules would allow them to keep smart, talented women, which would ultimately benefit their bottom line. Former Ernst & Young Chairman Phil Laskawy, when explaining his company's decision to institute flexible policies like allowing employees to work 60 hour weeks during peak periods but 30 hours the rest of the year, told the New York Times: "Our top performers at the entry level were women, but we weren't keeping them. It seemed like an enormous mistake."
But maybe these studies are also an occasion to admit, even in our workaholic culture, even when jobs are scarce, that it's possible to be enormously successful at work -- and derive a lot of pride from that -- but not have work be the most important thing in your life.
Popular in the Community