Sometimes mom really does know best.
In 2012, Ravn Alaska pilot Eric Greener's mom was a passenger on an Alaska Airlines flight when she met a lovely flight attendant named Brandy Hollenbeck. The two of them chatted and hit it off -- so much so that she tried to set up Hollenbeck with her son. At the time, though, Greener was perfectly content with his bachelorhood and nothing came of it.
Several months later, Greener and Hollenbeck met by chance at the airport and have been together ever since.
"I was eating a double cheeseburger getting ready to get on a flight and this guy is just staring at me and smiling," Hollenbeck told The Huffington Post. "And I was like, 'What is going on with this guy? He's kinda cute!' And then he kept flirting with me." She continued, "After that, I remembered meeting his mom -- he looked familiar to me because she had shown me a picture. So I stopped him and said, 'Hey, I met your mom this summer. She told me to look for you.' And he had the most shocked look on his face."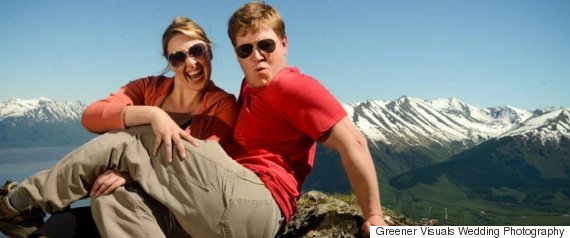 A photo of the couple in Hope, Alaska
About two-and-a-half years later, during an Alaska Airlines flight from Seattle to Juneau on March 18, the lovebirds took their relationship to new heights with a surprise marriage proposal. As a pilot, Greener was able to secure the jump seat in the cockpit where Hollenbeck, who was working that morning, wouldn't see him. Midway through the flight, Greener got on the loud speaker and began telling the couple's love story.
"Flight attendants have a reputation for not listening to the pilot when they make an announcement," Hollenbeck said. "I was serving coffee and the pilot got on and started making an announcement. And then he was like, 'While I have your attention, let me tell you a little story.' In my head I was like, 'Wow, this is really nice. I love when they tell stories. They don't do this anymore.' I start to hear the part about the double cheeseburger, and I was like, 'This is my love story!'"
At that point, Hollenbeck began to catch on. She looked down the aisle and saw Greener poking his head out. That's when he officially popped the question.
Greener told HuffPost that it took some coordination to make this all possible. One of the couple's friends, who was also a flight attendant on this flight, helped him execute the plan. Greener headed to the airport early in the morning and waited at a nearby gate, out of Hollenbeck's sight. The pilot gave Greener the OK and the gate agent helped him by blocking the aisle when he boarded so that his fiancée-to-be wouldn't notice.
"I really wanted to keep it a surprise," Greener said. "I wanted to have a grand romantic gesture. The less she knew, the more grand and romantic I thought it would be."
Watch the heartwarming proposal above.
Related
Before You Go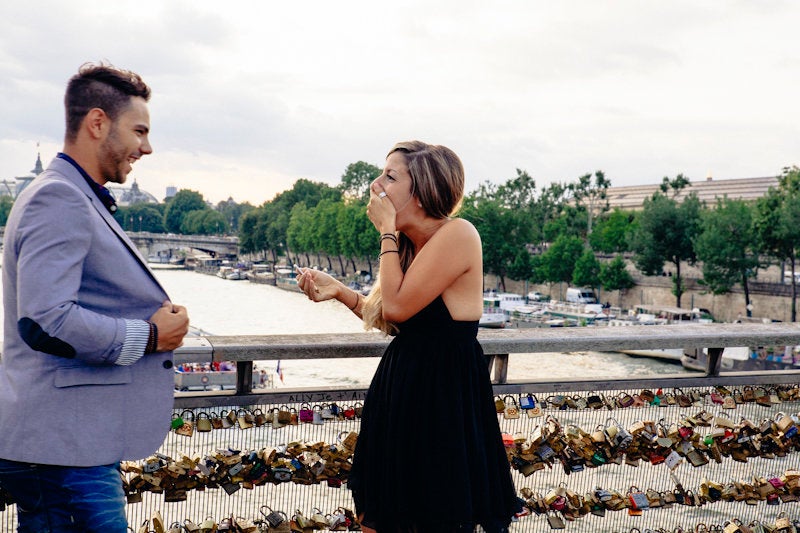 Surprised Proposal Reactions