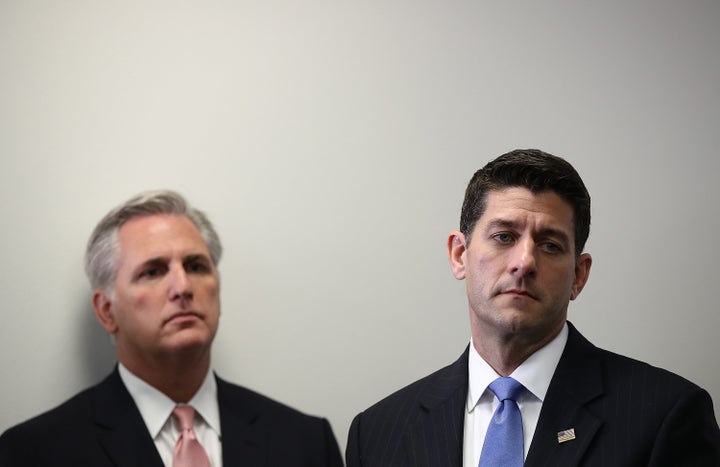 WASHINGTON ― As a government shutdown suddenly looks possible, Republicans are imploring their Democratic colleagues to agree to a short-term spending bill now and trust that they will address the Flint water crisis in other legislation later. 
The only problem? The bill Republicans say should be the vehicle for Flint ― a long-awaited water resources measure ― is supposed to move through the House this week without Flint.
House GOP leaders contend that they want to address the Michigan water crisis in the so-called Water Resources Development Act, not the short-term bill, known as a continuing resolution. Speaker Paul Ryan (R-Wis.) said Thursday that Flint "should be dealt with in the WRDA bill," and House Majority Leader Kevin McCarthy (R-Calif.) said Monday that the water resources bill was "the best place" to address it.
So it is perhaps curious that House Republicans are trying to move the bill without Flint aid. "The sooner we get the WRDA bill through in the House, the sooner we can begin conference," McCarthy said.
But McCarthy didn't commit to making sure Flint was eventually attached. In fact, even if the House passes the water bill, they would need to vote on an additional piece of legislation to set up conference. And with lawmakers set to leave town after this week for the next month and a half, Flint aid would almost certainly be delayed until November at the earliest ― if it happens at all.
That's a big reason why Democrats are insisting that Flint be part of the CR, particularly when Republicans are willing to attach emergency Louisiana flood aid to the government funding bill.
There is an amendment from Michigan Democrat Dan Kildee to add Flint aid to the WRDA measure, but there's a good chance the House Rules Committee doesn't allow a vote for the same reason that the legislation doesn't currently include money: It's in the jurisdiction of other committees, namely, Energy and Commerce, and Appropriations.
Transportation and Infrastructure Chairman Bill Shuster (R-Pa.) told the Rules Committee on Monday night that he opposed including the amendment because it would set a precedent for local drinking water provisions in WRDA. And asked Monday if he would support Rules giving the amendment a vote, McCarthy dodged the question by noting that he's not on the Rules Committee.
McCarthy was enthusiastic about a WRDA conference, however, noting that "there are other issues" lawmakers could address in conference ― potentially even California drought provisions, other sources suggested.
But Democrats have no guarantees on Flint if it isn't in the CR. And if Republicans want to dig in on not including the aid in the continuing resolution, Democrats could block government funding, betting that the GOP takes the brunt of the blame over a shutdown.
Meanwhile, WRDA has its own issues. House Transportation and Infrastructure ranking Democrat, Peter DeFazio of Oregon, withdrew his support of the legislation last week after Republicans stripped a section allowing the government to use the Harbor Maintenance Trust Fund to dredge harbors. DeFazio also sent the Rules Committee a letter on Monday calling out an $810 million project to build athletic fields and a splash park.
If most Democrats follow DeFazio's lead, Republicans will be looking to pass the bill almost entirely on their own, meaning Flint provisions could imperil the legislation.
All of this is to say Democrats have a number of reasons to demand Flint funding in the CR. And if Senate Majority Leader Mitch McConnell (R-Ky.) is intent on keeping the funding out, Congress could be heading toward a government shutdown that no one expected.
Calling all HuffPost superfans!
Sign up for membership to become a founding member and help shape HuffPost's next chapter